Chilean people are just about the friendliest people I have ever met. I picked up a few hitchhikers during my trip and all of them were keen to meet for drinks and dinner and converse with me and my 50 words of Spanish. And when I mentioned in a couple of cafés that I was trying to see an armadillo, within minutes the managers would be on the phone to friends and family trying to find out the best places to look. Chileans are also a very cultured bunch, who like to talk about poetry, music and wine. I was able, at least, to weigh in on the latter.
February 2009 was high summer in Chiloe Island and Patagonia. Shorts and a tee shirt are fine until the wind blew, at which point it got decidedly chilly. I don't remember the wind not blowing for more than 10 minutes.
Chiloe Island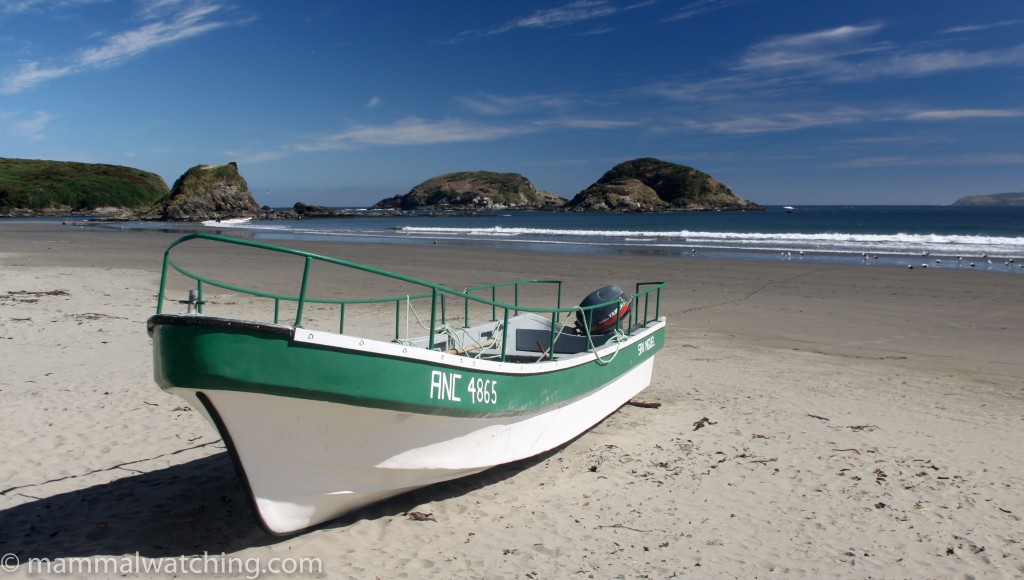 Pagua to Chacao Ferry
It takes an hour from Puerto Montt airport to reach the ferry to Chiloe that runs from Pargua to Chacao.  The ferries operate continuously and you rarely need to wait more than five minutes to board. The ferry is free to ride as a foot passenger and I took the 30 minute crossing five times and looked for sea life.
Punihuil
Punihuil, about 45 minutes west of Ancud, is well known for its colony of Humboldt and Magellanic Penguins.
Chepu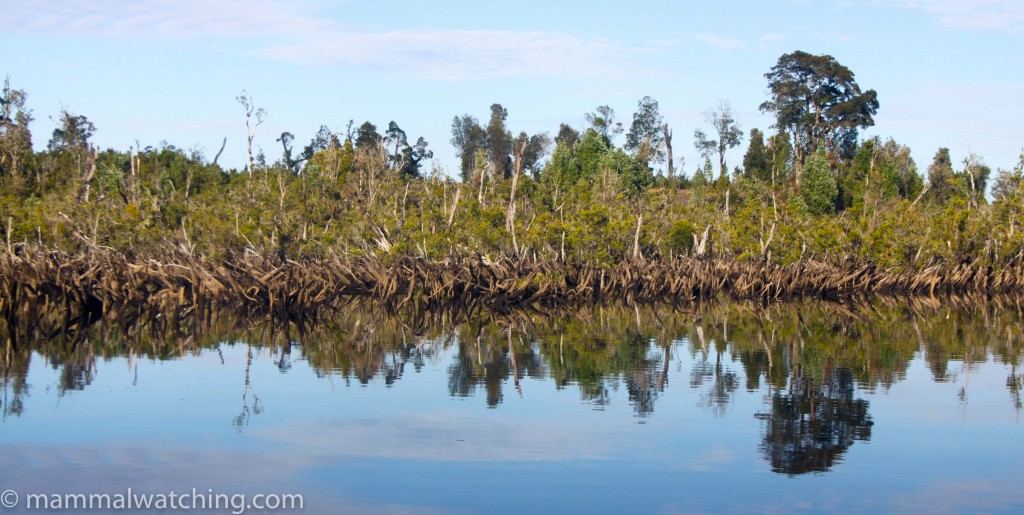 Chepu – about 40 minutes south west of Ancud – is a reliable spot for Southern River Otters, probably the world's rarest otter. But they are not always easy to find. I visited twice, rocking up in the mid-afternoon and taking a three hour trip which produced several Coypus – my first non feral Coypus in fact – as well as a sunburned nose and a boat load of annoying large wasps. But no otters.
In 2010 I was contacted by Fernando Claude at Chepu Adventures. They have just set up an ecotour company in Chepu and run kayak tours to look for the otters among other things. They also have accommodation. Worth checking out I think and I would use them if I go back. Fernando writes in perfect English.
Parque Tepuhueico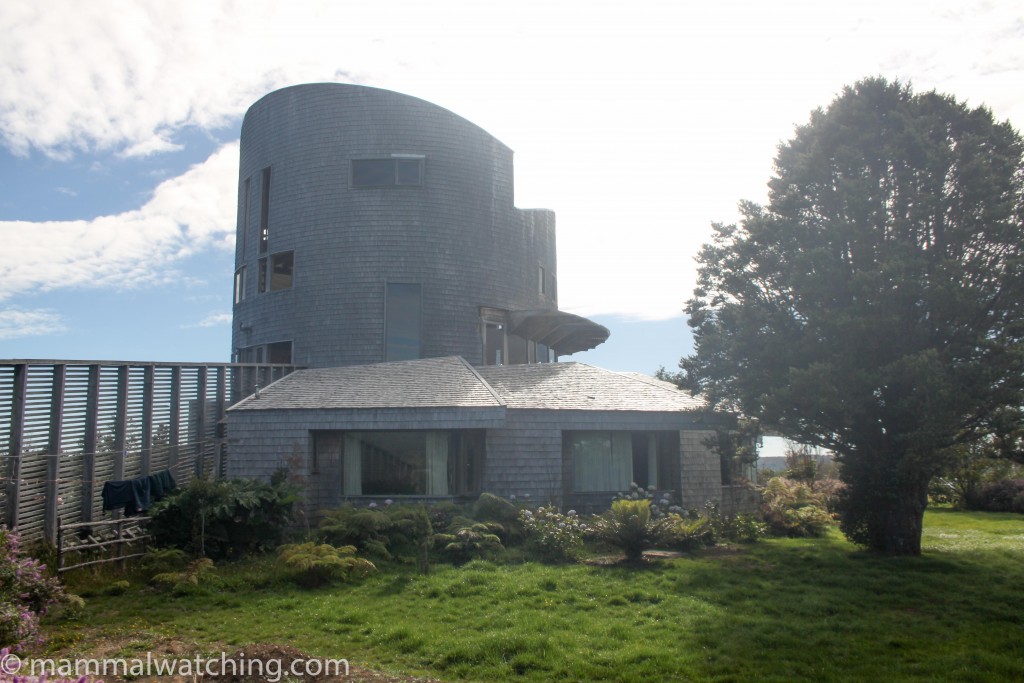 Parque Tepuhueico is a private park about an hour's drive south west of Castro. It comprises an impressively designed eco-lodge overlooking a lake in the middle of a good patch of temperate rainforest. It is a strong hold for Southern Pudu (the world's smallest deer) and the Critically Endangered Darwin's Fox, of which only 250 are thought to remain.
Both species were easy to see here. I saw two Pudus during about three hours spotlighting and three foxes. The Pudus stick to the forest and you should come across them on any of the tracks after dark. Several foxes are at least partially habituated and hang around the lodge area where they are occasionally fed. I saw all three animals within a kilometre of the lodge.
Kodkods (or Guignas) are another good mammal here, but they are rare. Richard Webb found one in 2007, but he was very lucky I think. Monitos Del Monte – a small arboreal opossum closely related to Australia's marsupials  – are occasionally seen crossing the road, but would be hard to pick up in a spotlight.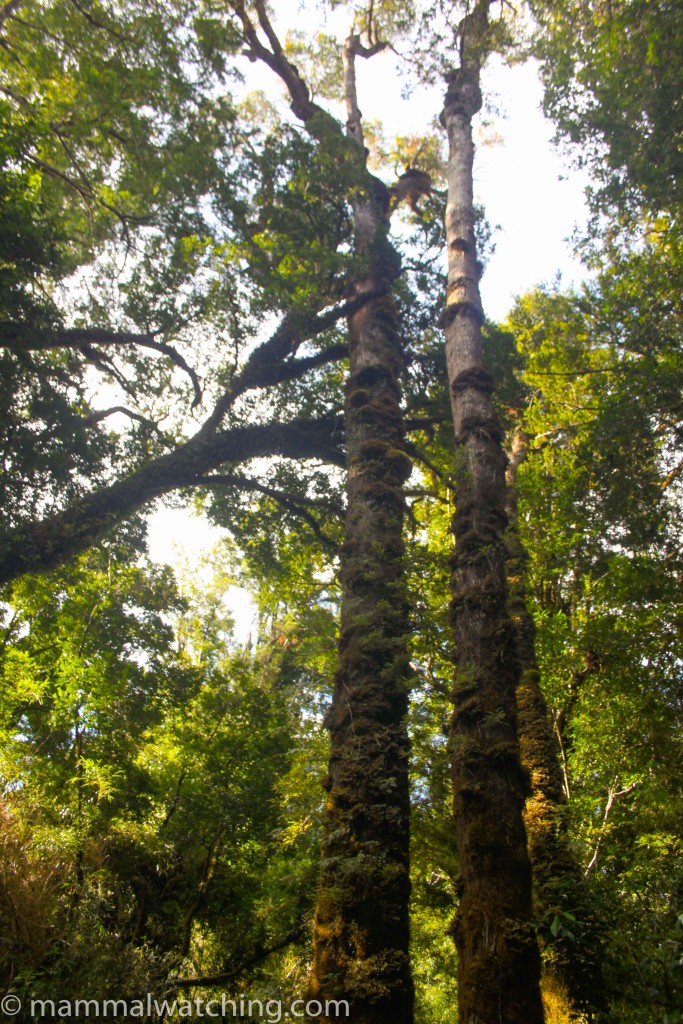 A walk along the waterfall track in the afternoon was mammal-less but three impressive Magellanic Woodpeckers were a diversion. I took a short spotlight walk along the same track at night.  About 100 metres along there is a patch of bamboo that was bursting with Olivaceous Grass Mice (Abrothrix olivaceus). I saw at least six animals in 10 minutes: apparently their populations swell after the bamboo flowers which is what I guess had happened here.
Quellon
Quellon, at the very end of the Pan-American Highway is not Chiloe's most attractive town. It is the starting point however to take pelagic trips to look for Blue Whales (see Richard Webb's reports). I didn't bother to go looking for them and I guess it would also have been quite expensive to do so on my own. In fact I was also told that Blue Whales are quite common off the Punihuil penguin colony and closer in to shore. You could probably arrange quite easily an unofficial trip to go looking for them there if you just turn up and talk to the fishermen.
I did shoot down to Quellon for an afternoon to look for the Chilean Dolphins or Toninos. These are common around Chiloe but hard to pin down. One of Richard's reports mentioned that the bay between Triscao and Yaldad as a well known spot for them. Yaldad is a few km east of Quellon. I couldn't spot any in the bay when I arrived but after half an hour parked by the boat ramp I scanned the bay again and found a pod of about eight animals in the scope. Their small rounded dorsal fins are quite distinctive and the pod spent at least half an hour wandering around the same small patch of ocean. A couple of animals came close to breaching. The only fishing boat around at the time was busy and couldn't take me over to see them so although the views were good they were too distant for photographs.
Patagonia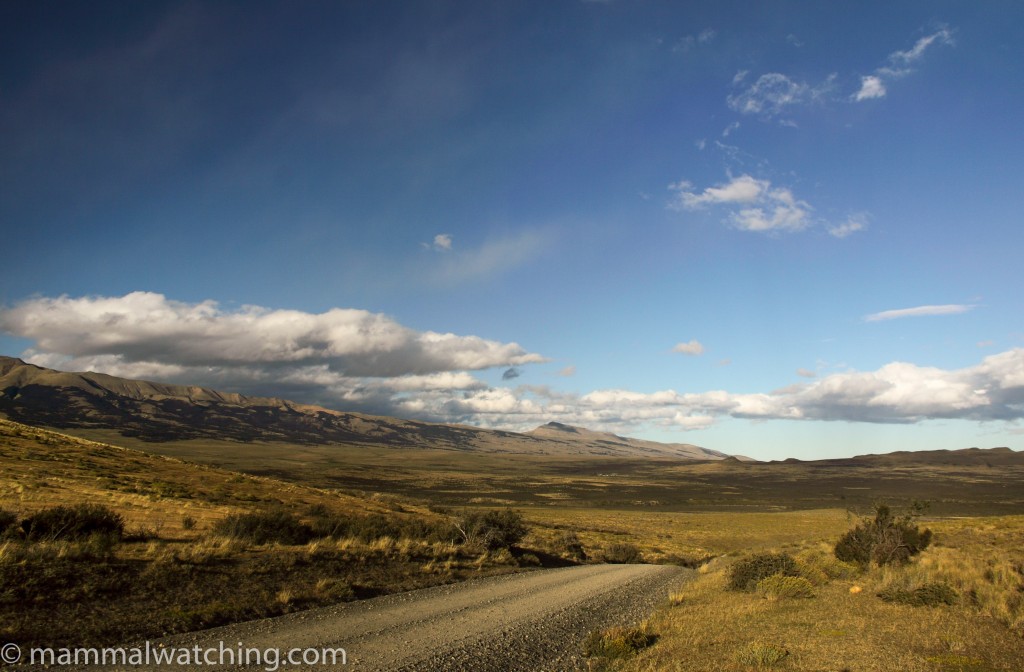 Punta Arenas to Puerto Natales
Punta Arenas is the main airport into Chilean Patagonia. I spent a day travelling from here to Puerto Natales, the gateway to Torres Del Paine National Park. My main aim was to see Commerson's Dolphins en route so I took a detour to the straits of Magellan, where these dolphins are common.
Torres Del Paine National Park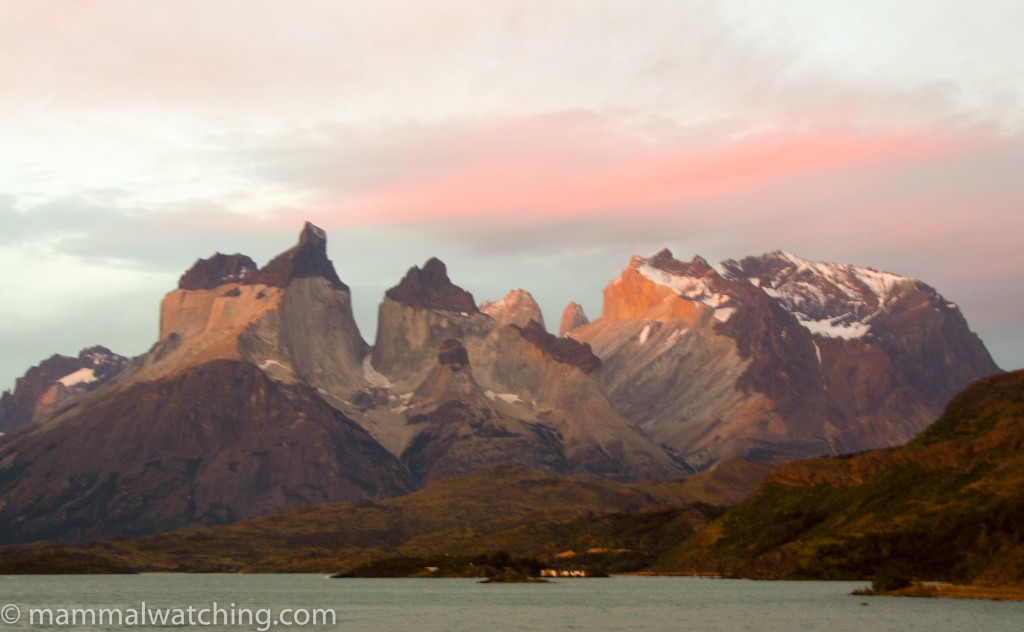 There may be more beautiful places on the planet than Torres Del Paine National Park, though I have yet to hear about them. Imagine a cross between Yosemite Valley and the high arctic, with just a suggestion in places of the Australian Pilbara and you will get an idea. But who cares about the scenery: this is probably the best place in the world to see Pumas.
Richard recommended I try to hook up with Jose Vargos Sandoval (or find him on Facebook). Jose is a ranger and occasionally a private guide. He has worked with films crews and others to find Pumas and has shot his own documentary movie. His skill was outstanding: he had some Puma sixth sense thing happening.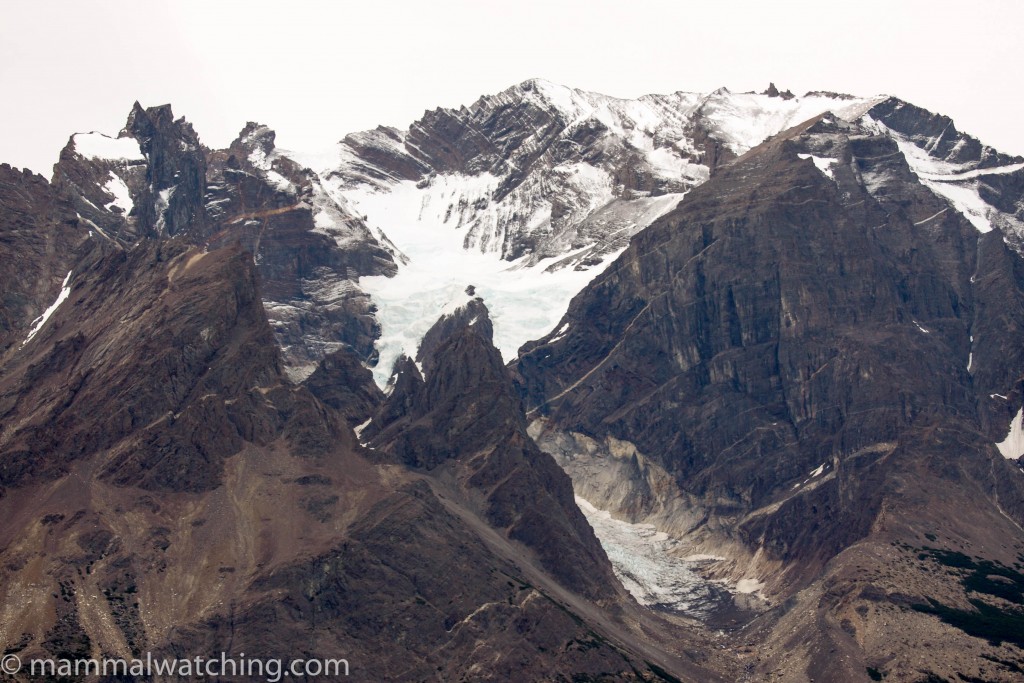 Torres is very busy in the summer and the hotels are expensive. Hostelria Las Torres is the biggest accommodation in the park. On the plus side a Puma lives just above the hotel and is often seen from the restaurant window at night (it was seen twice in the evening and once in the morning during the four dayse I was there). On the minus side the hotel, though quite nice, is overpriced and the surrounding area is very busy and adjacent to a popular campsite. I would stay somewhere else.
But if you do stay at Las Torres then beware the bridge at the Laguna Amerga entrance, which was about 20 cm wider than my pick up. The first time I crossed it too fast and too preoccupied with the thought of it collapsing. Judging by the amount of multicoloured paint on the bridge sides I wasn't the first to scrath his car. But hey, I took out extra rental insurance, so it was important I used it: rental cars and I have an uneasy relationship at the best of times.
"Puma" said Jose. "Shit" said I, setting my binoculars on a cat sitting on the rocks about 500 metres from us. But it wasn't alone: there were at least two cubs. We moved closer, and as we approached, the mother moved to the west, leaving the cubs on the rock. We set off after her to intercept her. Jose judged our route so well that we were within 40 metres of her before she looked up and noticed.
Olivaceous Mouse (Abrothrix olivaceaus): I heard then saw one of these at the picnic area at the end of the road to Lago Grey at about 7 p.m.
Long-haired Grass Mouse (Abrothrix longipeles): I trapped one at the back of Jose's place at Pudeto.
Big Hairy Armadillo: I tried hard to find this species.  Judging by the number of burrows along sandy roadside banks they are not uncommon. But they are quite difficult to see. The burrows were most numerous along the Laguna Azul loop road and there were a great deal of armadillo diggings close to the cascades along the same road: when you get to the car park by the waterfall follow the road that took you into the car park (the track is pretty overgrown) upriver for about 100 metres. It drops into a slight depression and as it veers towards the river there is an even more overgrown track continuing on. There was a lot of digging around here. 
Armadillo burrows are – unsurprisingly –armadillo-sized and armadillo-shaped in cross section (an arch with a flat bottom). The animals have got to be more active at night but might be easier to find on foot when the wind isn't blowing as they can be quite noisy but don't have any eyeshine.
Cavy: If I understood Jose correctly he has some living around his house.
Trip List
1. Olive Grass Mouse Akodon olivaceus
2. Long-haired Grass Mouse Abrothrix longipilis
3. Sanborn's Grass Mouse Abrothrix sanborni
4. Coypu (Nutria) Myocastor coypus
5. Puma Felis concolor
6. Culpeo Pseudalopex culpaeus
7. Chilla Pseudalopex griseus
8. Darwin's Fox Pseudalopex fulvipes
9. South American Sea-Lion Otaria flavescens
10. Marine Otter Lutra felina
11. Southern River Otter Lutra provocax
12. Patagonian (Humboldt's) Hog-nosed Skunk Conepatus humboldtii
13. Peale's Dolphin Lagenorhynchus australis
14. Commerson's Dolphin Cephalorhynchus commersonii
15. Chilean Dolphin Cephalorhynchus eutropia
16. Guanaco Lama guanicoe
17. Southern Pudu Pudu puda
18. Chilean Guemal Hippocamelus bisulcus
19. European Hare Lepus europeaus