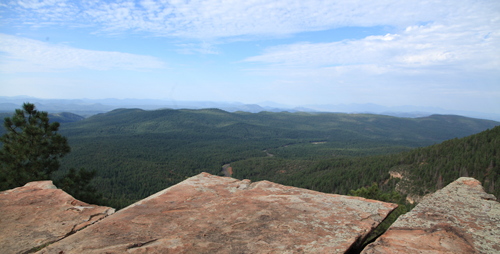 Mogollon Rim, near Payson
I spent a few days here in 1989, the highlight of which was a trek down to the floor of the Grand Canyon for an overnight stay. I returned for a few days in September 1998, for two short trips in 2010, and again in 2012 (see the 2012 report).
I have split the state into three regions: the north (north of Phoenix), the south east and the south west.
North Arizona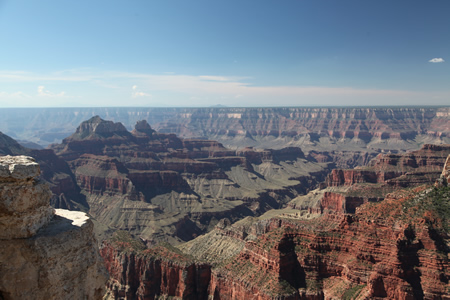 North Rim, Grand Canyon
Grand Canyon, November 1989 – Bighorn Sheep on the main trail down to the canyon floor. Ringtail (eating most of our food throughout the night at a backcountry campsite on the canyon floor - I hung the food from a metal pole, which the Ringtails climbed like a ladder. So I greased the pole with butter, which did nothing to slow the Ringtails down. So I left the food under a pan weighted down with rocks. In the morning the pan and rocks were unmoved.... but the food had gone. It was a hungry walk back to the top).
In August 2010 I visited the North Rim and found Abert's Squirrel (the rather spectacular white-tailed subspecies) in the campground (though it took almost an hour to spot one). A different subspecies is also supposed to be common in suburban Flagstaff and the Flagstaff Aboretum is one place to look. There were also what appeared to be Colorado Chipmunks around the Canyon Rim II'm double checking that ID) and a herd of Bison on the drive in.
Trent Binford-Walsh told me that Western Spotted Skunks are easy to see at the base of the Canyon where they hang around Phantom Ranch looking for food.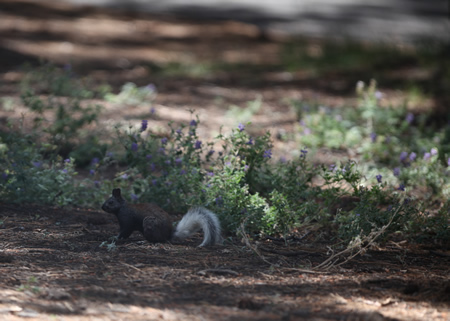 Colorado Chipmunk (I think)
Montezuma's Castle, November 1989 – Arizona Gray Squirrel.
Woods Lake Canyon, September 2012 - Grey-collared Chipmunks were easy to see here around the edge of the campsite a mile or so from the lake. They reacted very loudly when I squeaked. This species is also at the Flagstaff Arboretum though I haven't seen them there (as are Abert's Squirrels).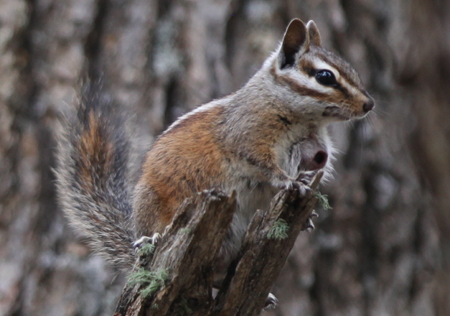 Grey-collared Chipmunk
Vermillion Cliffs National Monument, August 2010 - the entrance road to this park (BLM/Bureau of Land Management road 1065, about 13 miles east of Jacob Lake off of Hwy 89A ) quite near to the North Rim of the Grand Canyon is a site for Chisel-toothed Kangaroo Rats and John Fox found one along here in 2010. I spent an hour spotlighting here with Matt Miller and although I saw one Kangaroo Rat I couldn't see it well enough to be sure which species it was. There were a lot of bats feeding around the start of the road with clearly audible echo-location but apparently several species in the area fit this description.

South East Arizona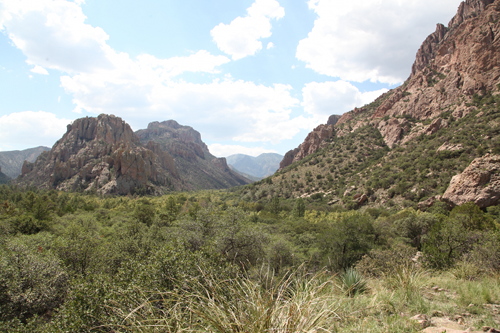 Chiricahua Mountains

Casa Grande Ruins National Monument , April 2010 - Round-tailed Ground Squirrels are common around the visitors centre (this species is also common in the Desert Botanical Gardens in Phoenix apparently).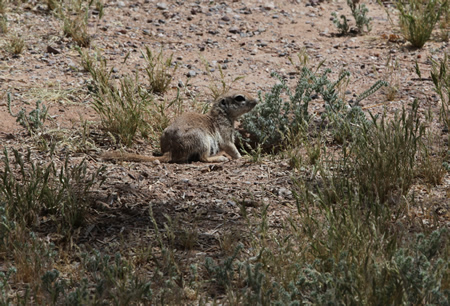 Round-tailed Ground Squirrel
Chiricahua National Monument, September 1998 - Mexican Fox Squirrel (around the campsite), Variegated Ground Squirrel, Cliff Chipmunk, Javelina (Collared Peccary).
Continental, September 2012 - Antelope Jack Rabbits are along the road south of Continental towards the birding sight Madera Canyon. John Fox saw 3 along here in the mid morning. I drove up and down the road late in the afternoon for an hour and a half before spotting one at dusk. An impressive rabbit. I was focussing on the desert along the first 5 miles of road out of Continental and saw the rabbit a mile along one of the dirt tracks off to the west.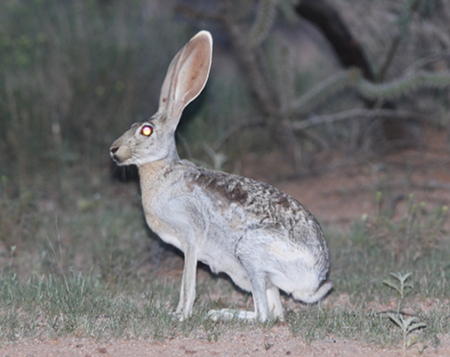 Antelope Jackrabbit
Mount Lemmon, September 1998 – Coues' White-tailed Deer (the Clavium subspecies).
MuleShoe Ranch, September 1998 – This is a really nice ecolodge sort of a place with Antelope Jackrabbit (probable), Hooded and Striped Skunks along the nature trail, Southern Long-nosed Bats feeding from the hummingbird feeders just milimetres from my face. A couple of nice Rattlesnakes too. Coatis and Javelinas are fairly common (though I didn't see either here).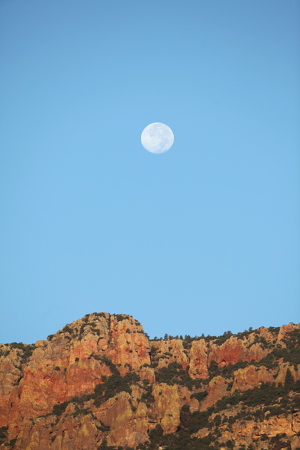 Full moon over Portal

Portal, September 2012 - I stayed at Cave Creek Canyon Ranch for a couple of nights. This a great spot for mammals and a good base to explore the area. The owner, Reed Peters, was also ready to let me throw out some Sherman traps on the property, even if I didn't manage to catch anything there.
Cave Creek is worth a mention as a sight in its own right. My target species for the trip were largely elsewhere so I did not spend a lot of time looking on the property but would have liked to have done if I had had a bit more time. Yellow-nosed Cotton Rats were easy to see around the bird feeders and bats (presumably Mexican Long-tongued Bats) visited the hummingbird feeders after dark.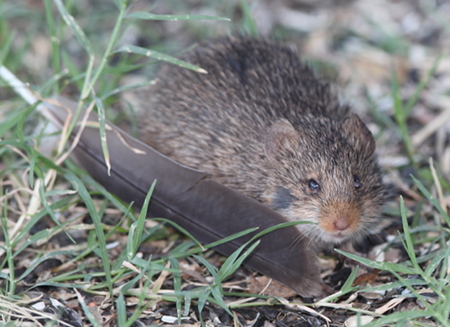 Yellow-nosed Cotton Rat

Reed said White-throated Woodrats visited his house most nights but we couldn't catch any. Other animals that visit the feeders regularly include Rock Squirrels, Cliff Chipmunks and Striped Skunks (all of which I saw) and Hooded Skunks, which I didn't see. Reed has seen a Western Spotted Skunk once too in the creek behind the cabins.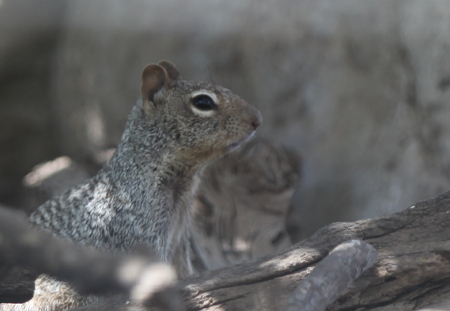 Rock Squirrel

A Ringtail was denning in a tree near the cabins though I didn't make an effor to see it, and I saw a pair of Black Bears both mornings around the property (the bears also developed an interest in my traps unfortunately). I saw a Harris's Antelope Squirrel along the driveway too and Mule Deer were common. Coatis and Javelinas are often here too.

Black Bear
I spent most of my first evening just over the border in New Mexico, looking for White-sided Jackrabbits. For my second night, I found a Banner-tailed Kangaroo Rat pretty much where John Fox had seen them. To add more details, Sunrise Road is off to the west at mile marker 412 along Rt 80. This is 3 miles into Arizona and south of the town of Rodeo (the mile markers get reset when the road crosses the state line).
It was a bright moon and a windy night, which wouldn't help rodent activity and I only saw one Kangaroo Rat along the road and couldn't get a photo. It was too large to be anything other than Banner-tailed, and was perhaps half a mile along Sunrise Road (and about 100 yards before the "Animas" track crosses sunrise road).
A set of humming bird feeders at the South West Research Station had plenty of bats visiting which were pretty much certainly Mexican Long-tongued Bats. Southern Long-nosed Bats are also possible here but they are very occasional and may have even migrated by September. There was lots of fresh gopher digging on the lawn near the bird feeders.
Hog-nosed Skunks are in the area too, but much scarcer than Hooded and Striped. A few people have seen them along Cave Creek Road, and John Fox suggested I look around a nature trail new Stewart Campground (the trail goes from just before the bridge (on the Portal side ot the bridge) that is in front of the campground. The trails is on the opposite side of the road to the campground too. John had been told that a Hog-nosed Skunk was using the area a couple of years ago. I spent half an hour at midnight looking but didn't see any mammals. It was a lovely spot though.
Merriam's Kangaroo Rat and its 4 toed foot
Small mammal trapping in the desert can be very unproductive but I was told of dam not far from Portal where I could set traps without a permit. It was indeed a good spot. In a couple of nights I caught a Merriam's Kangaroo Rat, several Desert Pocket Mice, a Yellow-nosed Cotton Rat, a Tawny-bellied Cotton Rat and a couple of Hispid Cotton Rats.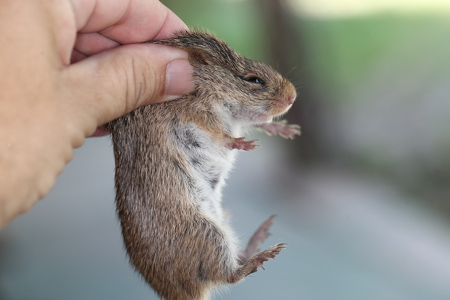 Yellow-nosed Cotton Rat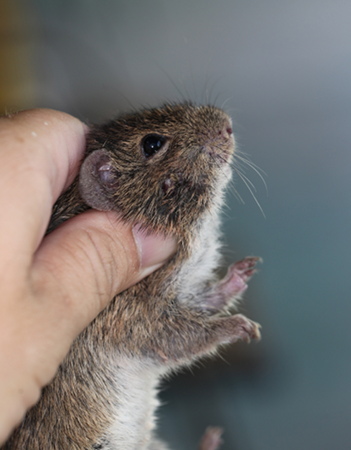 Hispid Cotton Rat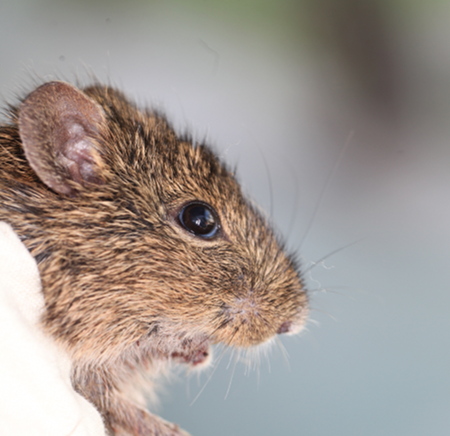 Tawny-bellied Cotton Rat
Other species that have been caught here include Southern Grasshopper Mice, Banner-tailed and Ord's Kangaroo Rats and Bailey's Pocket Mice.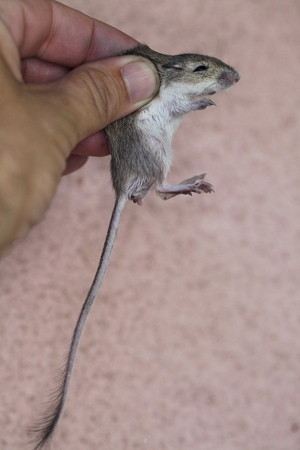 Desert Pocket Mouse (Chaetodipus penicillatus)

As I was leaving Portal I stopped in at Quailway Cottage to visit the bird feeders where a couple of birders reported seeing a Spotted Ground Squirrel the previous day. I wasn't there long enough to see the squirrel but it looks like another great spot to stay. The manager, John Yerger, is a bird guide who was helpful when I asked him about the local mammals but unable to go out with me. He'd be a good guy to meet up with next time. And there will be a next time because there are still many animals I'd like to see in this superdiverse hotspot.
South West Arizona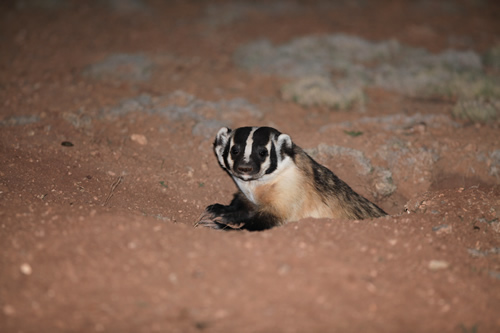 American Badger, Aubrey Valley near Seligman
Seligman, April 2010 - a ranch just west of Seligman on Route 66, has had Black-footed Ferrets successsfully reintroduced. During the day Gunnison's Prarie Dogs are common, and at night you should have an excellent chance of spotlighting a Ferret along the northern side of Route 66 (the best area is the 10 mile stretch that starts 3 or 4 miles west of Seligman running through the Aubrey Valley). The ferrets are apparently most active between midnight and 6am. I spent 6 hours looking from 9pm to 3am but couldn't find one (a week before people had been seeing as many as 13 during a night's spotlighting!). Immensely frustrating and may have been because the weather had gotten a bit colder and windier, or may have been because I was crap at spotlighting :-( But I did see 3 Badgers, Mule Deer, a Kangaroo Rat (probably an Ord's), lots of Desert Cottontails and a Coyote.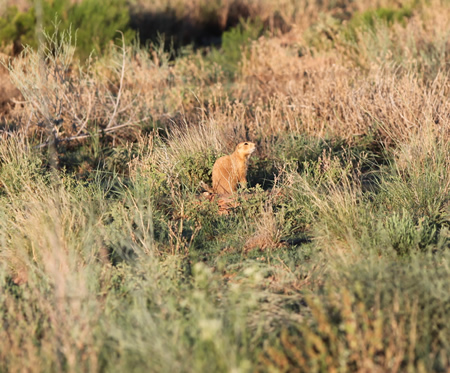 Gunnison's Prarie Dog, Seligman
I returned in August 2010 and this time Jennifer Cordova and Trent Binford-Walsh from the Arizona Game and Fish Department (and the Ferret Recovery Project) also came out with me to make sure I didn't fail twice - which was extremely good of them (Jennifer had already provided a heap of info on where to look). They vowed to stay out til we found one! But a late night wasn't necessary. This time I found animals within 5 minutes of turning on the spotlight. A group of three ferrets were at a den about 50m south of Route 66 around mile marker 127. It was 10pm, a full moon and about 75F - the animals had bright green eyeshine. Matt Miller and I could approach the animals to within about 10 metres at which point they finally went underground. But - just as Trent had predicted - when we got to the bolt hole an animal started popping its head in and out to take a peek (and I was too close even to focus properly). A fabulous 20 minutes of mammal watching!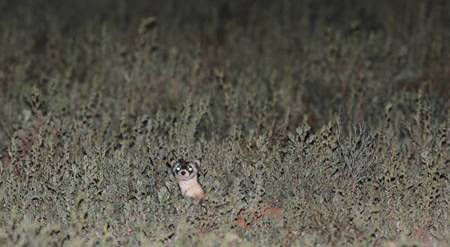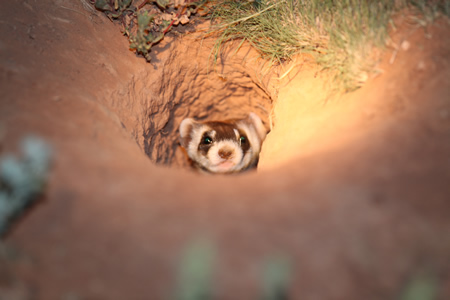 Black-footed Ferrets, Seligman
Charles Hood sent me the following update "As of July 2012, Black-footed Ferrets remain present outside of Seligman, Arizona. Two different indivudals were seen by spotlight after 2300 hours north and south of mile marker 127, on the north side of Route 66. As a courtesy, let the ferret project staff know when you'll be looking for them, so their wardens know who is spotlighting and why."
For more information see http://www.azgfd.gov/w_c/blackfooted_ferret.shtml.
See Also
Small Mammal IDs in Arizona with more here (May, 2013)

Arizona RFI (Jan, 2013)

SE Arizona (and SW NM) RFI (August, 2012)
Western US – Swift Fox NM, Black Footed Ferret AZ, Ruby Mtns, NV (June, 2012).
Ocelot seen in Arizona (Feb, 2011).
My More Detailed Trip Reports
South-east Arizona and a bit of New Mexico, September, 2012.
Other People's Trip Reports
Arizona and New Mexico (2013): Paul Carter, 24 days & 29 species including Hooded Skunk, Kit Fox and White-nosed Coatis.
The Southwest, 2012: Vladimir Dinets, 1 month through NW New Mexico, N Arizona, SE Utah and Colorado with selected highlights (mainly interesting rodents and bats).
Arizona, 2011: Steve Morgan, 2 weeks & 27 species including Black-footed Ferret, Ringtail and Western Spotted Skunk.
SE Arizona, 2011: Alan Dahl, a week & 16 species including Mexican Fox Squirrel and Antelope Jackrabbit.
California and Arizona, 2010: Richard Webb, 9 days & 15 or so mammals including Bobcat and Kit Fox.
New Mexico/Arizona, 2010: some notes from John Fox on Antelope Jackrabbits and Banner-tailed Kangaroo Rats.
Patagonia Lake Area, 2010 : Alan Dahl, 2 days and the mammals included Coatis.
South-western USA, 2009: Mike Richardson, 3 weeks in Arizona, California and Texas & 22 species including a Bobcat.
South-western USA, 2004: Steve-Anyon Smith, one month in Arizona, California and Texas & 46 mammals... including an Armadillo.