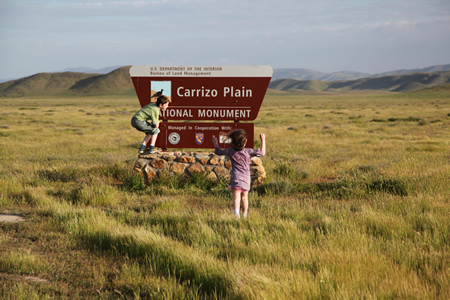 Carizo Plain, San Joaquin Valley
There's some world class mammal viewing in California. Very varied habitat (from desert to tundra), coupled with incredible scenery and some of the most productive cetacean viewing in the world make it a top mammal watching destination. I spent only 10 or so days here in 1998 and barely scratched the surface. In 2010 I returned twice: for a couple of days in April and spent a few hours at the Carizo Plains National Monument (thanks to a recommendation from Vladimiar Dinets) and again in August to spend a night on Santa Cruz Island in the Channel Islands National Park. And I was back in June 2011 for another three days.
Andrew Molera State Park, September 1998 – Gray Fox, Raccoon, Yuma Myotis (dozens skimming the river near the car park).
Ano Nuevo, September 1998 – California Field Vole (common along the trail to the beach), Northern Sea Lion (take a scope to find them among their more numerous Californian cousins).
Carizo Plain National Monument , April 2010 - California Ground Squirrel en route from L.A., and Nelson's Antelope Squirrels were quite easy to see in the evening in and near the park. I drove along the long park road just after dark and saw at least 1 Kit Fox on the road and more than 20 Kangaroo Rats, most of which were the quite rare Giant Kangaroo Rats. Also saw a couple of Black-tailed Jackrabbits.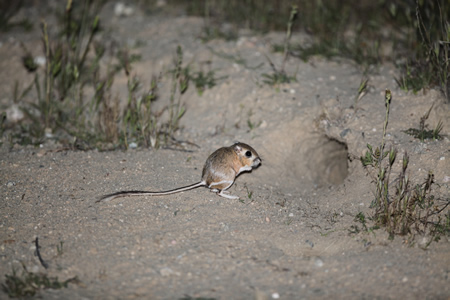 Giant Kangaroo Rat, Carizo Plain
I went back for a night in June 2011 and saw more Giant Kangaroo Rats (these seem to be near the visitors centre), a Kit Fox, a few more Jackrabbits and further south lots of Heermann's Kangaroo Rats and a few of the much smaller San Joaquin Kangaroo Rats too.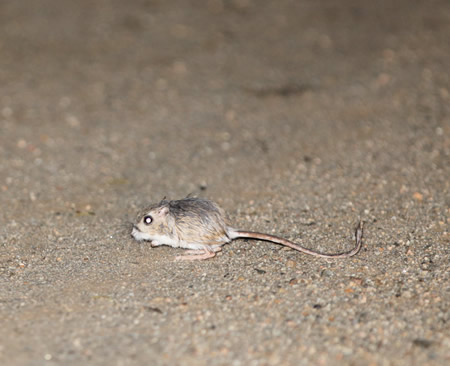 San Joaquin Kangaroo Rat
Channel Islands National Park, August 2010 - I spent a night camping on Santa Cruz Island, primarily to see one of the endemic Island Foxes. The sea was alive with Common Dolphins (I am not sure whether they were Short or Long-beaked) during the ferry trip over, and there were some California Sealions in Ventura Harbour. Fox numbers have recovered very well on Santa Cruz and if you cannot find one you should hang up your binoculars! I must have seen 20 of them around the campsite in the evening, night and morning as well as on the trails (animals in camp were fearless). Strangely I could not find any of the Western Spotted Skunks which are also pretty common though their numbers appear to have declined considerably in parallel with the recovery of the fox. They are usually around the campsite but despite wandering around for 4 hours with a light I couldn't see one. It was a full moon which perhaps didn't help but I was told they are much more skittish than the foxes and tend to keep more to the shadows. Frustratingly I met a fox researcher who had just finished trapping on the island and had caught a Skunk that morning (as she had done every morning she had set her traps). Trent Binford-Walsh told me that Western Spotted Skunks are easy to see at the base of the Grand Canyon where they hang around Phantom Ranch looking for food.
Townsend's Big-eared Bats roost in the old bakery next to the visitor centre and you can watch them leave the roost (through the bakery door at dusk) though access to the building is blocked off. There was a Harbour Seal hanging around the Scorpion anchorage too.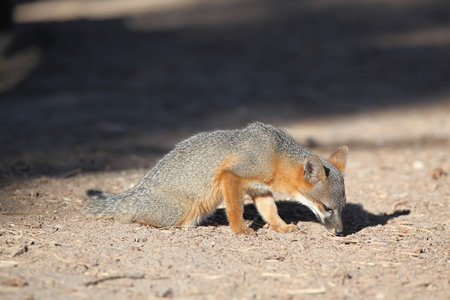 Island Fox
Joshua Tree National Park, September 1998 – Black-tailed Jackrabbit, Desert Cottontail, California Chipmunk, White-tailed Antelope Squirrel, Grey Fox, Sonoran Desert Pocket Mouse, Western Pipistrelle.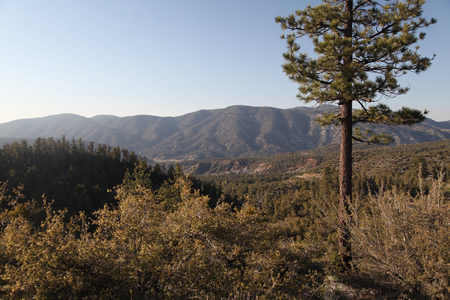 Frazier Park, June 2011 - on the way back to LA from Yosemite I stopped in at the Chuchupate Campsite, off Lockwood Valley Road just west of the town. As I'd hoped it was full of Merriam's Chipmunks. I saw a few running around but once I started squeaking, at least a hundred replied. I thought at first they must be birds or insects. They were not however very cooperative for photos and were hard to coax out of the shrubbery.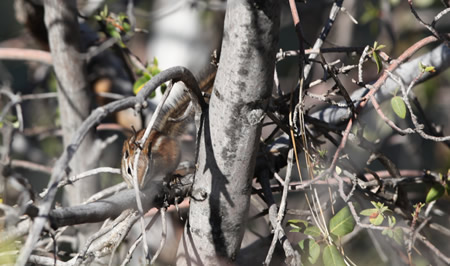 Merriam's Chipmunk
Lake Lopez, September 1998 - Bobcat.
Mojave Desert, June 2011 - I spent a day here looking for Mohave Ground Sqiurrels. I couldn't find any in the area between Red Rock Canyon and Inyokern, though did see plenty of White-tailed Antelope Squirrels and Black-tailed Jack Rabbits.

White-tailed Antelope Squirrel
I finally found a Mohave Ground Squirrel in the Desert Tortoise Natural Area just north of California City. Its pretty hard to find the park entrance, but I eventually stumbled on the visitor's area (just a carpark, trail and an RV visitor centre). By a strange conincidence the ranger had just returned to the US after 12 years in the Luangwa Valley in Zambia and so we had some common friends. She quickly found me a Mohave Ground Squirrel right behind her RV.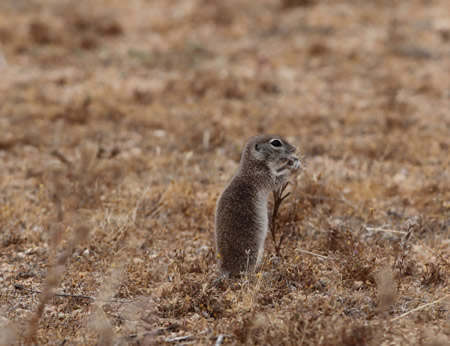 Mohave Ground Squirrel
There were more Antelope Squirrels on the reserve and I saw a California Ground Squirrel while driving out of California City.
Monterey, September 1998 – Monterey Bay Whale Watch offers some of the best Cetacean spotting in the world. September is one of the better times of year for diversity and numbers of species. During three 4 hour trips we had Blues, Humpbacks, and a Fin and Minke whale, Long-beaked Common and Pacific White-sided Dolphins (the former in pods of many hundred), Harbour and Dall's Porpoise and Risso's Dolphins. Dipped on Northern Right Whale Dolphins (not uncommon), Orcas (regular) and Baird's Beaked Whales (seen several times most Septembers). Sea Otters and Harbour Seals are around the wharf and I saw a California Ground Squirrel in town.
Point Piedras Blancas, September 1998 - Northern Elephant Seal.
Point Reyes National Seashore, September 1998 – the Black-tailed subspecies of Mule Deer (race Columbianus), and the Tule subspecies of Elk (race Nannodes). Though there is a lot more to see here (see the link below from Alan Dahl).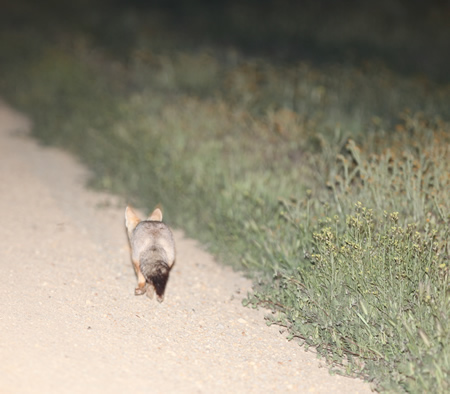 Kit Fox, Carizo Plain
Route 1, September 1998 - This highway that leads south of Monterey, hugging the coast to near LA is stunning. Mammals include Brush Rabbit and Northern Elephant Seal.
San Francisco, September 1998 - California Sea Lions (Pier 39 in the middle of the harbour). Check out the local natural history society boat trips to the Farallone Islands to see Blue Whales in September (saw plenty of other Cetaceans too on a day trip there).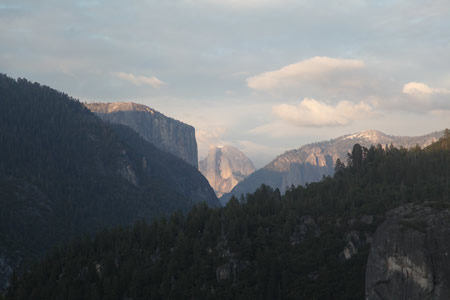 Yosemite, October 1998 – Western Gray Squirrel, Alpine Chipmunk, Douglas Squirrel, Gray Fox, Pallid Bat (roosting in the lodge though I couldn't find any there in June 2011), Black Bear (common wherever food is).
In June 2011 I went back and was again amazed by the scenery. I spent a night at Mammoth Lakes (to the south east of the park) where I hoped to get up to the Devil's Postpile National Monument to look for Belding's Ground Squirrels and Lodgepole Chipmunks (the only chipmunk there which makes IDing easier than usual). The road to the monument was still snowbound but I saw a Belding's Ground Squirrel and a Golden Mantled Ground Squirrel at the back of the cafe at the bottom of the ski lift (on the way out of town along 203 towards the National Monument). I saw plenty more of both species, plus lots of Lodgepole Chipmunks and a very fat Bear on the Mammoth Lakes Scenic Loop (I'm pretty sure that Lodgepole Chipmunks are the only species here too).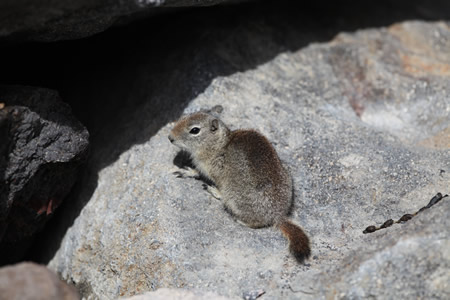 Belding's Ground Squirrel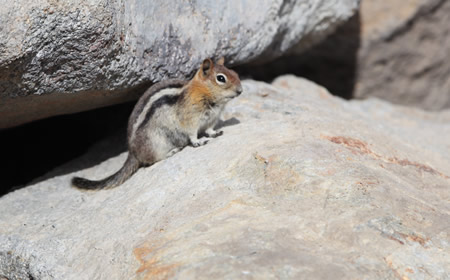 Golden-mantled Ground Squirrel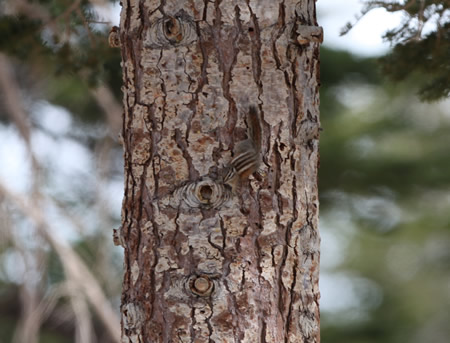 Lodgepole Chipmunk
On the way from Mammoth Lakes to Yosemite along 108 (highway 120 was still closed to snow) I saw all three species again plus Western Gray Squirrels and Mule Deer.
I spent the next morning looking for Chipmunks and saw plenty of Long-eared Chipmunks and at least one Allen's (Shadow) Chipmunk at the start of the Merced Grove trailhead (thank you Morgan Churchill!). The Long-eared were common but the Allen's were hard to find and it seems this species has declined drastically in the past 100 years. It was here I discovered that chipmunks - at least Long-eared - respond very well to squeaking.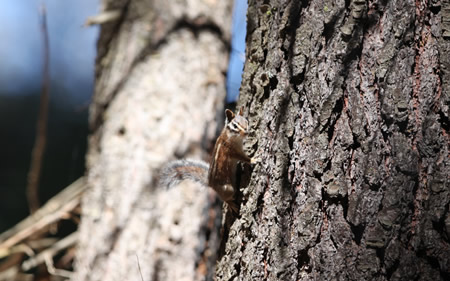 Long-eared Chipmunk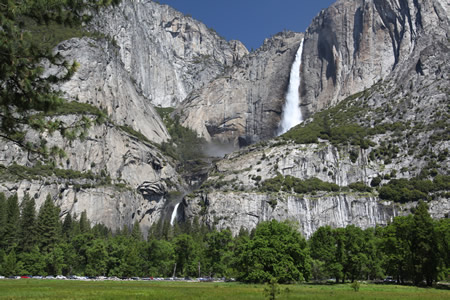 See Also
RFI – Pinnacles NP and Carrizo Plain (Mar 2013)
Sequoia/King's Canyon National Park and Point Reyes (Dec 2012).

RFI - California Bats/Small Mammals (Sept 2012).

Squirrels of California (June 2011) with information on Belding's Ground Squirrel and some of Yosemite's Chipmunks.
ID confirmation of a couple Carrizo Plains Rodents (Oct 2010).
Redwoods National Park, CA – RFI (Feb 2010).
Other People's Trip Reports
The Pinnacles and Carizo Plain: Alan Dahl, 2 days & 8 species including Giant Kangaroo Rat.

Florida & California, 2013: Romain Bocquier, 10 days & 20 species including River Otter, Long-tailed Weasel and Bobcats.
Point Reyes, 2013: Alan Dahl, 3 days & 11 species including Bobcats, Badger and Mexican Free-tailed Bats.
California, 2013: Mark Hows, 2 weeks & 46 species including Northern Flying Squirrel, American Badger and Shrew Mole.

Yosemite and Point Reyes, 2012: Tomer Ben-Yehuda, days & 16 species including Marten, Bobcat and a Northern Flying Squirrel.
California, 2012: Michal Polanski, 4 days & 8 species including Dusky-footed Woodrats.

Santa Cruz Island & the Carizo Plains, 2012: Charles Hood and some notes on the Island Foxes and other widlife.
Point Reyes, 2011: Alan Dahl, 5 days & 13 species including 4 Bobcats, a Long-tailed Weasel and a Botta's Pocket Gopher.
California and Arizona, 2010: Richard Webb, 9 days & 15 or so mammals including Bobcat and Kit Fox.
California, 2010: Coke Smith, 2 weeks & 30 species including Botta's Pocket Gopher, Kit Fox and American Badger.
South-western USA, 2009: Mike Richardson, 3 weeks in Arizona, California and Texas & 22 species including a Bobcat.
South-western USA, 2004: Steve-Anyon Smith, one month in Arizona, California and Texas & 46 mammals including an Armadillo.