People sometimes ask me why I like mammal watching. While most seem to understand the thrill of seeing a wild elephant or a tiger, there seems less conviction in their nods when I try to capture the excitement of finding a rare species of rat in the trap, or the thrill of crawling through a culvert to look at a bat. Funny that. So when I sense my audience is unconvinced I change tack to explain that mammal watching takes me to some fabulous places and, increasingly I realise, introduces me to some great people. And my first trip to Maine was no exception.

Though I'd nothing against Maine, I'd never really considered it as somewhere I needed to visit. But in May 2006 I met Will Richard, a Maine-based photographer and arctic expert, when I was on Baffin Island. Will encouraged me to visit, and so in July 2006 I did.

Will was away on an expedition but he put me in touch with Richard ("Dick") Anderson, a former head of the Maine Audubon Society and Maine environment commissioner, and was now running an organisation that was expanding the length of the Appalachian trail outside of the USA. Dick in turn got in touch with Don Mairs, who'd spent a lifetime observing Maine's wildlife and was one of those rare individuals who seemed an expert in everything from insects through to mammals. And for reasons best known to themselves Dick and Don went to considerable lengths to help find me as many mammals as they could. Dick, and his wife Patricia, also put me up and fed me, while Don, and his wife, Nan, gave me lunch after we'd spent an enjoyable hour trying to encourage his Little Brown Bat colony to show itself. What can I say... other than if, like me, you think Americans are some of the friendliest people on the planet, then you ain't seen nothing til you've been to Maine.


Dick & Pat and Don Mairs

I arrived late on the Saturday afternoon and Dick had already set a few traps around the place for small mammals and some Star-nosed Moles. We set another 30 traps around Dick's home in Freeport. The weather was abysmal - torrential rain that began at about 3pm and last until 4am.

The next morning we'd caught some White-footed Mice, in woodland, and a Meadow Vole (yep, in a meadow) which were both new to me. We also caught a Star-nosed Mole overnight but sadly it drowned in the trap. We'd set the traps in mole runways just under the surface: and though the soil was well drained, the exceptional rainfall was too much for the ground to cope with. I was sad for the mole and - when I examined the body - desperately disappointed not to have seen a live one. It is one of the most extraordinary animals I've ever seen - it looks like an extra from Monsters Inc .. something that been put together from bits of other things. Set more traps for Moles which we checked every couple of hours for the next 24 hours but we couldn't get another one. Dammit.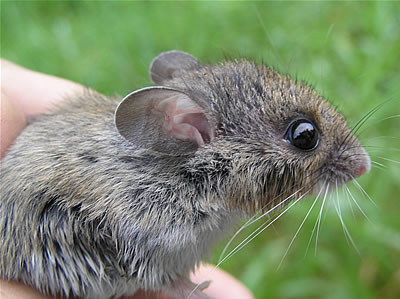 White-footed Mouse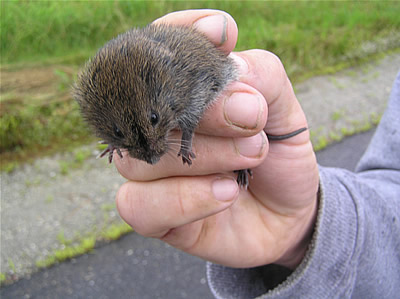 Meadow Vole
Though I'd only planned to stay a day I decided to stay another to try to see a mole and catch some more small mammals. Don had a colony of Little Brown Bats living in the paneling of his garage so I headed over there and after some strategic use of a hammer and a ride-on lawnmower some of the bats showed themselves.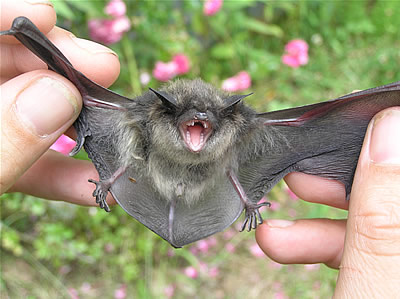 Little Brown Bat (Myotis lucifugus)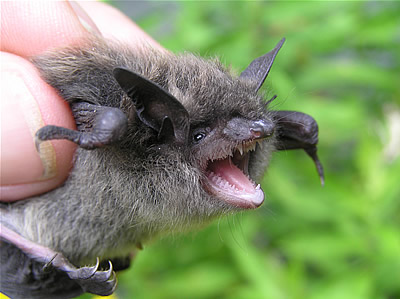 Set more traps that evening and the next morning we'd caught more White-footed Mice and a Meadow Vole plus a couple of Northern Short-tailed Shrews. I thought the first shrew - which turned up in a mole trap - was in fact a mole until I got a decent look. To add insult to injury the shrews are tricky little buggers to handle - too small to get a decent grip on the back of their head, but large enough to hurt and draw blood when they bite. My fingers were sore for a few days and I later found out that their bit is mildly poisonous.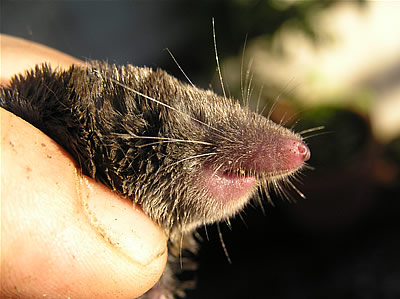 Short-tailed Shrew
On the way back to Quebec I spent a bit of time looking for Mink near Don's house near Belgrade Lakes, but though they are present there, I saw only a couple of Eastern Chipmunks. I kept an eye open for Martens and Fishers as I was driving through northern Maine (both around though not easy to spot). A White-tailed Deer ran across the road.
So Maine is now firmly on the list of places to return too and I'm hoping Dick and I can arrange a chance to go looking for Fishers and Martens in the winter, plus of course I wont rest til I see a Star-nosed Mole. Thanks again to Dick & Patricia and Don & Nan.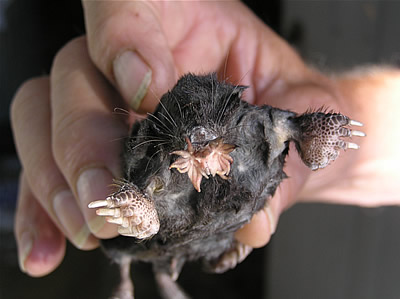 Star-nosed Mole