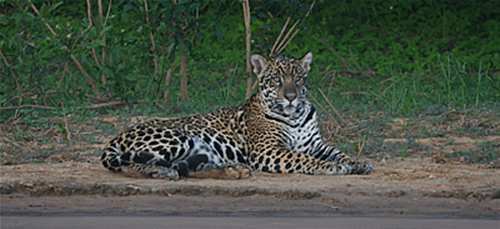 Jaguar, The Pantanal
I've visited Brazil three times.
In October 2006 I spent 6 days in the western Amazon, at the Palmari Lodge, a 4 hour boat trip along the Amazon from Leticia, Colombia. See here for the trip report.
In August 2007 I returned for two and a half weeks and visited Rio Cristalino (the Central Amazon), the Pantanal and the state of Minas Gerais and onto Espirito Santo. See here for the trip report.
And in 2009 I went to Iguazu and then to the north of Rio to see Golden Lion Tamarins (see Parana and Rio de Janeiro section lower down this page).
Amazonas (2006)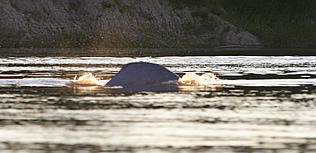 Boto (River Dolphin), Rio Palmari
Rio Palmari, October 2006, 5 nights – Boto, Tucuxi, Common Squirrel Monkey, Black-chested Moustached Tamarin, Saddleback Tamarin, Kinkajou, Black Agouti, Amazon Dwarf Squirrel, Nancy Ma's Night Monkey, Brazilian Porcupine, Brown-Tufted Capuchin, Red Howler, Coppery Titi, Woolly Monkey, Monk Saki, Giant Otter, Collared Peccary, Short-Eared Dog.
Palmari is a great spot. A more basic experience than some of the more luxurious lodges in the Amazon but an interesting set of species. There are not a great deal of mammals close to the lodge and far the best way to see the more interesting animals is to take a overnight hike into the forest with one of the excellent guides (ideally for several nights). A detailed report is here.
Matto Grosso (2007)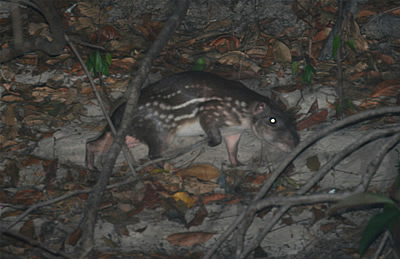 Paca, Rio Cristalino
Rio Cristalino, August 2007, 3 nights – Azara's Night Monkey (the infulatus sub sp) , White-Whiskered Spider Monkey, White-Nosed Bearded Saki, Red-Handed Howler, Dusky Titi, Brown-Tufted Capuchin, Neotropical River Otter, Brazilian Tapir, Lesser White-lined Bat, Capybara, Paca, Grey Brocket Deer.
A comfortable lodge, with some great guides and staff, in a pristine section of Amazonian forest. Wildlife seems largely undisturbed and probably at near natural levels of abundance. A great place to look for Tapirs and Pacas as well as some good primate species. A detailed report is here.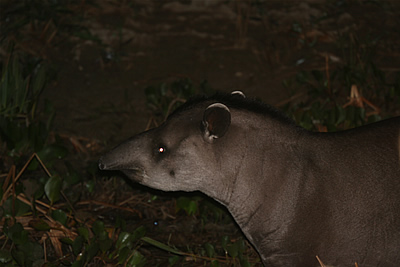 Tapir, Transpantaneira
The Pantanal, August 2007, 1 week – Nine-banded Armadillo, Grey Four-Eyed Opossum, Giant Anteater, Southern Tamandua, Brazilian Tapir, Crab-Eating Fox, Crab-Eating Raccoon, Giant Otter, Neotropical River Otter, Ocelot, Jaguar, Black-tailed (Pantanal) Marmoset, Black Howler, Black-Striped Capuchin, South American Coati, Azara's Agouti, Forest Rabbit, Capybara, Marsh Deer, Red Brocket Deer, Grey Brocket Deer, Long-nosed Bat, Greater Fishing Bat, Lesser Fishing Bat, Pallas's Mastiff Bat, Jamaican Fruit-eating Bat, Heller's Broad-nosed Bat.
I can't imagine wildlife watching in the neotropics gets much better than the Pantanal. There are many ecolodges along the 130km stretch of road than penetrates the Pantanal south of Cuiaba which vary in price and luxury. So far as I could tell there are more animals (both in abundance and diversity) along the first 40 kms. But the end of the road is an altogether better wilderness experience and it's the best area for Jaguars and Tapirs. Pousada Jaguar about 90km down the road seems a particularly good spot for cats. A detailed report is here.
Minas Gerais and Espirito Santo (2007)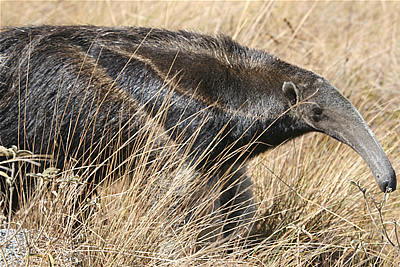 Giant Anteater, Canastra
Canastra National Park, August 2007, 2 nights – Giant Anteater, Maned Wolf, Pampas Deer, Black-tufted Marmoset. A beautiful park with abundant Giant Anteaters and also a good chance of seeing a Maned Wolves.
Caraca, August 2007, 2 nights – Masked Titi, Black-tufted Marmoset, Brazilian Guinea Pig, Guianan Squirrel, Black Myotis, Maned Wolf. An interesting place. I'd avoid the weekends; it was packed on a Saturday night. But it's a good place to see Masked Titi Monkeys and a few other things. Plus you get to see Maned Wolves close up when they come to feed from the front patio every night.
Caratinga, August 2007, 2 nights – Southern Opossum, Brown Howler, Black-tufted Capuchin, Buffy-headed Marmoset, Northern Muriqui, Red-Rumped Agouti, Seba's Short-tailed Fruit Bat. A small patch of rainforest that holds an excellent range of primates and where Muriquis are almost guaranteed. Definitely worth a visit
Sitio Graciema, August 2007, 1 hour – Geoffroy's Marmoset, Common Long-tongued Bat. I guess you'd need to speak to one of the locals, or a guide, to arrange access to this private small holding where a habituated troop of introduced Geoffroy's Marmosets are easy to see.
Santa Maria Northern Muriqui Reserve, August 2007, 1 day - Maned Sloth, Northern Muriqui, Brown Howler, Guianan Squirrel, Buffy-headed Marmoset. A small patch of remnant forest that is well worth a visit. Maned Sloths are easy to see, while the excellent research staff are very knowledgeable about the local fauna. It is possible to overnight here but unfortunately I didn't know until I arrived.
Parana (2009)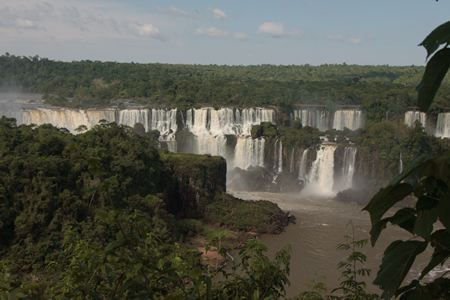 Iguasu/Iguazu Falls
Iguazu: I visited Iguazu Falls during a work trip. The falls are spectacular enough and are set in a nice national park. But they draw a million visitors a year so they are crowded and heavily regulated. South American Coatis are common though I only saw a few (on both the Brazilian and Argentinian sides). Brazilian Cavies are very common around the shops and restaurants at the Argentinian entrance and I also saw some Brown Capuchins here (apparently these are less common). You are unable to enter the park at night unless you are staying at one of the two fancy hotels inside. Apparently Red and sometimes Pygmy Brocket Deer (rare and localised to the area where the Paraguay/Argentina/Brazil broders meet) are seen inside the park, usually when people are returning to the hotel from dinner in town. If you were staying in one of the hotels then in principle you aren't supposed to walk at night along any trails but I suspect no one would be there to stop you so that would be worth a shot. I used Alex Bassi as a local guide: he's a good naturalist and a nice guy and knows the park well so I recommend him, though he didn't have any specific spots to look for Pygmy Brocket Deer which I half hoped I might try for.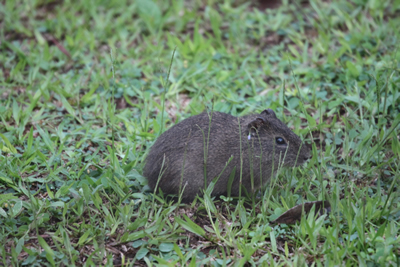 Brazilian Cavy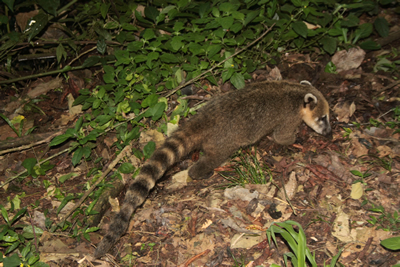 South American Coati
Rio de Janeiro State (2009)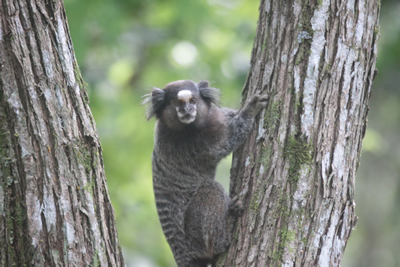 Common Marmoset
Rio De Janeiro: The Botanical Gardens and the Parque Nacional da Tijuaca in the middle of town are both good places to look for Brown Capuchins and the feral Common Marmosets. Alcides Maia is a local guide who knows the area and its birds and mammals well and was very helpful. No hesitation in recommending him.
Poço das Antas Biological Reserve is a network of Atlantic Rainforest fragments that is home to a so far successful project to reintroduce Golden Lion Tamarins to several Atlantic Rainforest fragments. The project is working with local landowners to restore the forest and connect the fragments. In 1983 only 150 Tamarins remained in the wild. The reintroduction and habitat restoration work has seen the population swell to 1500. You can visit the centre and arrange to see some Tamarins, which are easy to find because a biologist will take you to one of the families currently radio collared. Porcupines - I think the Orange-Spined Dwarf Hairy Porcupine - are also quite common around the project office apparently, though I couldn't see one. They might be easier to see when the papayas are in fruit. Common Marmosets (introduced) are usually hanging out with the Tamarins.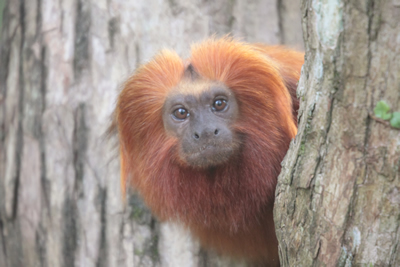 Golden Lion Tamarin
It can be done as a day trip from Rio but I stayed overnight in the fairly basic but very comfortable Fazenda Bom Retiro homestead which has its own Tamarins (contact Luis Nelson, the owner there). Despite an evening followed by a night walk in the Bom Retiro rainforest I couldn't find any mammals. But there are animals around including Tayras. if you are on a diet then don't go there – the food was great and came in industrial quantities.

I organized the visit – as I did my 2007 trip to Brazil – with the excellent Brazil Aventuras who organized it all at short notice and didn't worry about my paying until I got back to France. Nice to see such trust still exists in Brazil. Contact Homero there. The Tamarin project only takes one group a day (and one person can count as a group) so you need to book in advance. The costs of visiting includes a fairly substantial donation to the project.
See Also
Mating Jaguars in the Pantanal (Feb 2011).
Sightings from Amazonian Brazil – Primates and Short-eared Dog (Mar 2010).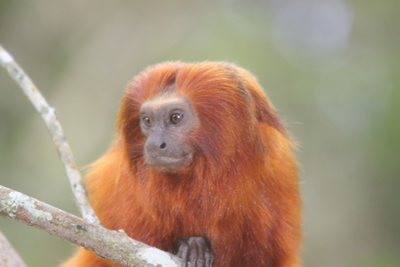 Other People's trip reports
Brazil 2012: Stefan Lithner, 12 days & 26 species including White-lipped Peccary, 6 and 7 Banded Armadillos, and Jaguar.

Brazil, 2012: Phil Telfer, 2 weeks with 30 or more species, the highlight though most undoubtedly a Giant Armadillo, as well as a Margay, Yellow and Southern Naked-tailed Armadillos, White-lipped Peccaries, Jaguar and more.

Brazil, Paraguay and Peru, 2012: Romain Bocquier, mega-trip of 7 weeks & 43 species incuding Sechuran Fox & Taruca (Peru), Jaguar & Tayra (Brazil) and Jaguarundi & Geoffroy's Cat (Paraguay).
BRAZIL, 2011: Janco Van Gelderen, 6 weeks & 31 species including Saki Monkey, Bamboo Rat, White-lipped Peccaries plus Jaguar, Maned Wolf, Tapir. Great report.
Brazil, 2011: Stefan Lithner, 6 weeks including a month at the REGUA reserve in the Atlantic rainforest & 40+ mammals including some interesting rodents - Southern Bamboo Rat and Orange-spined Hairy Dwarf Porcupine - Oncilla and Jaguarundi.
The Pantanal, 2011: Carmen and Torbjörn Lundqvist, 12 days & many species including Jaguars and a Six-banded Armadillo, plus some great photos.
Brazil, 2011: Indri Tours, 2 weeks & 27 species including Six-banded Armadilloes, White-lipped Peccaries and Jaguars.
Brazil, 2010: Ian Loyd, 2 weeks & 21 species including 4 Jaguars.
Brazil, 2010: Steve Davis, 2.5 weeks & 26 species including some great primates like Golden-headed Lion Tamarin, Wied's Black-tufted Marmoset and 3 Opposums.
Brazil, 2010: Don Roberson, 3 weeks & 23 species including Jaguars, Maned Wolves and Yellow Armadillo. Great photos.
South East Brazil, 2010: Sjef Ollers, 3 weeks & 23+ species including several interesting prmates, Greater Grisons and an Orange Spined Hairy-dwarf Porcupine.
Brazilian Amazon, 2010: Bradley Davis, some notes on a couple of lodges with nice primates including Prince Bernhard's Titi Monkey and Marca's Marmoset.
Brazil, 2009: Tomer Ben-Yehuda, 10 days & 22 mammals.
Brazil, 2008: Richard Webb, 2 weeks & 35 mammals.
Brazil, 2008: Steve Anyon-Smith, 5 weeks & 43 mammals including Jaguars and a Kinkajou.
Brazil, 2006: Sjef Ollers, 2.5 weeks & 32 species including a Giant Armadillo in Emas National Park.
Brazil, 2006 - trip 2: Richard Webb, 2 weeks & 41 mammals.
Brazil, 2005 - trip 2: Richard Webb, 2 weeks & 32 mammals.
Brazil, 2005 - trip 1: Richard Webb, 2 weeks & 35 mammals.
Brazil, 2004 - trip 3: Richard Webb, 1 month & 43 mammals.
Brazil, 2004 - trip 2: Richard Webb, 2 weeks & 34 mammals.
Brazil, 2004 - trip 1 : Richard Webb, 1 week & 12 mammals.
Brazil, 2003: Richard Webb, 2 weeks & 27 mammals.
Brazil, 2001: Richard Webb, 2 weeks & 19 mammals.