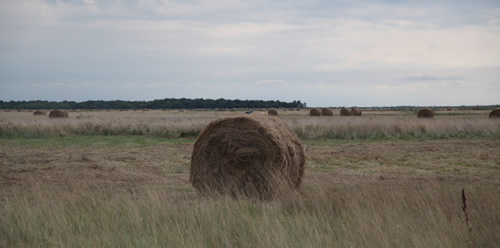 Hortobagy National Park
In summer 2010 I was looking for somewhere in Europe to take my kids - Patrick and Katy - for a few days mammal chasing and I thought Hungary might be the go when I learned there was a decent population of Greater Noctules there along with several other animals I wanted to see. So a quick google search for "ecotour hungary" led me, not surprisingly, to ecotours.hu. Writing to them was serendipitous indeed: my email found its way to Balazs Szigeti, one of the partners and principal guides. Turns out he is one of the growing number of ecotour leaders who can see the potential in promoting mammal watching. Moreover, Balazs happened to be on a tour when I wrote with Dominic Couzens, the British author and naturalist. Dominic, I was flattered to hear, had seen this site and so Balazs was persuaded to take me and the kids on a custom tour looking for some of the many Hungarian mammals I wanted to see. I returned in 2013 for weekenda in May and September.
Hungary has a lot of potential I think. There are some interesting - and difficult to find - species there, very nice forest and wetlands, and its a cheap place to get to and travel around. If I got tired of looking at the wildlife I could admire the scenery of the thriving sex industry (or try to distract my 9 year old son from admiring the scenery: every lay-by had its own resident female in full - if scanty - breeding plumage).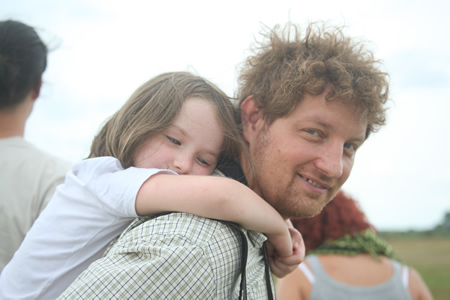 Balazs and Katy
Hungary is also a useful size. It is small enough to cross in a day, so no site is very far from the next. And Balazs knows most of the mammalogists. And he knows people who know the rest. So with time he might be able to track down every one of Hungary's mammals (other than perhaps a Lynx).
We arrived late on Thursday evening into Budapest and headed straight to Little Balaton, a couple of hours west, speeding past a Northern White-breasted Hedgehog en route. The next morning we met with Gyozo Horvath and his team who were trapping for Root (or Tundra) Voles in the wetlands. They had been generous enough to schedule their survey around my visit.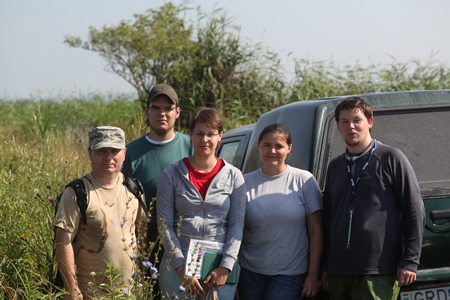 Gyozo Horvath and his research team
In a couple of hours trap checking we caught several Root Voles, which were remarkably placid in the hand.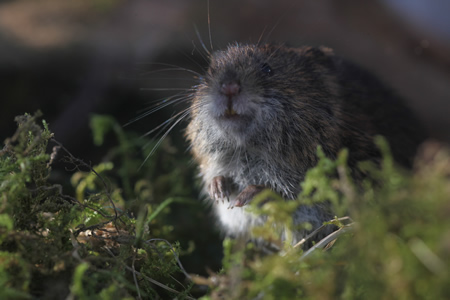 Root Voles
We also found a Northern Water Vole and a Field Vole.

Water Vole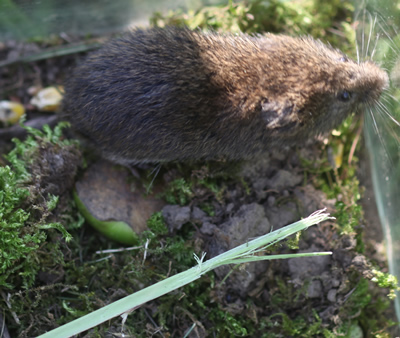 Field Vole
And the final capture was a beautiful Striped-field Mouse (a second lifer for me). Two new species before breakfast. Things were looking good.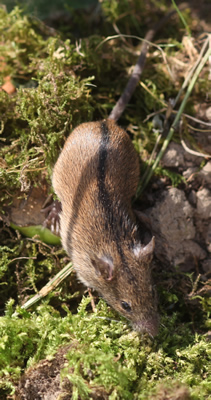 Striped Field-Mouse
After brekky we headed south for 3 hours or so to the Gemenc region where we met another of Balazs's friends, this time a bat researcher. We battled through the mosquitoes to take a look at several hundred Pond Bats, one of the rarest bats living in Europe, roosting under a road bridge alongside about a thousand Soprano Pipistrelles. The bright sunlight made photography very difficult.


Pond Bats believe it or not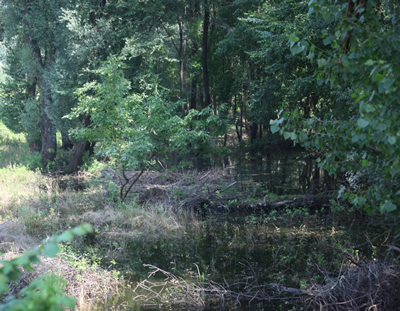 Pond Bat habitat
From there we headed to the Bukk Mountains to spend the night near Eger in the Nomad Hotel (which is a great place to stay or camp), where I met up with Toulon-based Jean-Michel Bompar and his wife Mary who had also decided to take a vacation in Hungary. After a swim and dinner we drove to the Bukk National Park and met another of Balazs's battoe friends. A thunderstorm kicked off as we arrived at the study site but the rain stopped after an hour and we set up a mist net once we saw Daubenton's Bats skimming the small pond in the small patch of primary Beech forest. I was sceptical that we would catch anything but within 20 minutes we caught a superb Greater Noctule: Europe's largest bat and one of the rarest and least understood. It was closely followed by a much smaller Common Noctule.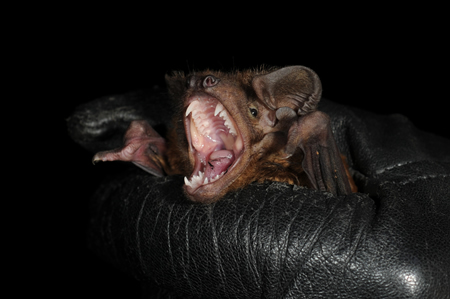 Greater Noctule (photo Jean-Michel Bompar)
I cannot imagine I will have many more opportunities in Europe to see 4 lifers in a day.
The next morning we had a rendezvous with a researcher working on mole-rats near Hortobagy National Park. The study site was interesting in itself. Kunmadaras Airbase - a soviet military airport that was abandoned in 1992 but once was home to 5000 people. It is impressive how quickly nature takes over.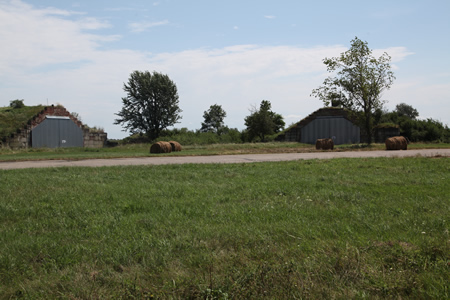 Kunamadaras Airbase - bye bye MIGs, hello Mole-rats
Mole-rats are peculiar in many ways. There are at least 3 Mole-rat species in Hungary although the taxonomy is evolving quickly as more and more species are discovered: they may look the same but the chromosomes are different. Mole-rats are extraordinary animals, having no eyes to speak of (they have something similar but covered by skin), spending their entire lives underground (they never venture above the surface voluntarily and have no natural predators).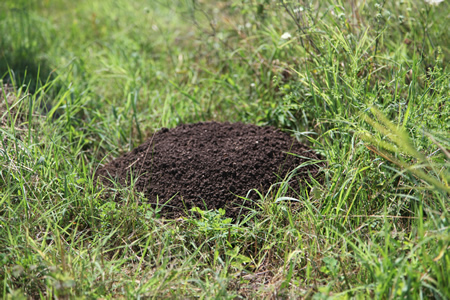 Mole-rat Hill
Essentially just a stomach with a hole at either end and feet attached. I've never seen anything like them (notwithstanding the clientele in some of Las Vegas's all you can eat buffets). They don't enter traps readily either, so to catch them you need to partially excavate their tunnel system, wait for them to start repairing the damage and dig them out.
There was a freshly caught animal waiting for us when we arrived. One of the Lesser Mole-rat superspecies - as the not so super species formerly know as Spalax leucodon is now thought to be - as species which will probably be described as Spalax (leucodon) hungaricus.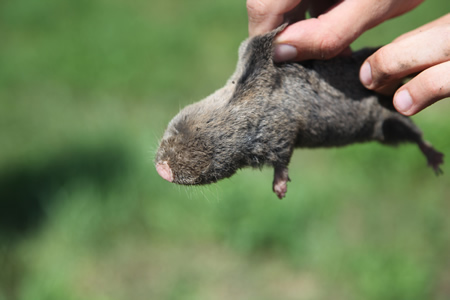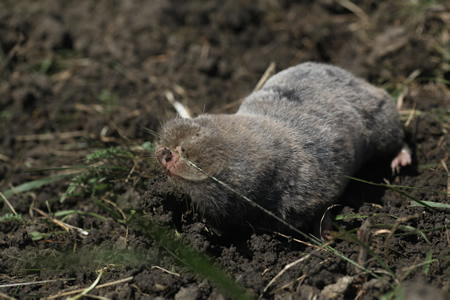 Lesser Mole-rat
What a superb animal. As you can see from the number of photos here I was particularly excited - maybe because they superficially resemble a Marsupial Mole, almost certainly the most difficult mammal to observe in Australia and one I would dearly love to see in the wild.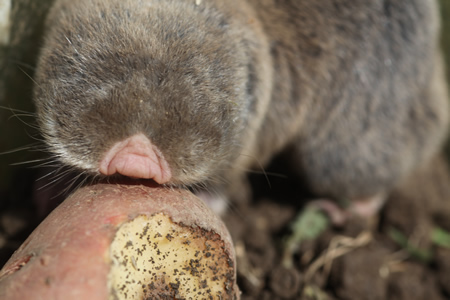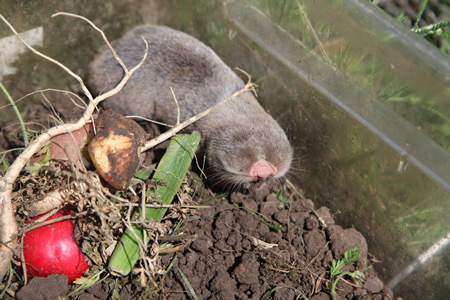 The animal we saw was about 200 grams, but the species in Transylvania gets up to 600g. I have got to go see it.
We spent the rest of the afternoon in the strictly protected zone of Hortobagy National Park, where 150 Prezwalski's Horses are living wild after being (re)introduced to a large enclosure. I personally didn't feel happy about adding them to my life list but in many ways they were wild animals (I will need to see them in Mongolia if I want to tick them I think). The taxonomy of Prezwalksi's Horse is still being debated. Some see them as a unique species, others as a subspecies of horse, and some don't even view them as having subspecies status. The IUCN redlist lists them as Equus ferus prezwalski, the only surviving member of Equus ferus. They certainly looked different to E. caballus and we spent half an hour watching a herd of 60 or so that approached us quite closely but are apparently aggressive from time to time.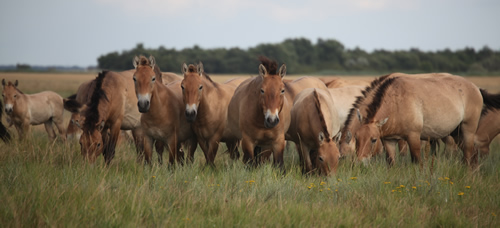 Prezwalski's Horses
On our third day the hot weather broke and we drove a couple of hundred kilometres in the rain to a gorge on the the Slovakian/Hungarian border to visit a Parti-coloured Bat roost in the roof of a cafe (the location of which I promised not to mention) . Unfortunately there were only a few Serotines (I think) there. Balazs knew of another Parti-coloured roost in Hungary's Bukk mountains but the bats leave in mid-July each year and I just missed them. Lynxes are occasionally reported from the Hungary/Slovak border.
We spent our last 24 hours in Ocsa. European Sousliks are widespread across Hungary but not so easy to see without local knowledge (as Jean Michel will testify from his experiences failing to see them on a wild Souslik chase around Hortobagy). But Balazs knows many sites and took us to one of the easiest (if you arrive by plane) - a soccer pitch sized patch of grass about 200 metres in front of Budapest Airport. Despite the drizzle we saw 10 or more animals in an hour there.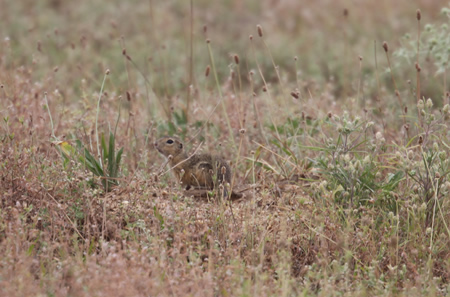 European Souslik
We had arranged to meet someone from the university for our last night to trap shrews around Ocsa but he changed his plans. Balazs and I pressed on though, and I was introduced to a new low-tech trap: a litre plastic bottle with the neck cut off, that is sunk into the earth until the top is level with the ground at which point some oily fish is dropped in. It is too shallow to catch rodents I suspect (they can jump out) but apparently works well for shrews. I was sceptical again but in a few hours we caught my first (live) Pygmy Shrew and also a Common Shrew. It is unfortunate we didn't have more traps as the peat bog there is home also to both European and Miller's Water Shrews, as well as Lesser and Bi-coloured White-toothed Shrew. Maybe next time.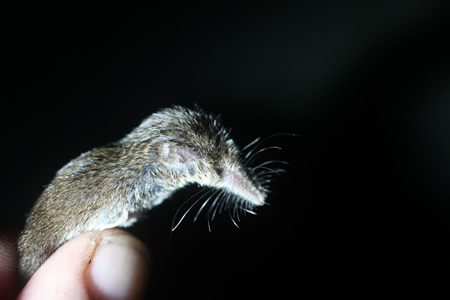 Pygmy Shrew
So a successful trip for me and my kids. A very big thank you to Balazs and Ecotours for his excellent organisation and help, and also for tolerating my children so well. He did a great job and was also great company to travel with. Mammal discussions aside, we enjoyed swapping Ali G and Eddie Izzard quotes. I am looking forward to returning as soon as I can.
Stuff I missed in 2009
Given how short our trip was we didn't miss a great deal we'd been targetting, other than some of the shrew species we had been hoping to see in Ocsa. There are several other mammals I would like to look for when I go back including Common Hamster (rather uncommon apparently though in good Hamster years they can be prolific and Jean-Michel Bompar saw one in Slovakia as he was heading home) and Steppe Polecat (again quite rare). Balazs also knows somebody working on Southern Birch Mice plus there are at least another 2 Mole-rat species to see . Other nice mammals include many species of bats (in swarming caves they can catch 18 species in an evening), Forest Dormouse, Beech Marten, European Beaver and Wild Cat.
Trip List 2009
European Hare Lepus europaeus
European Souslik Spermophilus citellus
European Water Vole Arvicola terrestris
Field Vole Microtus agrestis
Root Vole (Tundra Vole) Microtus oeconomus
Striped Field Mouse Apodemus agrarius
Lesser Mole-Rat Nannospalax leucodon
Northern White-breasted Hedgehog Erinaceus roumanicus
Common Shrew Sorex araneus
Eurasian Pygmy Shrew Sorex minutus
Soprano Pipistrelle Pipistrellus pygmaeus
Greater Noctule Nyctalus lasiopterus
Common Noctule Nyctalus noctula
Pond Bat Myotis dasycneme
Daubenton's Bat Myotis daubentoni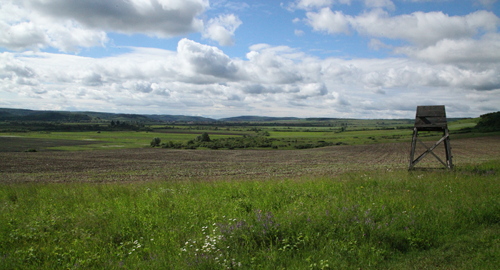 Bódva Valley after the rain, May 2013
In late May 2013 I returned for a weekend. Balazs was busy so he fixed me up with Sandor Boldogh who works at Aggtelek National Park in northern Hungary and runs occasional tours. Sandor was excellent: a lovely guy and a great naturalist. But even his super-mammal-powers weren't enough to compensate for the terrible weather. It hardly stopped raining the whole weekend and the weather was 10C cooler than usual too.
Sandor did manage to show me two of my target species, beginning with a Common Bentwing Bat (Miniopterus schreibersi) which we saw at a secret location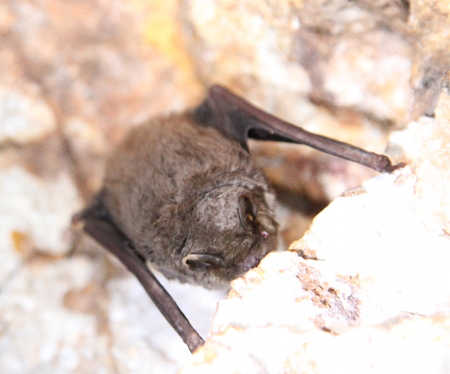 Common Bentwing
Followed by a Ural (Pygmy) Field Mouse (Apodemus uralensis) which we caught that evening in one of the great locally made mammal traps (great in the dry weather but not so effective in the rain).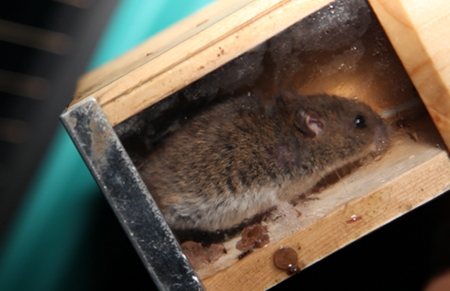 Over the course of the weekend we also saw several Brown Hares, Common Noctules and Daubentons (during an otherwise fruitless hour's mistnetting in Sandor's village), as well as Lesser Mouse-eared and Geoffroy's Bats near the Miniopterus colony and a colony of Mediterranean Horseshoe Bats too.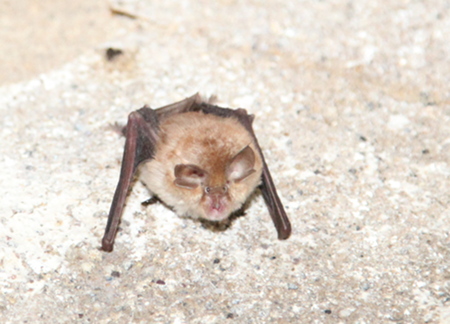 Mediterranean Horseshoe Bat
With better weather I feel sure we would have seen Steppe Mice (Mus spicilegus) which Sandor has a failsafe spot for viewing, Hamsters (which are a pest animal especially in the Autumn) and Particolored Bats: we visited a quarry where they may have been roosting but couldn't locate the roost perhaps because the animals were in torpor and not calling. Sandor also thought there would be a very good chance of catching some of several species of Shrews - European and Miller's Water Shrew, and Bi-colored and Lesser White-toothed Shrews. I will have to go back.
And back I went for a couple of days in the middle of September 2013 and once more based myself in Josvafo village. Sandor was working but still found some time to help try to catch some shrews.
Hamster numbers should have been peaking by September but it appeared not to have been a great year for them. I returned to the little town of Mezozombor, where I'd looked in May, and a local showed me the carcasses of several recently killed animals in a small garden (a garden that had 4 cats in it later that evening) as well as some fresh burrows in allotments where Sandor and I had looked in May. I didn't see or hear anything though but left 3 cage traps baited with carrot. And the next morning one contained a very agressive and wet Black-bellied Hamster. The animal was hissing and throwing itself at the trap and my fingers when I picked it up. A beautiful thing and the photos - taken in pouring rain - don't do it justice.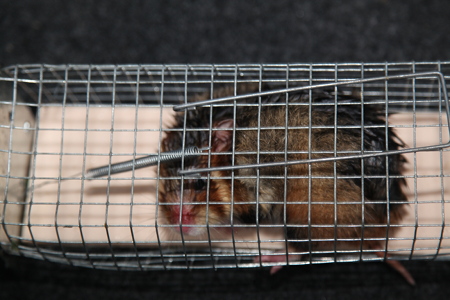 Black-bellied Hamster
Hamsters are notorously aggressive and Sandor told me about stories of them standing up - as in the photo below - to confront railway trains and trucks bearing down on them.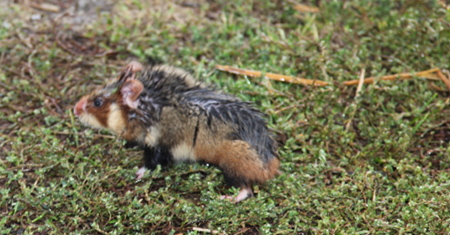 Black-bellied Hamster
The other lifer of the trip was seeing several Steppe Mouse at a site near Mezkovesd. I visited the small bridge over a dry creek in farmland at dusk and there were rodents everywhere. In 30 minutes I saw at least 3 Wood Mice as well as a couple of Steppe Mice and other unidentified species (Sandor has also caught Lesser White-toothed Shrews here for instance). I set 5 traps and caught 3 Wood Mice in the first 15 minutes! The next morning all 5 trap were ful: 3 Wood Mice and and 2 Steppe Mice.

Steppe Mouse
The rest of my time was spent looking for Shrews around Aggtelelek. Just 2 weeks earlier Sandor had caught several Lesser White-toothed Shrews and a Miller's Water Shrew, and European Water Shrews are also present. Despite 80 trap nights we didn't catch a single shrew (perhaps because the weather was a few degress cooler than it had been a fortnight earlier). We did however catch Harvest Mice, Wood Mice, Yellow-necked Mice, Striped Field Mice and Common Voles. And I saw Red Foxes, Red Deer, Red Squirrels and Brown Hares while driving around. There were no sign of the Particoloured Bats at the quarry I had visited in May and when I dislodged a very large boulder which fell onto me I thought my mammal watching days were over as I slid down the scree towards the edge of the cliff.
See Also
Sousliks in the Hortobagy (June 2011).
Other People's Trip Reports
Hungary, 2011: Phil Telfer, one week & 37 species including Miller's Water Shrew, Steppe Mouse and Lesser Mole Rat.
Hungary, 2010: Marks Hows, one week & 32 species inlcuding Bechstein's Bat, Black-bellied Hamster and Southern Birch Mouse.