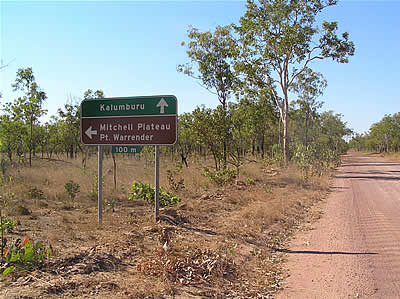 There is quite comprehensive information on this site about mammal watching in Australia - its the country I know (and love) best. Details about some of the top mammal watching spots in each State and Territory are linked to the right. I'm also always meaning to start work on a species by species guide on where to go to see just about all of our 360 something extant species. One day...
Australian mammals are unusual, as indeed are many Australian mammalogists. They bounce, they glide, they carry their young in pouches and often eke out an existence in some of the most hostile country on the planet (the same can be said of the mammalogists too thinking about it). And none is stranger than the Platypus. When a specimen was first sent back to London, the staff at the Natural History Museum declared it a hoax that had been stitched together from other things: an Antipodean Jackalope. And I suppose it was then that they were told the Platypus lays eggs and - be careful - the male has a venomous spur on the back of his hind leg.
Australian mammals are diverse. Take Kangaroos. We don't have just one Kangaroo; we have 50. The little Monjon can weigh less than a kilo. The Red Kangaroo can top 80kg. Some live in the tree tops, others burrow underground. They inhabit the wettest rainforests and the driest deserts. They can make a home on a cliff face or a golf course, a mountain top or a beach.
Australian mammals are in trouble... well some of them are. Contrary to popular belief Australia has more than her fair share of environmental problems. Something like 40 mammal species around the world are thought to have gone extinct during the past 200 years. More than half of those have gone from Australia. Many other species cling on in tiny populations - the Northern Hairy Nosed Wombat's population hovers at around 200 animals in a tiny park in central Queensland. But they are positively common compared to Gilbert's Potoroo, the last 30 or so live in one area of heathland in the south west corner of Australia. But the country is so large and so unexplored that there are almost certainly new species to be discovered and one or two 'extinct' species still surviving somewhere.
The country's agricultural history is partly to blame: intensive land clearing (that has quite recently begun to decline significantly), changed fire regimes, overstocking and a simply ludicrous misuse of water for irrigation have played a role. And feral (non-native) animals - particularly predators like the Red Fox and the Domestic Cat and devastating pests like the Cane Toad - are also key to the disappearance of many species. Many others more expert than me can explain all this but if you want to help then I think very highly of the Australian Wildlife Conservancy. The Nature Conservancy Australia also seem to be doing good things.
Australian mammal watching is an adventure. We might not have the charismatic species of Africa and the Arctic, or Asia and South America, but Australia has some of the most beautiful landscapes and remotest country anywhere. And mammal watching takes you to those places. I guess few people's holiday plans would run like this ... First, fly several thousand miles across the country from the east coast to Broome (in the north west). Then hire a landcruiser and drive for 15 hours, at least half of it on dirt (and bumpy dirt) roads. Next stay up all night and wander around with a spotlight trying to see a Golden-backed Tree Rat and a Scaly-tailed Possum.
But thousands of people make the trek each year to the Mitchell Falls, where these animals happen to hang out. And I got to see the waterfall - they didn't see the Tree Rat!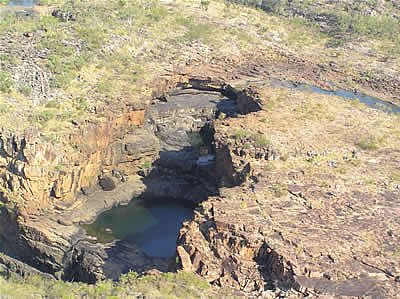 Mitchell Falls
Australian Mammals Twitchers Club
Having a twitchers' club for those who like to keep a list of the Australian mammals they have seen is a harmless - if slightly unusual - idea. If you'd like to be included here then sign up here. The AMTC is free to join (like, yeah, you are going to pay) and has no rules or regulations. It was the brainchild of Lawrie Conole.
The listing rules are based on Lawrie's list of 384 species, largely based on Menkhorst (2001) with some variations. There are a few other taxonomic variations that might be argued about. I'll update the list when the revised issue of Ronald Strahan's Mammals of Australia comes out.
In the table below, people's email addresses are hot-linked to their names; so click and mail to make contact. We also have a discussion group on Yahoo that anyone can join.
Menkhorst, P.W. (2001) A Field Guide To The Mammals Of Australia. Oxford University Press: Melbourne.