Pictus Safaris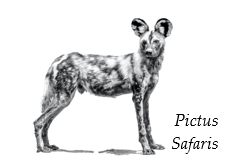 Area: Africa
Type: Tour Operator
True Pan-African specialists, Pictus Safaris were founded to bring ecotourism to Africa's least appreciated wilderness areas and their elusive wildlife. From the last wild dogs of Senegal, to the ultra-rare pygmy hippo, we work hard to give clients the best chance possible of spotting the continent's most breath-taking sights. With a range of small-group tours, and private departures, get in touch today at contact@pictus-safaris.com or visit our website at www.pictus-safaris.com to begin planning your next adventure.
Reports
Lobeke NP (Cameroon) & Dzanga-Sangha (Central African Republic), 2023: 2 weeks & 38 species including Black and White-bellied Pangolins, Giant Forest Hog and Bongo (in both Cameroon and the C.A.R).
Chad 2023: Pictus Safaris' recap of three tours, with mammal highlights including Scimitar-horned Oryx, Dama Gazelle, Addax, Libyan Striped Weasel, Caracal, Pale Fox, Red-fronted Gazelle, Red-flanked Duiker, Honey Badger and much more.
Senegal, 2023: Pictus Safaris, 6 days & 22 species including West African Manatee, Atlantic Humpbacked Dolphin and Red-flanked Duiker.
Tai Forest, Ivory Coast, 2022: Pictus Safaris, three weeks & 52 species including Long-eared Flying Mouse, Chimpanzee,  Johnston's Genet, Liberian Mongoose, and Jentink's Duiker.
Gorongosa, 2022: Pictus Safaris, 9 days & 38 species including Marsh Mongoose, Wild Dog and Banana Serotine.
Malawi & Mozambique, 2022: Pictus Safaris, 2 weeks & 46 species including Meller's Mongoose, Mozambique Dwarf Galago and Dugong.
Mozambique, Tanzania and Kenya, 2021: Pictus Safaris, 30 days & 81 species including  Ader's Duiker, Maned Rat and Kipunji.