South Africa, 2007 Trip Report
I was in South Africa. I was turning 40. I had 10 days and hot tips for Aardvarks, Caracals, Bryde's Whales and Black-footed Cats….
Kimberley
The inspiration for this trip came from Charles Foley. He told me about some Black-footed Cat research underway at a De Beers' property near Kimberley in the Northern Cape. He'd visited in July 2007 and seen a Black-footed Cat, along with some other nice stuff including Aardvarks, Rock Elephant Shrews and Red Rock Rabbits. How could I resist?
As soon as I pulled out of the car park at Kimberley airport I saw my first mammal – a colony of South African Ground Squirrels 10 metres off the road in the airport grounds. A quick stop at Woolies to pick up some oats, honey and peanut butter for my mammal traps (all these ingredients were on the same shelf which I took as a sign …) and then to my accommodation.
Like Charles, I based myself at the Marrick Safari Camp. Marrick is just 15 km out of Kimberley, and – like so much in South Africa – is cheap and very friendly. The guesthouse is run as a game farm and there's a large pan out front with very short grass which is ideal for spotlighting. Trevor, who runs Marrick, was very helpful when I was arranging my trip. He gave me lots of advice and also contacted Beryl Wilson, Black-footed Cat researcher, to arrange for me to go out with her.
My first night's spotlighting was on the Marrick property and I was accompanied by Ben, one of the local guides. We saw a lot. Spring Hares were very common and less than 10 minutes into the drive we saw an Aardwolf soon followed by a Yellow Mongoose.
There is a good deal of indigenous game on the property that Trevor has reintroduced including Springbok, Red Hartebeest, Black Wildebeest, Mountain Zebra, Gemsbok and Kudu. I also saw Steenboks and Common Duikers. An hour and a half into the drive I saw my first Aardvark. Oh joy! Aardvarks have fascinated and eluded me since I lived in Zambia in 1991. I must have asked the question "How often do you see Aardvarks?" more than any phrase in the English language. And I wasn't disappointed. What an awesome animal. Photographic opportunities were quite limited because I was driving and the Aardvarks, along with most of the other animals, were quite skittish. And they can run quick! This was also my 800th mammal fittingly enough.
Thirty minutes later we saw a second animal. Although Aardvarks are not uncommon on Marrick it is unusual to see two in an evening.
We finished the drive behind the guesthouse where the road runs along some low rocky hills. Judging by the latrine sites Smith's Red Rock Rabbits are common here and we quickly saw one. I went for a walk there later than night and saw another, as well as a Namaqua Rock Mouse (Aethomys namaquensis).
I caught two West-Central South African Four-striped Grass Mice (Rhabdomys bechuanae – split in 2019 from R, pumilo) and a Bushveld Gerbil (Tatera leucogaster) the next morning and during a drive around the property I saw most of the ungulates living there (most species have been reintroduced), along with several Yellow Mongooses and many Cape Ground Squirrels.
I didn't do a great deal for the rest of the day until I left at dusk to meet Beryl Wilson at the De Beers Benfontein Farm just past Kimberley Airport. A storm had been brewing all afternoon and the heavens opened as I arrived. Things were looking dodgy but after the rain stopped the only clear patch of sky for a long way seemed to be right over the farm so we decided to chance our luck.
Beryl has been working on Black-footed Cats for the past 12 years, trying to get a better understanding of the animals so that they can be bred more successfully in captivity. This is vitally important to maintaining a genetic reservoir in case disaster hits the small and dwindling wild population. Fewer than 10,000 cats are left in the wild and about 7 live on the 11,000 hectare De Beers property. Two had radio collars.
After about an hour or so we got a faint signal from the radio-collared male. En route we had seen several Aardwolves, so common here that Beryl joked they were a "trash animal", a dozen Bat-eared Foxes, a few Black-backed Jackals and a pair of Cape Porcupines.
We picked up a signal from the radio collared male cat, which Beryl reckoned was about 1.5 km from the vehicle. A few hundred metres later the road began to get pretty soft and it was going to get worse: there had been quite a bit of rain over the past few days and the sandy ground was deceptively slippery. So we gave up. Any doubts about the softness of the road evaporated when the car got stuck as we tried to turn around.\
An hour or so of pushing and digging and digging and pushing later, Beryl decided we could take a look for the radio collared female on the eastern side of the park. A few kilometres before we reached that cat's home range we picked up some eyeshine 50 metres off the road: a large Black-footed Cat was sitting in some low vegetation cleaning himself. He was undisturbed by the vehicle and the light and we had great views for about 15 minutes, even seeing his black feet as he lifted a paw into the air while  cleaning himself. I was pretty lucky to have seen a cat without a radio collar and apparently very lucky to have had such a close and prolonged sighting. We left the cat when the rain started again: the rain continued all the way back to the Marrick Camp.
I caught only one Four-striped Grass Mouse the next morning and didn't go a great deal during the day. The evening was clear and Beryl and I went out again at 7 pm to look around Benfontein Farm. We saw similar species to what we'd seen the night before and this time found the radio-collared female Black-footed Cat. We had fairly distant views of her as she avoided the vehicle – a more normal sighting. We followed an Aardwolf for a while that was scent-marking and I got to sniff some of its scent stuck to a clump of grass. It looked and smelled like vegemite.
Although Beryl Wilson is a scientist, not a tour guide, she is prepared to take people out to look for the cats. But she stressed that sightings cannot be guaranteed and are usually brief and distant. She's also away quite a lot and trips are weather dependent – November and December for example is not a good time to look because of the rain. The weather is more reliable in winter, but it is also very cold. Temperatures of -10c at night are not uncommon.
I drove around the Marrick farm until 1am. Several Black-backed Jackals and Aardwolves plus numerous Spring Hares and one disappointingly fleeting glimpse of the groovy Large-eared Mouse (Malacothrix typica) on the lawn in front of the homestead. According to Beryl these mice are very common out on the short grass of the pan but this was the only one I saw and the view was very brief (at first I thought it was a Four-striped Grass Mouse but they are diurnal). Sadly no South African Hedgehogs, though I had seen a squashed one on the main road near the property. Beryl said that Hedgehogs can be very common, especially in the summer but the population at the farm at least was closely tied to the presence or absence of Eagle Owls. One pair at the farm had eaten 20 hedgehogs in a week a few years back!
Charles Foley had seen Rock Elephant Shrews (Elephantus myurus) on the rocky hills near the homestead. They are diurnal and he suggested sitting on top of a hill and waiting. Ben, who works at the Marrick Farm, said they were quite common but that no single place was any better than anywhere else. And Beryl told me they like to sunbathe on the rocks in the early morning. After walking and sitting and walking for a couple of hours in the early morning I hadn't seen anything, but then I decided to scan more distant rocks using my binoculars. And within a couple of minutes I saw a Rock Elephant Shrew sitting on top of one of the bigger rocks. I managed to get pretty close and got good views. I then sat 10 metres from the rock and waited. After 10 minutes it popped up for a second and retreated when it saw me. It didn't re-emerge so I walked up to the rock at which point it shot out and away.
I'd set traps in the same rocky hills and 3 of the 14 contained a Namaqua Rock Rat (Aethomys namaquensis).
In the mid afternoon I took a drive and saw a Suricate (Meerkat) though it hooned off and I couldn't see where the colony lived. Turning around in some soft sand, the car started to throw up dirt and a small rodent dashed out. I chased it down and had to put my foot on it to stop it going down a hole. I put my foot down too hard and so I donated it to the MacGregor Museum, where Beryl confirmed it was a Short-tailed Gerbil (Desmodillus auricularis).
My last night drive on Marrick was quietish. I saw my first Warthogs of the trip followed by a few Bat-eared Foxes, a Porcupine, a couple of Black-backed Jackals, plus Aardwolves, numerous Scrub and Spring Hares, Duiker and Steenbok and a couple of what I think were Gerbils (probably one Tatera leucogaster and one smaller species) but neither of which I could identify from a distance. We also saw a couple of game farm animals that I hadn't yet seen on Marrick: Waterbuck and Blue Wildebeest. Out on the pan we saw a Feline (South African Small Spotted) Genet which are quite uncommon (this was the second the guide had seen this year).
I caught just one Namaqua Rock Mouse the next day, despite setting most of them in soft sand that was riddled with rodent burrows. On my way to the airport I stopped at the Macgregor Museum where Beryl showed me the comprehensive collection of mammal specimens.
West Coast National Park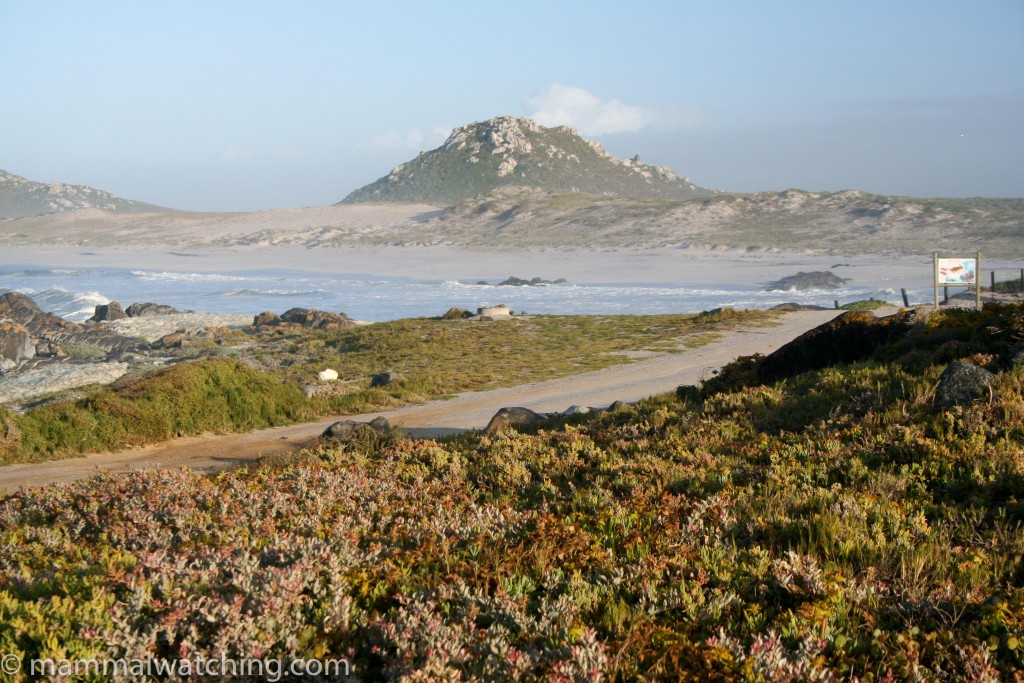 West Coast National Park is a couple of hours drive from Capetown Airport (and I saw a pair of what I guess were Yellow Mongooses crossing the highway on the drive up). I had visited West Coast briefly in 2002 but wanted to return because the consensus was that it is one of the best sites for Caracals in South Africa, if not the world.
Although some of the park gates close at night, the southern one is open 24 hours I was told, so it is possible to drive around at night (or at least it was in 2007 as I hear things have changed). But I didn't try crossing the entrance at night because I stayed inside the park. I am not sure if you are technically allowed to spotlight but I didn't ask and no one said anything (indeed I saw only a couple of other vehicles).
I stayed at Duinepos Chalets which are in the heart of the Fynbos and good Caracal country. They were fine and the gardens were alive with Four-striped Grass Mice. The only other accommodation which could be a good mammal wise I reckon would be the "rustic" Abrahamskraal cottage which overlooks a waterhole where Water Mongooses are reportedly quite regular.
Most of the larger game in the park is up in the Postberg area which is only open in August and September.
The first night I spotlit from the car from 8 pm until midnight. It was quite cold and pretty quiet. And the bush is not good for spotlighting: the Fynbos is so dense that there is little chance of seeing animals in most of the park unless they are crossing the road. I saw a few Common Duiker and Steenbok but no Cape Grysbok which are supposed to be quite common. A couple of Porcupines crossed the road and there were a few Cape Hares hanging around the turn-off to the Duinepos Chalets. I also saw a Cape Genet up toward Postberg and what was probably a Water Mongoose near the Kraalbai turn off. Through the fence at the Postberg gate there were Bonteboks and Springboks grazing. But no Caracals.
A dawn drive the next day was uneventful other than abundant Vlei Rats (I think they were probably Otomus unisulcatus in this area but might have also been O. irroratus which are also in the park) sitting on the edge of the road along the stretch around the turn off to the Atlantic View Point, a probable Small Grey Mongoose and a large group of Rock Hyraxes on the massive boulders at the Seeberg Viewpoint.
I spent most of the day looking for Heaviside's Dolphins at some of the spots that were recommended to me. At Saldhana I saw a small pod of Dusky Dolphins in the harbour and there were Cape Fur Seals off the long breakwater that connects the town to Marcus Island (you can drive down this after you pay two rand and have your camera confiscated).
Heaviside's are more regular further north at Paternoster and St Helena apparently (I was told the late afternoon is good for them at St Helena). I didn't see much at Paternoster but did see some Cape Fur Seals at St Helena, though no Heaviside's during an hour's searching at 2pm.
Back in the park I drove from 5pm to 11pm looking for Caracals. There were some Southern Right Whales quite a ways out off of the Atlantic Ocean view point and more Porcupines, Duikers and Steenboks along or across the roads. Up at Postberg, on the other side of the fence, there were some Mountain Zebras and Gemsbok. And on the road near Abrahamskraal I saw this small rodent feeding which appears to be a Vlei Rat though I would welcome corrections. But still no Caracals.
Jonathan Roussow had thought Caracals would be best found pre-dawn so I got up at 4am in a last effort. An hour later, just on sunrise and as I was resigning myself to failure, I saw a juvenile Caracal about 30 metres off the side of the road just past the Atlantic View Point. It was sitting in front of a bush and jumped up at passing moths. A few kms further on I saw what I guess was another crossing the road – though I just got a glimpse of something brown run across the road. It may well have been denning in a culvert there, which was right where the animal crossed the road (and the entrance was littered with Caracal poo). The culvert was almost precisely 3 kms before the turn off to the pre-school (if you are driving towards Postberg).
Up at the Postberg gate I saw a third animal! This adult was out in the open and a hundred metres or so away but I had fabulous views of it in the grassland for 10 minutes. A tremendous animal.
There were Red Hartebeest along the road to the ocean at Tsaarsbank.
Yzerfontein, near the southern gate to West Coast is another good spot for Heaviside's Dolphins. I stopped in for an hour on the way back to Capetown and followed the coastline south as far as the road would go. The surf was up and the conditions were not good but I thought I saw a couple of Heaviside's at the edge of the breakers but the view was inconclusive. As I was leaving a small pod of Heaviside's started breaching 200 metres in front of me.
I then drove 7 hours to Plettenberg Bay
Plettenberg Bay
I'd visited Plettenberg in 2002 to see Bryde's Whales. Although they are regular here they were not as regular as I'd hoped in 2002 and I didn't see them on two trips into the bay. This time I had arranged to go out with Gwen Perny doing her PhD on Bryde's: she was happy for me to come along on a trip to try to take DNA samples with a crossbow if I covered the fuel costs. All very exciting.
I stayed in Nature's Valley, an area of the Tsitsikamma National Park and also a small settlement. Bushbucks were common in the valley and driving back from the pub to the campsite at 8 pm I saw what I think was a Blue Duiker on a lawn in the township and what was definitely a Bushpig in another garden.
I was unlucky with the whales though… again. Bryde's Whales are not as reliable in Plettenberg as I had thought. They had been seen the day I arrived but hadn't been around for quite a while before that. Apparently March/April is the best time when they are pretty much daily in the bay. The water was also quite choppy when I went out which didn't help.
We saw plenty of Inshore Bottlenosed Dolphins (and got within crossbow range to take samples), a couple of Hump-backed Dolphins, one of which was breaching repeatedly, and a mother and calf Humpback Whale plus a ton of Cape Fur Seals.
I spent the afternoon and next morning on the Robberg peninsula at the southern end of the bay. This would have to be the best land-based spot for whale watching and also has Blue Duikers living on it, though I didn't see any. Nor could I find any bats in the two caves on the peninsula.
Driving up to Port Elizabeth I stopped at Storms River Mouth, which is a separate section of the Tsitsikamma National Park, for half an hour and saw a Small Grey Mongoose.
St Lucia
The Greater St Lucia Wetlands National Park (now known formally as the Isimangaliso National Park) is a little less than 3 hours north of Durban. It is home to a range of larger mammals and is a good place to see several quite species that are not so often seen – Red Duikers, Sunis and Tonga Red Squirrels (Paraxerus palliatus tongensis).
I stayed at Hornbill House in the village of St Lucia. Kian, who runs the guesthouse, also runs night drives and he's knowledgeable about the local wildlife. He had a lot of good advice on where I should look for things.
Highlights of the night drive in the park with Kian were White Rhino and a Bushpig. Buffalo, Hippo, Blue Wildebeest, Burchell's Zebra, Warthogs, Bushbucks, Kudu, Waterbucks and Reedbucks are all pretty common in the park and I also saw an Oribi and a Leopard in the early morning.
Other mammals that Kian has seen there include Brown Hyenas in the park (very occasionally and only on the eastern shores), Aardvark (a few every year), Water Mongooses (rarely), Cane Rats (rarely), and Honey Badgers (occasionally).
The streets of St Lucia village were good for spotlighting. The road to the ski boat club (alongside the estuary) had Large-spotted Genet on it two nights running, as well as Peter's or Wahlberg's Epauletted Fruit Bats, Bushbucks, Red Duikers and a heap of Greater Bushbabies.
In the early morning the short Igwalagwala walking trail, near the Eden Campsite, was good for Red Duikers and Red Squirrels. I saw just the one squirrel and several duikers along here, as well as Vervet Monkeys, and a big troop of Banded Mongooses patrolled the road in the early morning.
Blue/Sykes (Samango) Monkeys (Cercopithecus mitis albogularis) are quite easy to see at Cape Vidal apparently, where habituated troops are a pest in the campsite. But they are not common elsewhere. The taxonomy of the Cercopithecus genus is still being debated and for the time being IUCN lists these as as subspecies of C. mitis though some see them as a full species.
To see Sunis you need to go to False Bay park, an hour north of St Lucia. It is a small park and I spent a few hours walking the trails. Take a GPS! I got lost – I didn't get a map and relied instead on the trails that were supposedly coloured and marked. They started off coloured and marked but all sorts of strange things happened along the way and I ended up on the park fence, about 4km from where I wanted to be. Still Red Duikers were abundant and I saw at least 3 Sunis which have a distinctive alarm call that sounds like a feminine sneeze. I also saw several Nyalas (this is their type locality) a couple of Slender Mongooses, plus a few Warthogs.
Although I didn't visit, Kian told me about a bat cave along the road to Cape Vidal (a couple of kilometres up the beach from Mission Rocks). It is full of Egyptian Rousettus and Wahlberg's Epauletted Fruit Bats apparently.
On the way back to Durban I took a short detour to the town of Eshowe, and the Dinza Forest. Blue Duikers are common here and I saw on 15 minutes after arriving in the middle of the day (near the Bishop's Seat area).
Special thanks go to Charles Foley, Trevor Hardaker, Jonathan Roussow, Phil Telfer and Richard Webb for their advice when I was planning the trip.
Full Species List
1. Eastern Rock Elephant-Shrew Elephantulus myurus – 1 Marrick Camp
2. Smith's Red Rock Rabbit Pronolagus rupestris – 2 Marrick Camp
3. Cape Hare Lepus capensis – common West Coast
4. Scrub Hare Lepus saxatilis – common Kimberley
5. South African Ground Squirrel Xerus inauris – common Kimberley
6. Long-eared Mouse Malacothrix typica – 1 Marrick Camp
7. Bushveld Gerbil Tatera leucogaster – at least 1 Marrick Camp
8. Cape Short-eared Gerbil Desmodillus auricularis – 1 Marrick Camp
9. West-Central South African Four-striped Grass Mouse Rhabdomys bechuanae – common Marrick
10. South African Four-striped Grass Mouse Rhabdomys pumilio – common West Coast
11. Vlei Rat sp Otomys unisulcatus and/or O. irroratus  – common West Coast
12. Namaqua Rock Rat Aethomys namaquensis – common Marrick Camp
13. Spring-Hare Pedetes capensis – common Kimberley
14. Cape Porcupine Hystrix africaeaustralis – common Kimberley and West Coast
15. Feline Genet Genetta felina – 1 Marrick Camp
16. Cape Genet Genetta tigrina – 1 West Coast, 2 St Lucia (where it may have been G. maculata)
17. Black-footed Cat Felis nigripes – 2 Bloemfontein Farm
18. Caracal Felis caracal – 2/3 West Coast
19. Leopard Panthera pardus – 1 St Lucia
20. Small Gray Mongoose Herpestes pulverulentus – 1 Tsitsikamma
21. Common Slender Mongoose Herpestes sanguineus – 2 False Bay
22. Banded Mongoose Mungos mungo – common St Lucia
23. Yellow Mongoose Cynictis penicillata – common Kimberley
24. Suricate (Meerkat) Suricata suricatta – 1 Marrick Camp
25. Aardwolf Proteles cristata – common Kimberley
26. Bat-eared Fox Otocyon megalotis – common Kimberley
27. Black-backed Jackal Canis mesomelas – common Kimberley
28. South African Fur Seal Arctocephalus pusillus – common West Coast area & Plettenberg
29. Peter's / Wahlberg's Epauletted Fruit Bat Epomophorus wahlbergi/crypturus- common St Lucia
30. Brown Greater Galago Otolemur crassicaudatus – common St Lucia
31. Chacma Baboon Papio ursinus – common Plettenberg
32. Vervet Monkey Chlorocebus pygerythrus – common St Lucia
33. Humpback Whale Megaptera novaeangliae – 3 Plettenberg
34. Southern Right Whale Balaena australis – several West Coast
35. Indo-Pacific Bottle-nosed Dolphin Tursiops aduncus – common Plettenberg
36. Dusky Dolphin Lagenorhynchus obscurus – 5 Saldhana
37. Heaviside's Dolphin Cephalorhynchus heavisidii – at least 3 Yzerfontein
38. Hump-backed Dolphin Sousa plumbea – 2 Plettenberg
39. Bush Pig Potamochoerus larvatus – 1 Nature's Valley, 1 St Lucia
40. Warthog Phacochoerus africanus – 2 Marrick Camp, common St Lucia
41. Hippopotamus Hippopotamus amphibius – common St Lucia
42. Springbok Antidorcas marsupialis – common West Coast NP
43. Steenbok Raphicerus campestris – common Kimberley & West Coast
44. Oribi Ourebia ourebi – 1 St Lucia
45. Suni Neotragus moschatus – 3+ False Bay
46. African Buffalo Syncerus caffer – common St Lucia
47. Nyala Tragelaphus angasii – 5+ False Bay
48. Southern Bushbuck Tragelaphus sylvaticus – common Nature's Valley & St Lucia
49. Greater Kudu Tragelaphus strepsiceros – a few St Lucia
50. Southern Reedbuck Redunca arundinum – common St Lucia
51. Waterbuck Kobus ellipsiprymnus – common St Lucia
52. Gemsbok (Beisa Oryx) Oryx gazella – a few West Coast
53. Hartebeest Alcelaphus buselaphus – 2 West Coast
54. Blue Wildebeest Connochaetes taurinus – common St Lucia
55. Bontebok (Blesbok) Damaliscus pygargus – a few West Coast
56. Blue Duiker Cephalophus monticola – 1 Dinza Forest
57. Red (Natal) Duiker Cephalophus natalensis – common St Lucia
58. Bush Duiker Sylvicapra grimmia – common West Coast and Kimberley
59. Burchell's Zebra Equus burchellii – common St Lucia
60. Mountain Zebra Equus zebra – a few West Coast
61. White Rhinoceros Ceratotherium simum – several St Lucia
62. Rock Hyrax Procavia capensis – common West Coast
63. Aardvark Orycteropus afer – 2 Marrick Camp