Sichuan, 2009
I visited China for the second time in April 2009. I took advantage of a work trip to Bejing to visit Sichuan Province to look for Red Pandas along with as much other stuff as I could find.
Sichuan seemed like a promising destination for mammal watching, judging by the by-catch from various (primarily) birding trip reports. In 2009 many of the apparently best sites were still closed because of the May 2008 earthquake which devastated Wolong and destroyed the Balang Shan Pass. Moreover, some of the other good sites in the Tibetan region of Sichuan were shut to foreigners because of the ongoing political problems. So I had to settle on visiting just two places: Wawu Shan, a mountain popular on the birding route, and home to Red Pandas, along with Tangjiahe, up in the north east of Sichuan near the Qinling Mountains.
Practicalities
Late April/May seems to be the optimum time for birding. Late October/November is probably best for mammal watching. On Steve Anyon Smith's advice I arranged the trip through Jia Min (aka Kate) manager of the Sichuan China Youth Travel Service (you can also email her on chinabird@163.net). She was generally quick to get back to me and helpful, arranging various bookings at short notice, though she didn't know a great deal about mammals.
Wawu Shan
I was met at Chengdu airport by my guide Mr Zhong (aka "Zorro") and Mr Cho, my fearless driver. I spent a night in Cheng Du.
Wawu Mountain is a good 5 hours' drive from Chengdu to the south-west. It was almost dark by the time we arrived at the Gong Tong hotel, 22 km inside the park. The drive from Cheng Du was as scary as drives usually are in China: I had to grit my teeth whenever Mr Cho drove at full speed around blind corners, relying on his horn for safety, setting the tone for the rest of the week.
We would have been considerably earlier arriving were it not for the bureaucracy of the gate staff who, after multiple phone calls, insisted we purchase entry tickets from a different place even though they were selling them at the gate. I have no idea.
The hotel is up at about 2,000m, surrounded by broadleaf forest with the first patches of bamboo and azaleas. It was quite comfortable and the food was excellent, though if you don't like chilies you might disagree.
We didn't see a great deal along the road in the afternoon. In fact I saw nothing, though Zorro spotted what was probably a Perny's Long-nosed Squirrel. Tibetan Macaques are occasionally seen here.
After dark a 2 hour drive back down the road from the hotel produced at least 6 large flying squirrels. We had prolonged distant views of several animals. At first I thought they were Red Flying Squirrels. But finally we had good views of an animal lower to the ground and it was reddish brown, with browner patches dorsally and a bright orange belly. VENT bird tours had previously photographed these animals better than I had and recorded them as Chinese Giant Flying Squirrels (see the penultimate page of this VENT bird report). But I later learned that these animals are in fact Complex-toothed Flying Squirrels. New mammal number one.
I also saw some eyeshine near a group of flying squirrels that disappeared quickly. It was quite probably just a flying squirrel but could conceivably have been a Red Panda (it was quite low and in a small tree just above a thicket of bamboo). We didn't see anything else.
Small mammal trapping there was excellent and in a couple of nights we caught five species including a few Chinese Mole Shrews.
I also caught a Père David's Vole, a couple of Korean Field Mice (identified from other potential Apodemus species by the ears that were the same color as the surrounding fur rather than much darker), together with an Anderson's White-bellied Rat (Niviventer andersoni) (ID'd on range and measurements). The last species was a shrew that escaped before I could identify it, though it looked quite like the Lesser-striped Shrew that I later caught on the summit.
There was much concern from Zorro when a mouse bit me on the finger on my first morning. It barely drew blood. But Zorro, his manager, the hotel manager, at least three people in the restaurant, along, it seemed, with anyone else in Sichuan we could ask thought I should go for urgent medical treatment. They were very concerned when I declined, my reasoning being that the only risk I could think of from the incident would be if I let myself fall into the hands of the local clinic.
But I really wanted to be at the top of Wawu Shan. Red Pandas are reported here quite often and I have heard rumours of one birder seeing three in a day along the trails at the summit. Some of the locals said they see them 'often' though this wasn't well defined.
A very slow cable car takes you from the hotel up to the top of the mountain. The ride is over 30 minutes with at least an 800m gain in elevation, so I think the walk would be considerably longer than the hour and a half Zorro estimated when trying to persuade me to walk up. That said he didn't like to hang around so maybe he would have made it in that time. I wouldn't have.
It is a further 1500m walk from the cable car to the Xianger Hotel. Had I known the walk was so far I would not have packed quite as much for the one or two nights I was planning to spend there. Mr Cho insisted on carrying my 15kg bag. I felt a little guilty later in the day when he complained of a migraine. But I got over it, and got over it quicker then he got over his migraine. The hotel was not as bad as I was expecting – they even had 24 hour electricity and hot water of sorts.
Reading the bird reports I would never have guessed that the summit of Wawu Shan would be so crowded. It didn't help that I was there over the weekend. But given the number of people taking the cable car on Friday I don't think mid-week is much better. The weather was unusually crap for April: permanent mist and occasional drizzle for the entire two days I was there. I spent my time walking the small network of paved, fairly flat and well maintained but treacherously slippy after the rain, trails looking for Red Pandas. No one we spoke to had any special sites for the Pandas: advice ranged from 'anywhere' to 'winter time'.
The Pandas were not easy to find. The crowds of Chinese whooping and littering along the trails didn't help and nor did the weather. We did find a closed trail leading to an old monastery: from the hotel walk the 1500m to the duck ponds, turn left on the main trail that loops to the waterfall and after 200m you will see the turn off to the right (I didn't worry too much about the No Access sign). This looked much more promising and the amount of Red Panda scat along the trail confirmed it.
But despite walking 20km over the two days including 2 spotlight walks, each for over 2 hours, we didn't see any mammals. The second night's walk was in heavy drizzle and thick mist, so visibility was down to about 20m and its perhaps not surprising we didn't score. The rain soaked my boots, my camera bag and stuffed up my mobile phone so the night wasn't a highpoint of the trip.
On the last morning, just 100m from the cable car, a Perny's Long-nosed Squirrel ran across the trail from underneath one of the garbage cans. The only mammal I saw on the summit that hadn't come out of one of my Elliot traps.
Small mammal trapping was, however, pretty good at the top. I caught a Sichuan Chinese Vole and a couple of Lesser-striped Shrews.
I also caught another Korean Field Mouse
And what I think was a South-China Field Mouse, though the white tip at the end of its tail was strange.
Emei Shan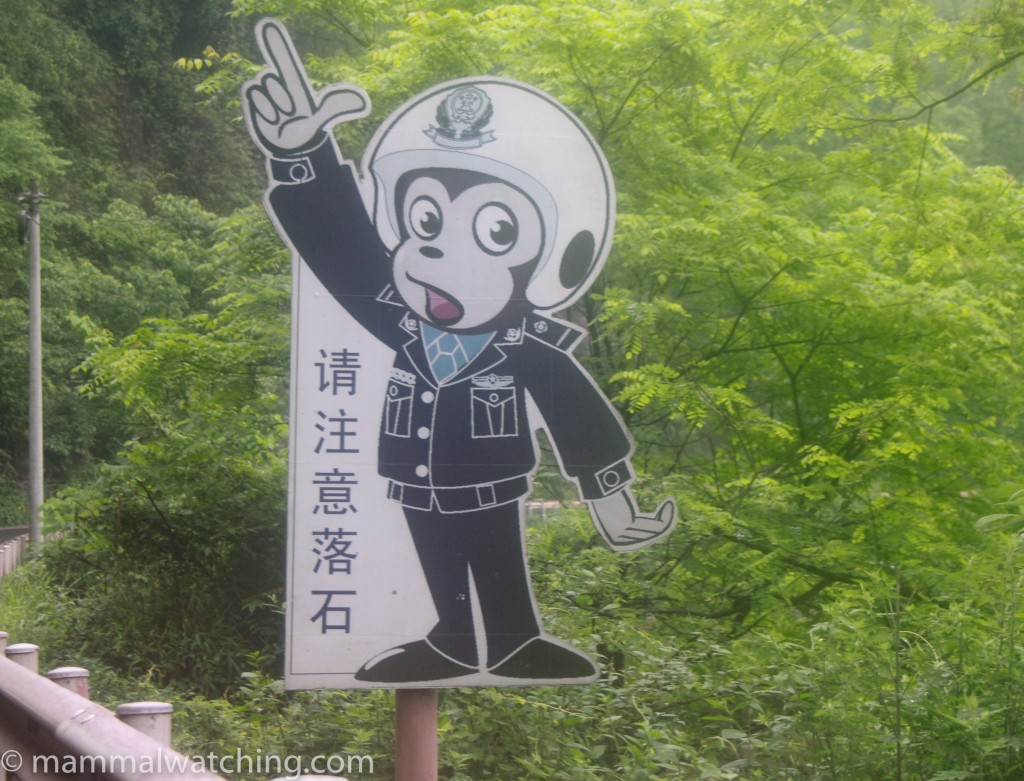 Mount Emei is a shortish detour on the route from Chengdu and Wawu Shan. It is a popular tourist destination and home to a large and well known population of Tibetan Macaques.
We missed the Macaques in Wawu so we stopped at Emei. A cable car runs up the mountain and Zorro thought a few monkeys would probably be hanging around the front of the temple nearest to the cable car station. But it was still raining and the monkeys hadn't been seen since the rain had started three days earlier. So we walked 5km down the mountain to the wild monkey ecological park: a patch of forest where a group of monkeys are ever-present, largely because of the tourists coming to feed them. The walk was uneventful, apart from having to fend off the Sedan Chair bearers: these vultures could see me limping and were circling for a fare.
The monkey park is amusing. The Tibetan Macaques are indeed impressive beasts and well worth a look, even if the experience isn't the pristine wildnerness encounter I had hoped for (though they are wild animals). Equally impressive are the small army of staff who patrol the area with long sticks and catapults to keep the monkeys in check: one old guy was wearing a WWII tin helmet and seemed to have a bigger catapult than the others so maybe he was in charge.
I doubted whether so many people were needed to keep the monkeys at bay. I changed my mind after I ignored the requests of one of the monkey guards to keep moving and suffered a monkey attacked. An animal tried to climb up my coat convinced I had food in my pocket and when I tried to shake it off it was set to sink its canines into me. Saved by a monkey guard with large stick!
Tangjiahe National Nature Reserve
Tangjiahe is 300km north west of Chengdu, close to the Qinling Mountains. It wasn't on the regular birding itinerary. Jia Min recommended it as a place for mammals, especially in the light of all the Tibetan bits of Sichuan being out of bounds.
It took all day to drive there from Chengdu. We picked up Ma, the excellent park guide, at 5 p.m. at the park entrance. And during the 15km drive to the hotel he spotted a group of three Takins and a couple of Reeve's Muntjaks. Earlier that afternoon he had seen a Serow. Things were looking up.
The hotel was empty and comfortable. But the food was almost chilli-free: my taste buds missed the adrenalin rush but my guts appreciated a chance to recuperate. As time wore on I realised the menu was very limited and one particular spice appeared in every dish, which tasted to my unrefined palate like soap. So it was a good opportunity to cut my calory intake which had been off the chart since I arrived. The small museum next to the hotel is well worth a visit for the comprehensive, but moth-eaten, mammal collection.
The Roads and Trails
There are two roads in the park. One leads from the entrance gate to the hotel. Pere David's Rock Squirrels were quite common along the road and Takin and Muntjac very common. We also saw a single Tufted Deer, a Wild Boar and a lone Eastern Gray Goral from this road, while Ma saw a Serow along here just before I arrived. Spotlighting produced a Masked (Himalayan) Palm Civet near the hotel and another at the junction of the road off to the left (when heading from the hotel to the gate). The palm civet was in a tree near the beehives. We also saw a few Muntjacs. Our last night drive (at the end of the only sunny day we had) was much better: we saw Takin, Serow, Goral, Tufted Deer, a Leopard Cat and a Masked Palm Civet.
A second road branches off about half way along the main road and travels up a bit higher into the hills (the end of this road is the starting point for the steep trek up to the high grasslands). Mr Cho was driving atnhis usual breakneck speed and startled a Serow along here which fell on the road in a heap and took a good 20 seconds to stand up again. I got a much better view of this great animal than I had had in the Qinling Mountains back in 2005.
A walking trail goes up the mountain opposite the hotel after you cross the river. We walked half of it and then headed up the mountain side to the top. There were plenty of Pere David's Squirrels along the trail. And on the mountain we saw fleeting glimpses of a Muntjac, an Eastern Gray Goral and my first Tufted Deer, along with prolonged views of a family of Takin including two youngsters less than a month old. Ma saw a Siberian Chipmunk along here but I missed it.
We spent some time spotlighting along the road that runs on along the river past the hotel. At the start of the trail some old livestock buildings were used by a couple of Pearson's Horseshoe Bats as a night roost.
We spent an afternoon above this trail looking for Bamboo Rats. It was a very steep, soaking wet and immensely slippery climb to reach the right elevation and then we had to struggle through the dense Bamboo groves looking for fresh holes. We found old burrows but nothing inhabited. This was a pity: not only did I want to see a Chinese Bamboo Rat, but it would have been fascinating to watch Ma catch them. I didn't see the trap but he described it as involving several pieces of flexed bamboo and a wire noose. Apparently Bamboo Rats, like gophers, like to keep their tunnels sealed with earth. If you open the tunnel and set a trap, the rat will take a trip to replace the soil, move through the noose and eat the juicy bamboo root left as bait. At which point it triggers the bamboo to flick up and tighten the noose. Straight from the pages of my S.A.S. survival book!
Other small trails lead off of the main roads and we walked a few but none seemed better than the others.
We weren't allowed to small mammal trap in the park but we did manage to catch a Korean Field Mouse by hand.
The High Grasslands
Ma reckoned that one of the best places to look for mammals is the high grassland above the treeline at about 3,200 metres. There are no roads up there and the only trail is apparently in very poor condition and a 6km slog starting at 1800 metres altitude. We wanted to spend a night camping up there but the weather was against us: we should have seen Blue Sheep and Pikas up there and maybe a Hog Badger.
So a reasonable trip. Twenty-two species of mammals in a week with eleven lifers. If it wasn't for the unseasonably bad weather and the closure of the Tibetan parts of Sichuan I think I would have added at least another 6 species including Red Pandas. Somewhere to return to, preferably in early winter, once places like Wolong and Balang Shan Pass – damaged by the earthquake – have reopened. Bao Xing National Park, in the south of Sichuan is, according to Ma, also a good place for Red Pandas.
Mssrs Zhong, Cho and Ma couldn't have tried harder to find me the animals I was after so my thanks to them and to Dion Hobcroft and Steve Anyon-Smith for their advice and trip reports.
Stuff I Missed
I was very sorry not to have seen Red Pandas at Wawu Shan. I'm pretty sure with better weather I would have found them but it was not to be. There are probably better places to see them in Sichuan including Wolong (still closed) and Bao Xing, south of Chengdu. I eventually saw this species in Nepal in 2012.
I was disappointed not to have gotten up to the alpine pasture to see the Blue Sheep. I had also hoped to see Hog Badgers which are present but apparently quite hard to see most of the year, though in October/November time they are much easier and often walk along the roads. Forest Musk Deer are also around but wary and quite difficult to find. Other good mammals which I didn't look for include Giant Pandas (very hard to see) and Himalayan Black Bears (easier to find in the autumn when they feed on acorns).
Trip List
1. Tibetan (Pere David's) Macaque – common at Emei Shan
2. Complex-toothed Flying Squirrel – several below the hotel on Wawu Shan
3. Perny's Long-nosed Squirrel – one at the summit and one below the hotel on Wawu Shan
4. Pere David's Rock Squirrel – several along the roads and trails at Tangjiahe
5. Siberian Chipmunk – one seen only by Ma at Tangjiahe
6. South-China Field Mouse – one trapped at Wawu Shan (tentative)
7. Korean Field Mouse – several trapped at Wawu Shan and one at Tangjigae
8. Sichuan Chinese (Pratt's) Vole – one caught at the summit of Wawu Shan
9. Pere David's Vole – one caught by the hotel at Wawu Shan
10. Niviventer andersoni – one caught by the hotel at Wawu Shan
11. Chinese Mole Shrew – one caught by the hotel at Wawu Shan
12. Lesser Striped Shrew – two caught at the summit and possibly one by the hotel at Wawu Shan
13. Pearson's Horseshoe Bat – a small night roost at Tangjiahe near the hotel
14. Masked (Himalayan) Palm Civet – several at Tangjiahe along the road
15. Leopard Cat – one at Tangjiahe along the road
16. Wild Boar – a couple at Tangjiahe
17. Tufted Deer – several at Tangjiahe
18. Reeves Muntjak – many at Tangjiahe
19. Takin – many at Tangjiahe
20. Eastern Gray Goral (Naemorhedus griseus)– three separate sightings at Tangjiahe
21. Serow – two separate sightings at Tangjiahe including one falling off a cliff onto the road in front of us
Even a few of the birds were worth a second glance….