Amami Island & Tateshina Trip Report, Japan 2016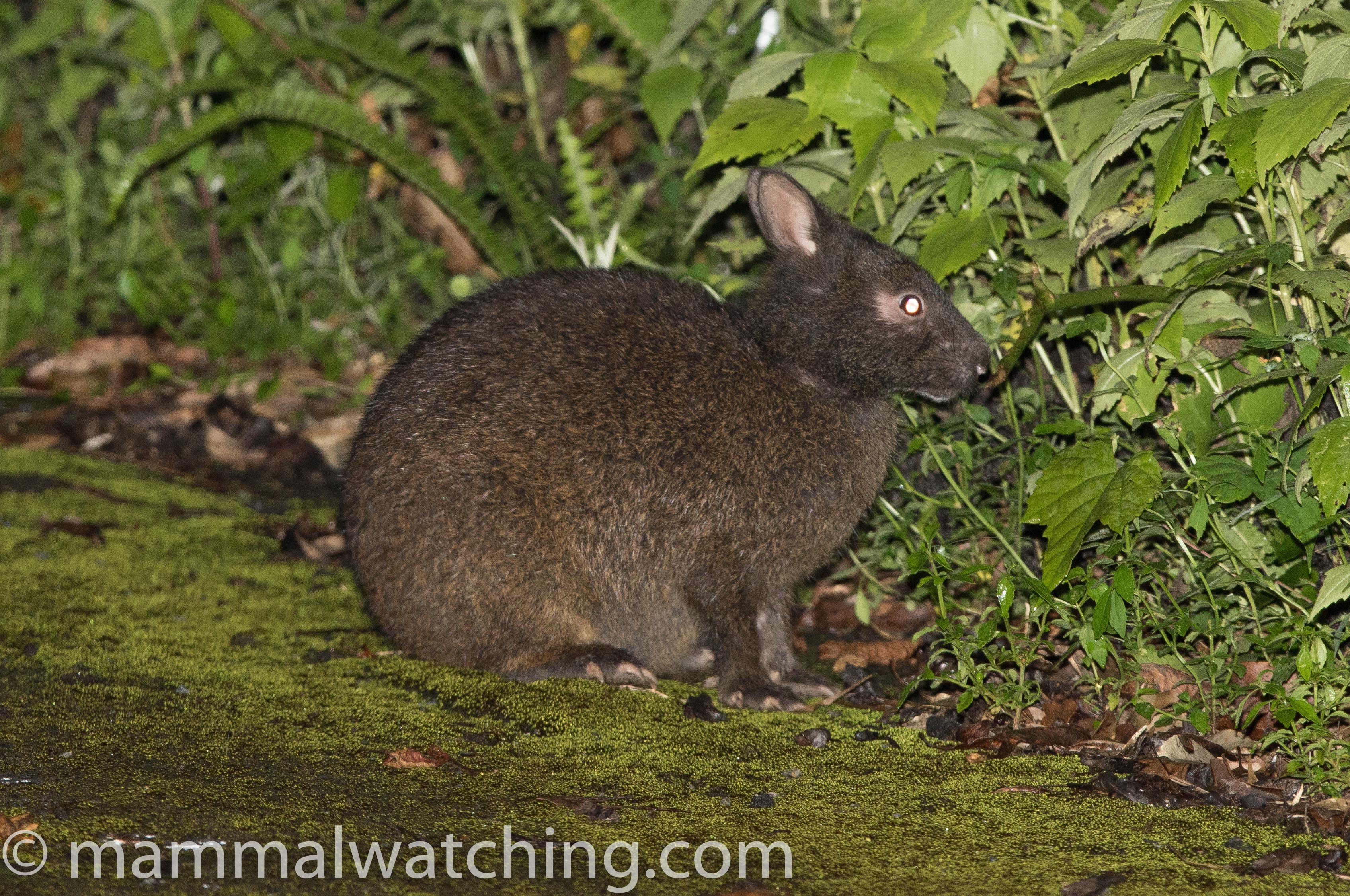 In August 2016 a work trip to Tokyo gave me a very welcome opportunity to return to Japan.  Although I was working I was able to squeeze in a night on Amami Island as soon as I arrived, and another in the mountains of Nagano Prefecture.
Amami Island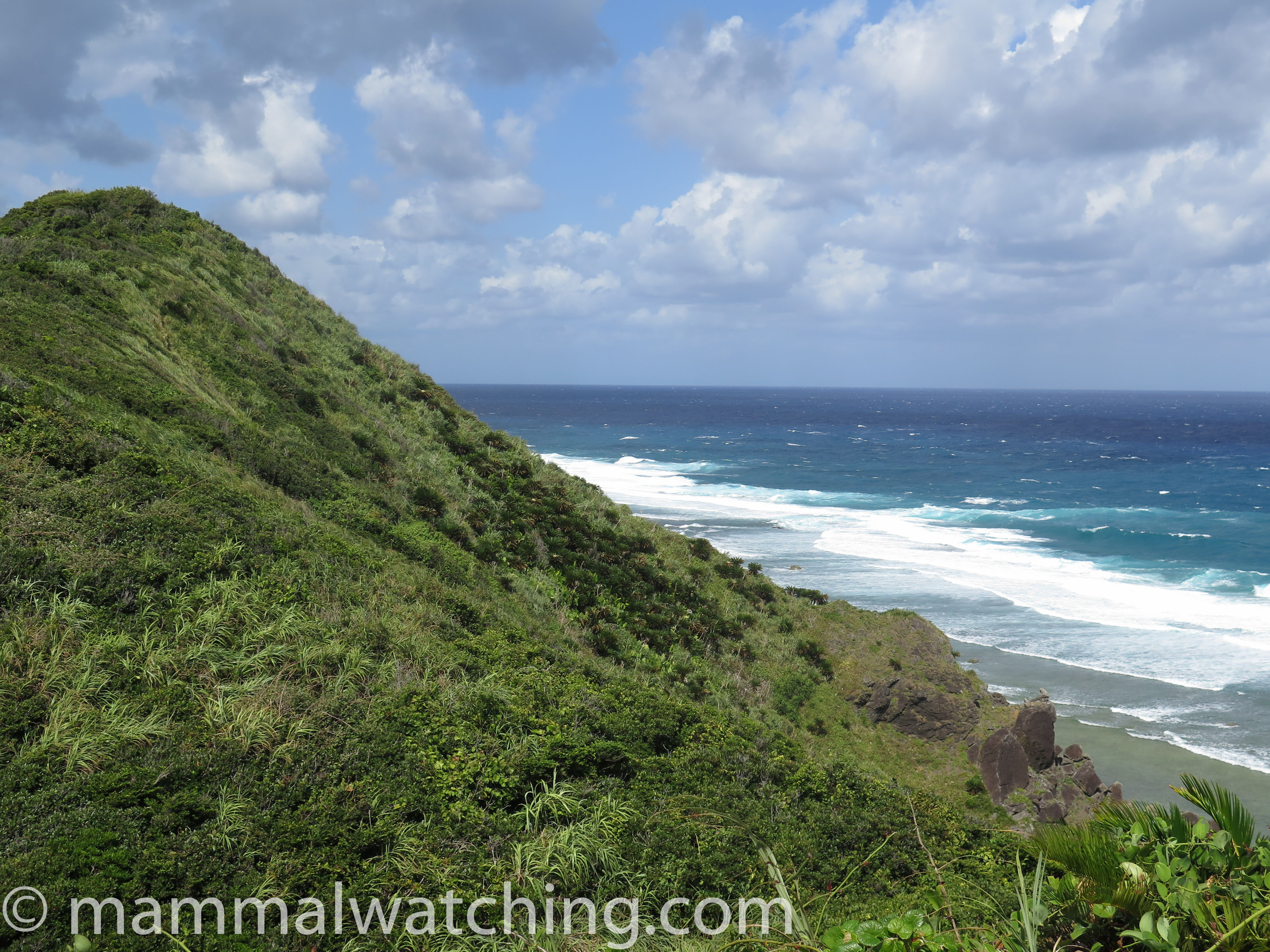 Ever since I read about the endemic Amami Rabbit I'd wanted to visit Amami Island.  This short-legged, long-clawed, chocolate brown rabbit is one badass bunny.  Its been called a "living dinoursaur" and is related to an ancient lineage of Asian rabbits now extinct on the mainland.  It survived only on two islands: Amami-Oshima and Toku-no-Shima.  Habitat loss and feral animals (mainly cats and an introduced Mongoose) have caused numbers to dwindle to just a few thousand on Amami (and a few hundred on the other island). I didn't know anyone who had seen it so contacted Mark Brazil for his advice (thank you Andrew Block for the suggestion).
Mark is very knowledgeable about Japan's wildlife and he organised a private guide for me for the night.  From what I'd read it seems the rabbits might be finable on my own – indeed after I booked the trip I received Dominque Brugiere's trip report and he had found a few during two nights.  But I only had a night and wanted to be sure.  My guide, Tsuneda-san, doesn't use email and doesn't speak more than a few words of English, so Mark and his wife made all the arrangements.
August is typhoon season in Japan and the airline cheerfully told me at check in that "because of strong winds on Amami Island the plane might have to turn around and return to Narita".  This worried me.   But no one on board – including the pilot – seemed remotely concerned, and the typhoon didn't materialise.
I rented a car and checked in at my hotel in Nase after a scenic drive along the northern coastline. The island really is a beautiful place, popular with divers, surfers and nature lovers alike. The rabbit – or at least its existence – is also something of a tourist attraction judging by the number of rabbit souvenirs at the airport.  I hope "shio donuts" is not Japanese for  rabbit meat pie.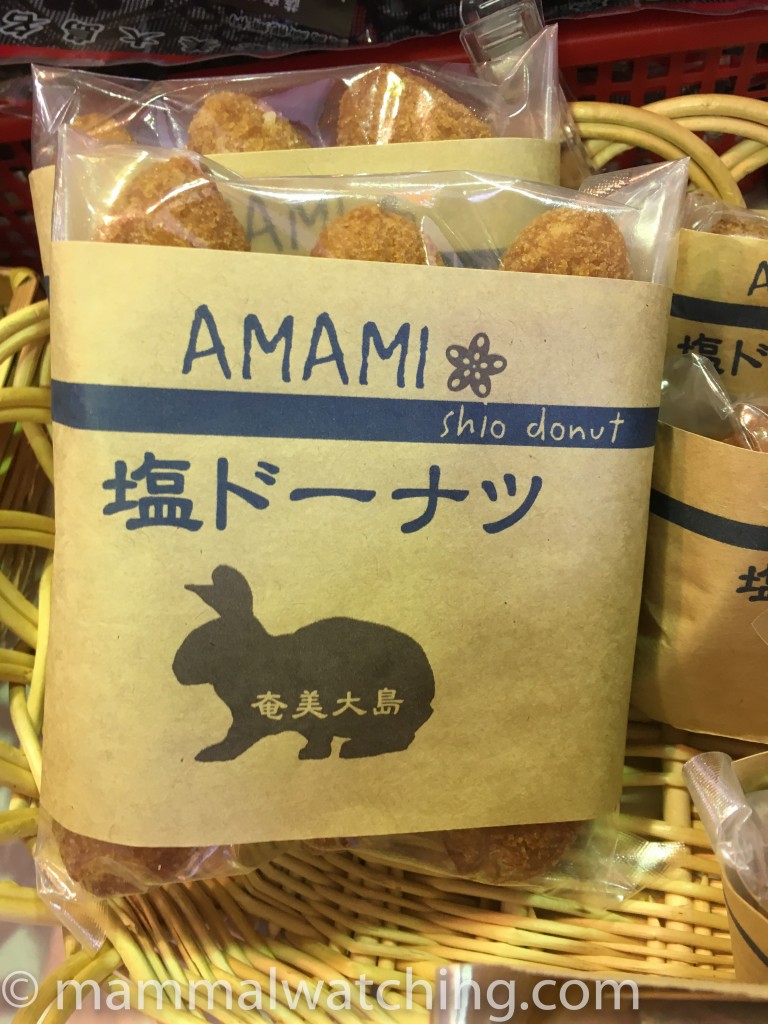 Tsuneda-san picked me up at 7.30 and we drove to the forests on the slopes of the mountains around what google maps calls "Takinohanayama": about 30 minutes south of Nase (the area is south of Highway 58 and west of Sumio Bay.
As soon as we entered the "rabbit zone" as Tsuneda-san called it, we saw our first rabbit. We went on to see 17 during our 5 hours of spotlighting.  The rabbits graze along the roadside.  They have a distinctive whistle too and we heard several more in the forest.
Really great animals. But by rabbit number 15 I'd had my fill and we started focussing on the island's two (largely) endemic rodents. The Ryuku Spiny Mouse is not uncommon and can be seen crossing the road at night.  Indeed one crossed the road just as I was asking Tsuneda-san whether he sees them crossing the road! I only got an untickable flash of it out of the corner of my eye.  Tsuneda has a high tech camera trap set up in the forest where he often photographs the mice.  We left some nuts in front of the camera and I put a flash card in.  Unfortunately I didn't realise how little space there was left on the card. We didn't photograph a mouse but then again the card was full after the first image (of my hand).  Oh well.  I was tempted to sit and stake out the pile of nuts but we returned instead to the car and the spotlight. This proved to be a good decision.
Amami's other near endemic rodent is the very cool Ryuku Giant Long-tailed Rat (Diplothrix legata).  This has, by all accounts, become really quite rare in recent years but Tsuneda-san checked out trees it might be feeding in whenever we passed the right species (though these trees are, he told me, more productive in the winter time).
Earlier in the evening we had spotted a Habu, a beautiful, apparently rare, endemic pit viper, in a tree.  Driving back past the same tree my light picked up something that looked like a long tail.  Sure enough it was a Ryuku Rat. That quickly became two rats when another crashed on the road just in front of us.  Startled, I think, by the Habu.
A fabulous rodent with impressively long spines.  We spent twenty minutes with the two animals which did not appear remotely worried by the spotlight.  We headed home after midnight, after spending 5 excellent hours out in the forest, rather than the 3 I had agreed beforehand. Thank you Tsuneda-san!
Driving back home Tsuneda spotted another, smaller, rat, in a tree.  I suppose it must be a Black Rat (Rattus ratus) but  I live in hope it was something else …
Thank you to Mark Brazil for setting this up and, particularly, to Tsuneda-san.  He doesn't normally do private tours but I am very glad he made an exception.  He's a great guy in the field and obviously full of knowledge.  I wish I could have spoken Japanese with him to have learned a lot more about the island. Though, language barrier or not, I think he was left in no doubt about how much I had enjoyed myself.
A quick swim the next morning and I was flying back to Tokyo.
Tateshina
I was working at Hitotsubashi University (where I learned Raccoon Dogs can sometimes be seen in the woods adjoining the campus), in the outer western suburbs of Tokyo.  As I was just a couple of hours from the Japanese Alps I couldn't resist getting out for a night to look for a few more animals and Mark Brazil recommended I try the Tateshina area, where I could probably see a Japanese Squirrel and maybe more.
I'd found a birding report t mentioned a small guest house called Bergcot where they had seen Japanese Martens and Japanese Squirrels in the winter time so I booked in for a night.  I contacted them and was told there wasn't much prospect of seeing a Marten in the summer, but a Japanese Badger was visiting regularly.
Driving in Japan is surprisingly straightforward, so long as you have an international driving licence and a car with an English speaking GPS (and that GPS will do almost everything for you other than turn the wheel). So it was easy to get to Bergcot, a super cosy guest house, run by a very friendly couple who speak English and love nature.  They also love cooking and the 5 course dinner was spectacular.
They feed both guests and animals alike, and leave food out on the deck every night. And Badger was coming every evening to eat it.  Sometimes at 7pm, sometimes at 10pm and sometimes later.  So I waited.  And waited. And waited until 5am and sunrise.  But no Badger.  This was only the second time all summer that the food hadn't gone in the night. Perhaps it was because of the sharp temperature drop that night following a typhoon. Or perhaps the Badger decided to spite me.
I consoled myself with breakfast and the promise of a Japanese Squirrel, which turned up, on schedule and after seeds had been sprinkled.  It was quite skittish but I managed to get decent photos the second time it put in an appearance. A beautiful thing.
I'd also been given permission to set some small mammal traps in the garden.  And, as so often in the forests of the eastern Palearctic, the traps worked well.  Too well in fact because I had to rush back to Tokyo and didn't have time to look at everything as much as I wanted.  But in 30 traps I'd caught a Small Japanese Field Mouse, distinguished from its larger cousin by its relatively long tail and slighter build.  A lifer for me.
I also got four Large Japanese Field Mice, a species I had caught at Karuizawa back in 2008.
And, best of all, my first Japanese Shrew-Mole.  A really cool little beast with the body of a shrew, the feet of a mole and the tail of something else entirely.
After I released it, it scurried around under the deck looking for a hole to crawl into.
Three new species for me.  A great pity that the Badger hadn't shown itself – it looks quite different from the European flavour – but a nice excuse to retun to Bergcot.  Badgers hibernate in the colder months, but then Martens are much more reliable, and there is also a chance of Raccoon Dogs there too.  In the guest house there were pictures of a Serow and a Japanese Dormose on the wall that had been seen on the property. Definitely somewhere to go back to, though the dinner alone is reason enough for me!