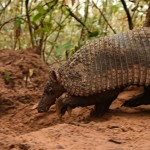 Giant Armadillo and Kabomani Tapir Expedition Sep 2018
This trip report is from a private tailored tour Royle Safaris ran in September 2018. Our objectives were two fold, principally to try and find and see a Kabomani tapir (which at the time of the expedition we believed to be a distinct species – but since severe doubts have been raised. More on that and the articles to follow up read are on the trip report. In addition to that objective we targeted the Giant Armadillo too.
This is probably an unrepeatable trip, but Royle Safaris are experts at organising such very special interest tours. If you would like to know more please contact us.