Trip Report by Asian Adventures Birding Guide Deepak Kumar – Rajasthan Leopard Tour
Day 1 (13th February)
After the guests arrived in Delhi in the morning, we left immediately for Jaipur, where we reached at lunchtime. After lunch, I took the guests on a city tour to admire the various monuments of Jaipur, including the Amer Fort, Jal Mahal, Hawa Mahal, and Johri Bazaar. We returned to our hotel for a leisurely evening and dinner.
Day 2 (14th February)
This day, we had two safaris scheduled at Jhalana Leopard Reserve. We reached Jhalana at 0630 hrs, and had started our safari by 0645 hrs, just as the sun was coming up. Luck was definitely on our side as we got an amazing sighting of a male leopard as soon as we entered the park, which was very close to the vehicle. This male was possibly chasing a Nilgai. Unfortunately, the sound of our jeep scared him off, but not before we all got a good look at him. After the safari, we returned to our hotel for breakfast and rested until lunch.
Post lunch, we had our afternoon safari, which started at about 1400 hrs. Again, luck was on our side as we spotted the elusive Striped Hyena. This animal is nocturnal, shy, and reclusive, making any views of it extremely memorable. We did not get any leopards during this safari though. After some light birdwatching, we concluded our safari and returned to the hotel, where we had dinner.
Day 3 (15th February)
Today we had our last safari at Jhalana. Again, Lady Luck was on our side as we got to see two leopards sunning themselves on the rocks. We also did some light birdwatching during the safari. After the safari, we returned to the hotel for breakfast, and then left for Jodhpur, having lunch en route. We reached Jodhpur around 4-5pm and rested.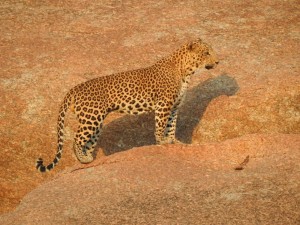 Day 4 (16th February)
Our first morning at Jodhpur was spent sightseeing. There are few places you can go in Rajasthan where the rich history of the region is not evident. We enjoyed some of the beautiful sights that Jodhpur has to offer, including Mehrangarh Fort, Jaswant Tada, and the Clock Tower, to name a few. We returned to our hotel for lunch, post which we visited a local Bishnoi village about 20-30km away. The Bishnoi tribe is famous as being nature lovers and tenders of the environment, apart from their other tenets. We spent some time watching them demonstrate their handicraft-making and pottery skills, before we travelled a little further to spot where we could sight some Blackbuck, one of India's most handsome-looking antelopes. We returned to our hotel by evening.
Day 5 (17th February)
It was time to say goodbye to Jodphur. Post breakfast, we departed for the main destination on our tour: Bera. Bera is fast becoming a popular hotspot due to its sizable leopard population. The rocky hills provide many caves, a perfect home for leopards. Close to this village, lies the river Jawai and the Jawai Dam, which draws many migratory wetland birds in the winter.
We reached our resort, Castle Bera, just in time for lunch. While we were eating, we got news of a nearby leopard sighting. Finishing our food as fast as we could, we left for the safari. Our hurrying paid off, and we got amazing views of a mating pair of leopards. After spending a few hours watching, admiring and photographing the big cats, we headed back to our resort.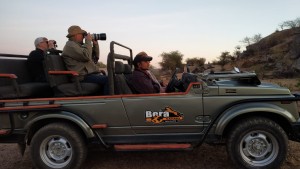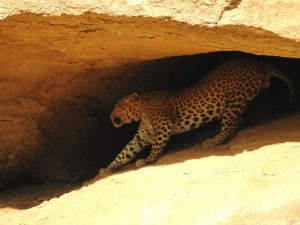 Day 6 (18th February)
We had two more safaris today at Bera. During our morning safari, we decided to try our luck and revisit the same spot we did before, but with no luck. Apart from some birdwatching, we did not have much luck with sightings. We returned to our resort for lunch.
Our afternoon safari, however, was a different story. Again visiting the same spot, we spotted our leopard pair again. After we completely satisfied watching them, we did some birdwatching, and managed to get one of our target birds for Bera: Indian Eagle-Owl. Completely satisfied, and over the moon, we returned in a great mood to our resort.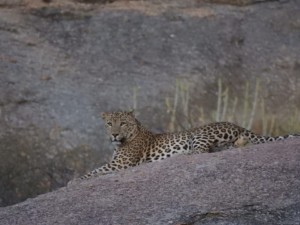 Day 7 (19th February)
The next day, we left after breakfast for Kumbalgarh Fort, where our lunch had also been arranged. After exploring the ruins of the fort, we did some birding there as well. We managed to see Long-legged Buzzard, Sulphur-bellied Warbler, and White-eared Bulbul, apart from some other common birds. After we were done, we headed to our accommodation for the night.
Day 8 (20th February)
After having breakfast, we left for Udaipur, where we did some sightseeing and had our lunch in a city restaurant. Post lunch, we started our journey back to Delhi.
Day 9 (21st February)
After helping the guests transfer to the airport, I bid them farewell as they caught their onward flight.