Trip Report by Asian Adventures Birding Guide Deepak Kumar – Corbett National Park and Chambal River
Day 1 (22nd February)
We left Delhi in the morning for Moradabad, reaching Moradabad post lunch. We had lunch en route at a small restaurant. After checking into our hotel, we decided to explore the town by auto rickshaw. For many this was an exciting experience as they were visiting India for the first time. The town of Moradabad is famous for its very old brass market, so we decided to visit that as well. Apart from handicrafts, the brass market also has brass cooking utensils, and many other brass wares. We returned to our hotel for dinner and our night stay.
Day 2 (23rd February)
On this day we left Moradabad for Corbett National Park. Corbett is India's oldest national park and tiger reserve and lies at the base of the Himalayas. The mix of landscapes not only means that there are some beautiful spots, but it also means there is a large variety of wildlife, especially birds. We reached our resort at Corbett just in time for lunch.
Post lunch, we decided to visit the nearby Garjiya Temple. Our group was a mixed one, including some birders, some visiting India for a cultural experience, and some who had come to see tigers. After showing the guests the temple, we took a small birdwatching trail nearby, where we managed to see two star bird species: Ibisbill and Wallcreeper. We then returned to the resort for rest, dinner and stay.
Day 3 (24th February)
Today, we had our first tiger safaris in the park. Our morning safari was in Bijrani. Unfortunately, we could not spot any tigers, although we got some quality birdwatching, including great sightings of Crested Serpent Eagle and Changeable Hawk-Eagle. We then returned to our resort for breakfast and the guests had they day at leisure until lunch.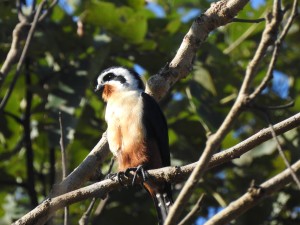 Post lunch, we went for our afternoon safari. When we reached a spot known as Jadpahar, we started hearing the alarm calls of Spotted Deer, indicating that there may be a tiger nearby. We sat patiently waiting for the beautiful big cat for quite a long time, hearing only the ominous silence that was sometimes broken by the repeated alarm calls. After a long time waiting, we decided to take a short break from our vigil and go see a nearby herd of elephants, another mammal that Corbett is famous for. Upon returning to our spot, we were disappointed to learn that we had just missed the tiger, which had crossed just after we left. Of course, wildlife viewing also has a fair share of luck involved so we decided to try again with our safaris on the next day.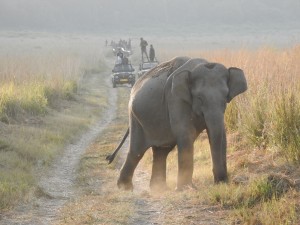 Day 4 (25th February)
Our morning safari on this day was in an area known as Jhirna, which offers some amazing birdwatching. We got some great sightings of Common Iora, White-bellied Drongo, Crested Treeswift, Lineated and Coppersmith Barbets, and Red Junglefowl, among others. Unfortunately, in terms of tiger sightings, we did not have any luck on this safari as well.
On our afternoon safari, we decided to revisit the spot we were at yesterday, as there good chances of seeing a tiger again over there. En route, we had some great birding with good sightings of species like Great Slaty Woodpecker, Stork-billed Kingfisher, and Black Stork. Reaching our spot from the previous day, we were welcomed again by Spotted Deer alarm calls. We then saw a herd of the Spotted Deer running in a panicked manner along a nearby riverbed. Repositioning ourselves, we concentrated on this spot. This time, our patience was greatly rewarded with a great sighting of a tiger that crossed near our vehicle, giving the entire group a great view of it. Needless to say, we were all in a great mood by the time we got back to the resort.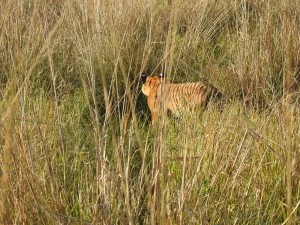 Day 5 (26th February)
Today, we had our last safari at Corbett. We didn't get any tiger sightings, but everyone was still in a great mood from the previous day's safari. We did get some good birdwatching done.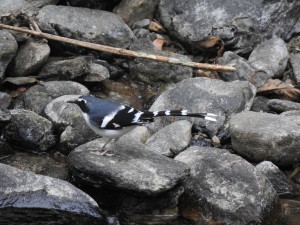 After our safari, we returned to the resort for breakfast. After breakfast, while the others rested, the birders in the group joined me for a quick birdwatching trail, where we got to see Jungle Owlet, and Great, Oriental Pied, and Indian Grey Hornbills. After lunch, we left to return to Moradabad.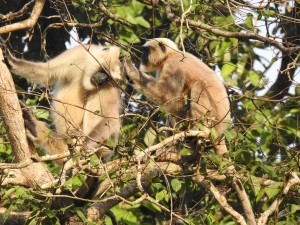 Surprisingly, there were many wedding processions going on in the town that day. With the permission of one party, we decided to visit one wedding so I could show the guests a typical Indian wedding. Not only did the guests have a great time watching the rituals, but also had a ball dancing to the loud and upbeat music. Exhausted from all the dancing, we returned to our hotel for dinner and our stay.
Day 6 (27th February)
After breakfast, we returned to Delhi, where we reached by lunchtime. While the rest of the group decided to go sightseeing with a guide we had arranged for them, the birdwatchers in the group joined me for some birding at Okhla Bird Sanctuary, where we spent the rest of the day. We had some amazing sightings of Yellow-bellied Prinia, Yellow-footed Green Pigeon, Bar-headed and Greylag Geese, Black-necked Stork, Whiskered and River Terns, and a variety of ducks, including Indian Spot-billed Duck, Eurasian Wigeon, Northern Pintail, and Northern Shoveler.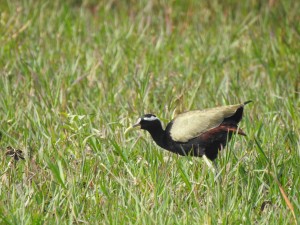 Day 7 (28th February)
After breakfast, we left Delhi for the National Chambal Sanctuary. This wildlife sanctuary lies along the Chambal River, and is home to some amazing wetland wildlife. We reached our lodge in Chambal just in time for lunch. Since we didn't have any boat safaris or other activities planned for the day, I took our guests on a short afternoon nature trail near our lodge, where we saw Indian Scops Owl, Spotted Owlet, Brown-headed Barbet, Yellow-wattled Lapwing, Indian Thick-knee, and Indian Silverbill. We returned to our lodge by evening.
Post dinner, I decided to take them on another nature trail, so we could see what nocturnal wildlife we could see. Our luck was fantastic as we managed to spot an Indian Palm Civet, which is normally very shy and reclusive.
Day 8 (29th February)
On this day, we had our boat safari in Chambal. On our way to the river, we did some light birdwatching. We then got to our designated boat and proceeded along the river. We got some amazing bird sightings, including Indian Skimmer, Black-bellied Tern, Bar-headed Goose, Pallas's Gull, Long-legged Buzzard, Kentish and Little Ringed Plovers, Sand Lark, and Wire-tailed Swallow. We also saw plenty of Marsh Crocodiles (Mugger), as well as Gharials (also known as Fish-eating Crocodile), which Chambal is famous for, as well as Indian Tent Turtle and Softshell Turtle. But the most amazing sighting was a Gangetic Dolphin that leaped out of the water very close to our boat. Despite everyone getting clear views of it, its movement was so fast that no one managed to get a photo.
After returning to our lodge and having lunch, I decided to take the group to see the nearby Bateshwar Temple. After visiting the temple, we visited a nearby village known as Holipura. This small, neat and tidy village has many old houses, all of which belong to the same family. In fact, the entire village is occupied by the same extended multi-generation family. We then returned to our lodge.
Day 9 (1st March)
It was time to say goodbye to Chambal as we left for Delhi post breakfast. Upon reaching Delhi and having lunch, I took the guests for some shopping in the Karolbaug area, where they could shop for some clothes and souvenirs. I then dropped them back to their hotel for the night.
Day 10 (2nd March)
After assisting with their airport transfer, I bid farewell to the guests as they caught their flight back home. It was surely a memorable trip for me as well.