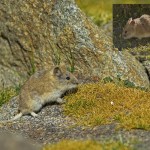 Dear Friends,
I need Id help for this species which I have documented in Ladakh in the month of June at about 4600 m.
I first thought it is a Royle's Mountain Vole, but not sure. Please give your valuable inputs to help me identify this.
Many thanks in advance..
Regards,
Shantanu