Kenya, 2021
COVID and Wuhan. Ebola and the DRC. Kenya and mammals.
Kenya is the epicenter of my mammalwatching virus. I grew up in the UK in the 1970s watching nature documentaries filmed in Kenya. I begged my dad to take me there. And I think it was this early exposure to mammals that made me so susceptible to infection from the mammalwatching bug when I eventually got to Africa 15 years later. Yet I have only ever spent a week in Kenya, back in 2011.
After talking to Alex Meyer about his Kenya trip and reading his and Tomer's reports of their Uganda trip I realized that it was time to return to East Africa. The mammalwatching would be family-friendly, the region seemed like it might remain open to tourists over the summer, and – if it did – there ought to be relatively few of them.
Like all travel this year COVID dominated the planing. Would we be allowed into Uganda and Kenya from the USA? Would my kids be able to return to Europe within two weeks of leaving Africa or would they be "red listed"? Where could we get PCR tests to be allowed onto various planes? And how far up my nostril would they ram the swab?
COVID also meant the planning started late. Why get excited – or spend money – when borders might close any day? By mid June I bit the bullet and started arranging in earnest. And there was a lot to arrange.
To be honest it wasn't until we had boarded the plane that I believed the trip would really happen. But everything worked out as planned. All COVID tests were taken and passed. All travel locator forms correctly completed, even if half of the time no one looked at them. We had our temperatures taken more often than a Thanksgiving turkey during a salmonella outbreak.
When I first contemplated Kenya I imagined relaxing at comfortable safari camps, sipping a sundowner Gin and Tonic, while various megafauna strolled past enthralled teenagers. Full disclosure, this relaxed vision was driven mainly by a notion that there were not many new species for me to search for. Sure I would look for Hirola and a Crested Rat. But beyond one or two species we could all relax. Unheard of.
And then I started talking to Venkat Sankar about his plans to visit Kenya over the same period. Venkat had done a ton of research (of course he had) and was also getting ideas from his guide Zarek Cockar.
What about the Naked Mole Rats in Meru? The Giant Mastiff Bats in Suswa? The bat caves near Mombassa, or those south of Diani Beach?
Sorry family. If you want to relax make your own plans. Game on!
For most of the trip we had Shem Mwathi (WhatsApp +254724395560) as our driver and guide. Alex Meyer drove around Kenya with Shem in January and recommended him. Brilliant advice. Shem is as reliable and hardworking as he is kind and helpful, plus he had many thoughtful insights on Kenya and life generally. He also joined in enthusiastically with our hunt for various bats and rodents and I swear by the end of the trip he was keener to increase our daily species count than I was. I cannot recommend him highly enough. A great guy.
I also want to thank Zarek Cockar, Venkat's guide who was generous enough to give me heaps of information and answer many questions even though he wasn't working for me. I met Zarek in Kenya. Also a great guy.
And finally a big big thank you to Professor Paul Webala from Masai Mara University. Paul is THE person to talk to in Kenya about bats: very knowledgeable and super helpful. Paul did his PhD in Australia so we discovered we had bat friends in common. I met up with him twice to look for bats. He is busy and when not teaching is often in the field, but I guess he decided that indulging me with some Kenyan chiroptera was a part of his Bat Goodwill Ambassadorial role. More on him later. Oh yes, he is also a great guy. There is a pattern emerging here. Maybe it is Kenyan wildlife people in general.
We visited Mount Suswa Conservancy & Lake Navaisha (for bats); the Aberdares (Crested Rat); Meru National Park (Naked Mole Rat); Watamu (bats); Diani Beach (bats and Kenya Coastal Galago); Tsavo East (Hirola); and the Masai Mara (for the migration). We tried to stay in mid range camps and hotels. There are a lot of accommodation options in most parks, with a wide price range, and most places were picked according to their convenience for target species.
Two papers in particular were a useful addition to the Kingdon's field guide. An Annotated Checklist to the Mammals of Kenya and this Key to the Bats of East Africa.
Mount Suswa Conservancy
It takes about 3 hours to drive from Nairobi to the caves at Mount Suswa Conservancy, which are home to a huge colony of Harrison's Large-eared Giant Mastiff Bats. The final hour or so is on a very rugged road. You could probably make it in a 2WD but make sure it belongs to someone that you don't plan on staying friends with. You will need a guide from the local Masai community and we met up en route as arranged with the friendly Jackson Shonko (WhatsApp +254 715238161).
The cave is easy to access and we spent no more than hour there. We saw many many bats. They are stunners.
There were a couple of Rock Hyrax among the boulders at the cave entrance.
Lake Navaisha
Paul Webala met up with us to show us some bats in two caves near Lake Navaisha.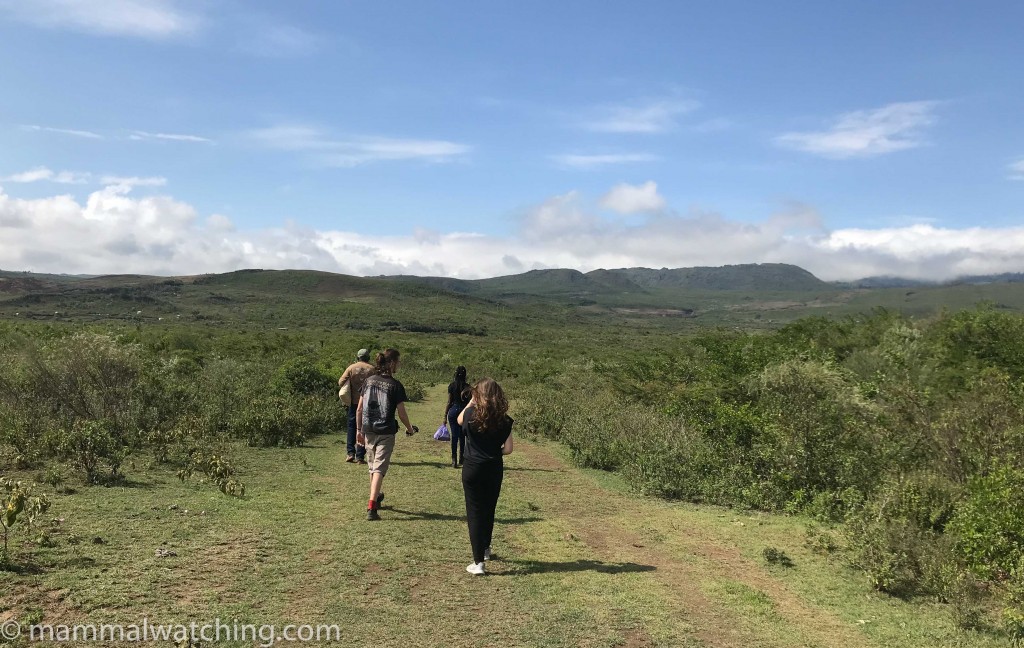 One cave is on grazing land near a village. It held good numbers of Mahgreb Roundleaf Bat (Hipposideros tephrus) and Persian Trident Bats (Triaenops persicus).
I got the impression from Paul that half of the bat species in Kenya are part of a complex and/or undescribed and will likely be renamed. Scientists have no consideration for mammal listers.
The second cave is at Soysambu Conservancy (in Kenya a conservancy is privately owned land that is managed in part to conserve wildlife). You generally need to pay an entrance fee and Soysambu is no exception.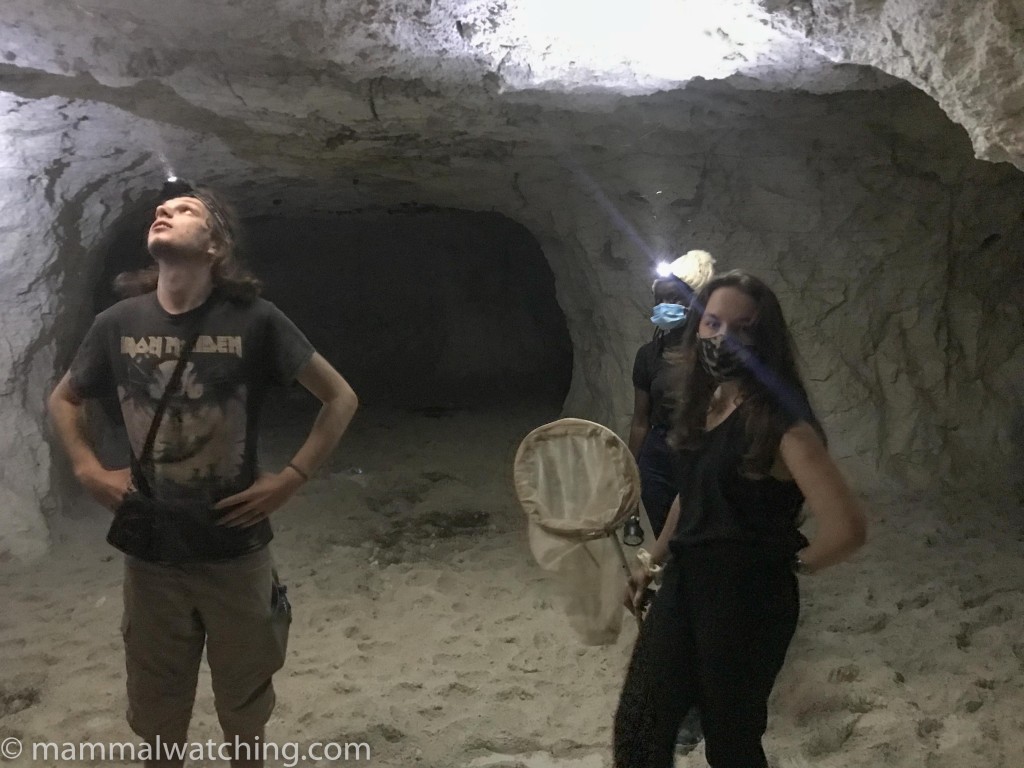 The "cave" here was in fact an old mine. Access is easy but not for the faint hearted. It was carpeted – wall to wall deep pile carpet – in bones. Spotted Hyenas use the mine as a larder and it felt more like a haunted house exhibit than reality. Paul was not worried about the hyenas and we didn't see any. A day or two before Venkat had a close encounter with one here. Had I known this I would have been less relaxed and, at the least, would have insisted the kids went in ahead of me.
We saw five species here, all of which Paul caught and released outside while recording their echolocation calls. There were two bentwing bat species, both of which Paul is working to describe.
The larger species used to be referred to as Miniopterus africanus, but is now – temporarily – Miniopterus Clade 8.
The smaller species used to be referred to as Miniopterus natalensis but for the moment is now called Miniopterus Clade 7.
The cave is also home to two horseshoe bat species. Who knows what they will be called this time next year but for now I have recorded them as Eloquent and Lander's Horseshoe Bats.
Lander's Horseshoe Bats are considerably smaller than the Eloquent Horseshoes.
There were many Egyptian Slit-faced Bats at the cave entrance.
We caught multiple bats from each species in a hand net so Paul could record their calls as we released them.
Aberdares and Nanyuki
Far and away my most wanted Kenyan species was the Maned (or Crested) Rat. A large, colourful beast that famously licks the bark of the Poison Arrow Tree and coats its fur in poisonous saliva. This was one interesting rodent: even the New York Times ran a piece on them in 2021.
Charles Foley had told me that Mount Kenya and the Aberdares was one of the better areas to search. But where to look? Alex Meyer visited the Trout Tree Restaurant close to Nanyuki in January hoping for a Crested Rat. And although he missed the rat the night watchman saw one that night. This was enough for me and I decided to spend a night there before moving to nearby Sendai Farm to team up with Venkat Sankar for more rat searching.
Trout Tree
Alex loved Trout Tree. As soon as we arrived I saw why. This is a trout farm plus daytime restaurant with a guest house available if you want to say: the small wooden Creaky Cottage. Though the restaurant shuts at 4pm the manager arranged for the chef to stay late and we had a delicious dinner delivered to the house.
The grounds – scattered trees and trout ponds – were alive with the calls of Southern Tree Hyrax, and it took me and my thermal scope five minutes to find one.
But a Crested Rat was the main event. After dinner a security guard – who didn't speak a great deal of English – led Patrick and me around the property pointing to various holes and pathways where he had seen Crested Rats before leading us on a hike through the forest outside the farm.
I suspected the bashing through the bush was not the best rat tactic and I made my excuses and left, asking him to wake me in the night if he saw one. I planned to venture out every few hours to search on my own around the property. I wandered around at 2 a.m. The only mammals were more Southern Tree Hyrax, including one sitting on the roof of the cottage.
But on my second excursion – at 5 a.m – my thermal scope picked up something in a tree just outside the front gate, in an area the guard had singled out.
Boom! I watched a Crested Rat waddle along a branch across a small creek before sauntering along the dirt bank and disappearing into a hole. Absolutely wonderful.
Once the adrenalin had stopped pumping I returned to bed. An hour later – at dawn – the guard was knocking on the door telling me he had just seen a Crested Rat (presumably another animal) go down another hole very close to the cottage.
Is Trout Creek the place to see a Crested Rat? Right now, at least, the answer seems to be yes. Venkat went there 48 hours later and saw an animal at 10 pm. I heard of another couple who had caught one a week or two earlier, and I was sent a photo of another taken two days later on a property very close by.
Whether they have always been this common – and whether they will remain so – is more difficult to answer. I heard that a few months earlier Trout Tree's owner had insisted there were no rats there. After my success he wanted a picture for his website.
I suspect that the rats have been common for a while and that few people have searched for them. In any case Trout Tree and its Creaky Cottage is a lovely place to look for them, with great food plus ensuite Southern Tree Hyraxes. It deserves a place on the Kenyan mammal circuit.
The next morning we saw the resident Guerza Colobuses easily. They hang around close to the restaurant and will take food from your hand. There are Blue Monkeys around too.
Sendai Farmstay
Sendai Farmstay is close to the Aberdares. We stayed here so I could rendezvous with Venkat, who had two nights on the farm to look for Maned Rats. Of course by now I had seen the rat but Venkat hadn't. If the situation had been reversed I would have been a nervous wreck.
We took a night drive after dinner though there was not a great deal of road to drive along. The highlight was a prolonged look at a hard to photograph Ruwenzori Thicket Rat (Grammomys ibeanus). Other mammals included a hare (presumably Savannah Hare), White-tailed Mongoose, Impala, Waterbuck and a Common Duiker.
At dusk swarms of molossid bats flew out of the farm's roof: probably Little Freetail Bats. And in the daytime a Striped Ground Squirrel ran across the road.
I set traps in the garden. My only capture was a pretty little Zebra Mouse (Lemniscomys). We saw the same species briefly in the Aberdares.
But no Crested Rats though they are still here: Petra, the owner, saw one a few days after we left. Even if the rats might not be rare, the habitat and lack of roads around the property suggests they are going to be hard to run into often. But Sendai is friendly and comfortable with great food and a good base to explore Aberdares.
Aberdares
I visited Aberdares in 2011 and spent a night at the Ark and another camping higher up. As you drive through the park you through 'salient' (bush), montane rainforest and then moorland. The main diurnal mammalian highlights are Giant Forest Hogs, Black-fronted Duikers with a miniscule change of seeing a Bongo. In 2011 I saw a pack of Wild Dogs up in the moorland.
I wasn't looking for anything in particular this time. We saw Buffalo, Cape Bushbuck, Impala, Common Duiker, Olive Baboons and Spotted Hyenas on the way up.
But we didn't see Giant Forest Hogs or Elephants until we were back near the gate in the late afternoon. Nor did we see anything that might have been a Harvey's or a Black-fronted Duiker. I saw both in 2011.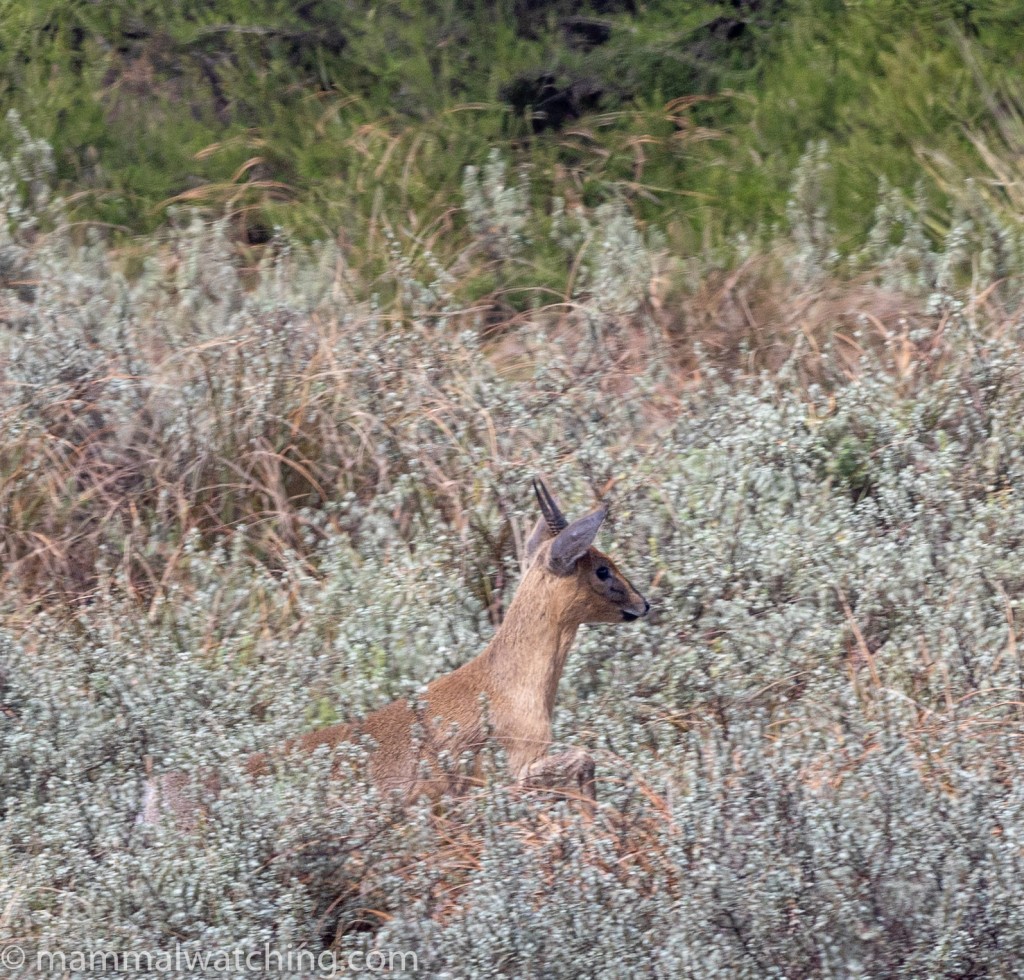 We got a glimpse of a Zebra Mouse (Lemniscomys striatus) run across the road in the late afternoon. We had a good look at the same species in Sendai when we returned to the farm.
My highlight was a lunch stop at the Aberdare's Fishing Lodge. No one was staying at the lodge and the caretaker was happy for us to eat our packed lunch in the grounds. A tame Bushbuck looked on, hoping for a handout.
The gardens were full of diggings, presumably mole rat burrows. I saw movement just under the earth almost immediately, and opened up the entrances to two or three fresh holes with a stick before we sat down to lunch.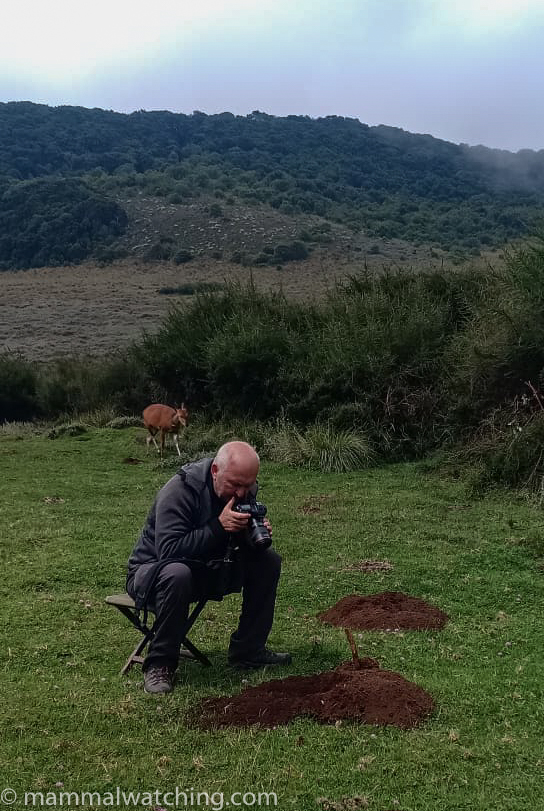 One of them was closed 15 minutes later. I opened it up again and waited. It didn't take long for a mole rat to materialise much to my delight. Shem was quietly fascinated by my rat fascination.
East African Mole Rats comprise just one species at the moment, though – guess what?! – it seems likely that they will be split multiple ways: the species here and on Mount Kenya will likely become the King Mole Rat.
Meru National Park
Think of Meru National Park and you might think of classic East African savannah, Elephants or Elsa the Lioness from the Born Free movie. Forget all that. Meru is Naked Mole Rat central.
Zarek recommended the park as a place to search for the species and that Ikweta Camp would be a good base. While I was booking the camp I casually mentioned the mole rat, fully expecting the manager never to have heard of them. I almost fell of my chair when she replied saying the camp was "overrun with mole rats" and that a French film company had shot a Naked Mole Rat documentary a few years back.
Zarek explained that the best way to see a Naked Mole Rat is to look for their fresh "volcano" mounds and then for dirt flying out the hole. Under these circumstances if you quietly approach there is a good chance of getting a glimpse of this extraordinary eusocial mammal.
We spent our first two game drives in the park looking for dirt flying out of mounds. No mole rats but we did many many diggings along the side of the dirt roads. We saw Elephants, Giraffes, Bright's Gazelles, Waterbuck and Lesser Kudu.
As well as Impala, Gerenuk and Plains Zebra (we missed the Grevy's Zebra that are there).
Other mammals included Black-backed Jackals, our first Lions of the trip, an Unstriped Ground Squirrel, Olive Baboons and Vervets.
I scored two lifers in the park. First, a group of Somali Dwarf Mongooses were in a termite mound a mile or so past the gate. This species wasn't even on my radar until Zarek told me they were in Meru and sent me the coordinates of the animals I saw (Zarek, Venkat and Hari were in Meru the same time as us though in a different camp). The Somali flavour are paler and fluffier than the regular Dwarf Mongooses that are also here.
The other lifer might more correctly be called a deather: we watched the last moments of a wriggling Somali Grass Rat going down a heron's throat.
Back at camp the manager asked the gardener to take me looking for mole rats. They were less common in camp than they once were, so we visited fields on the other side of the camp fence.
It took a few minutes, and the help of several farmers, to find active burrows with dirt flying out. I got my first glimpse of mole rat tails.
Minutes later we caught one. One of the strangest mammals on the planet.
I returned to camp for a photoshoot before releasing the animal back into its burrow. Meanwhile Shem had been busy and – after offering a $20 bounty – had taken possession of another mole rat near the village. It too was released back to its colony.
So the outskirts of Meru is a great place to see Naked Mole Rats, a species I had imagined would be tricky to find.
I did a little spotlighting around camp, which was fenced. Yellow-winged Bats were common and I caught a shrew – what I think must be a Voi Shrew – in the long grass next to our tent.
The head body was 62 mm, the tail 33mm and the ventral fur had orange brown tips. Nothing similar appears to be in range anywhere close.
Watamu
The Kenyan coast offers far more than warm tropical seas and idyllic white sand beaches. The real reasons to visit are obviously:
1. Numerous bat caves.
2. Dwarf Coastal Galagos.
We flew into Malindi and met Ephantus, our driver for this leg, while Straw-coloured Fruit Bats flapped over the airport at dusk.
I'd visited a big bat cave – the Ali Baba cave – near Watamu back in 2011 but after hearing from Alex Meyer about the many other caves in the area I knew I had to return. I discussed my options with Paul Webala, who helpfully outlined the various caves and the species that lived in each. I decided to visit Makahuru cave.
Paul Webala fixed me up with a guide, the famous Kajengo (WhatsApp+254 719 660743). Famous because he was the guide Alex had wanted to use but had had to battle an anti-Kajengo conspiracy to do so (a long story … see day 4 of his report). Accept no alternatives: Kajengo is the man to visit the local caves with. Do not let anyone tell you otherwise!
It took about 45 minutes to reach the cave from Malindi. We met Kajengo en route and spent a happy hour inside the cave. Access was easy and Kakengo helped me catch a few bats in a hand net.
There are two more undescribed miniopterus species here. The larger bentwing – from Clade 5 – used to be called Miniopterus inflatus. The one we caught had a forearm 48mm long.
The smaller bentwings – from Clade 2 – used to be called Miniopterus minor. The one we caught had a 38mm forearm.
There were plenty of African Trident Bats (Trianeops afer) in the cave in both orange and brown colour morphs. Another lifer for me.
My fourth lifer of the day was Hildegarde's Tomb Bat (Taphozous hildegardeae): a few were roosting in weep holes in the roof. They were much larger than the abundant African Sheathtail Bats.
The sixth and final species here were from the Sundevall's Roundleaf Bat complex (Clade 5) (Hipposideros caffer). Not a lifer yet but they are heading that way.
Diani Beach and Shimoni Caves
After some late intel from Venkat, I realised I must also visit the bat caves in Shimoni, at the very bottom of the Kenyan coastline. Diani Beach was a convenient place to stay and Zarek recommended the fancy Sands at Nomad Hotel on the beach. Expensive but lovely, and – far more importantly – set in a nice patch of forest that was home to Dwarf Coastal Galagos and other good stuff.
I granted the family time off for good behaviour and promised them an afternoon to enjoy the pool and the beach. Three hours of Mombassa gridlock put an end to my generosity. We arrived at dusk, just in time to watch a Small-eared Greater Galago being fed next to the pool.
None of the staff seemed to know about the dwarf galagos, but it took 15 minutes to find one after dinner. I saw several more during an hour's walk (they are the only small galago here I believe) along with a Suni and sleeping Blue Monkeys.
I looked for Bushy-tailed Mongooses but didn't have any luck, though Venkat saw one a few days later. I should have tried harder.
Shimoni is an hour further south. Paul Webala ran through the different caves and the bats each housed, and set me up with Ali Toya a local guide (WhatsApp +254 729 708390). I wanted to visit two caves, the first of which – The Slave Caves – have their own TripAdvisor entry. We paid $100 to explore the cave (this is the bat researcher rate) and Ali helped catch a few animals.
To be honest you could turn up and enter as a regular tourist, for what I imagine would be considerably less money, and see the bats well, though you could not catch them. The entire visit took under an hour. Though perhaps paying the bat researcher rate might focus people's attention on reducing tourist disturbance to the cave which is considerable.
The key species here is the rare – and impressive – Giant Leaf-nosed Bat (Macronycteris gigas). This is one of the only Kenyan caves it is known to use. Given how disturbed the cave is (a group of tourists were visiting the same time as us) I'm surprised any bats are still here.
A few Commerson's Leafnosed Bats (Macronycteris vittatus) roost here too. They are hard to distinguish from their slightly larger cousins without having them in the hand to measure the forearms and check the belly fur and tail membrane.
I didn't have any certain sightings of the Commerson's though presumably saw some: when Venkat visited with a bat detector he detected them albeit in smaller numbers than their larger relatives.
The cave also contained a few Hildegarde's Tomb Bats. So if you miss them in Makahuru Cave all is not lost.
After talking to Paul I wanted to visit the nearby Three Sisters Cave complex as well. The caves require a 10 minute drive to Fikirini village, followed by a five minute motorbike ride which Ali arranged at zero notice. You could spend hours exploring these caves, but Katy's patience was reaching breaking point. Thinking about it, her patience is usually hovering there at the best of times. So we spent just 20 minutes in one of the three caves – Mdenyenye Cave – looking for the Percival's Trident Bats that can sometimes be found there.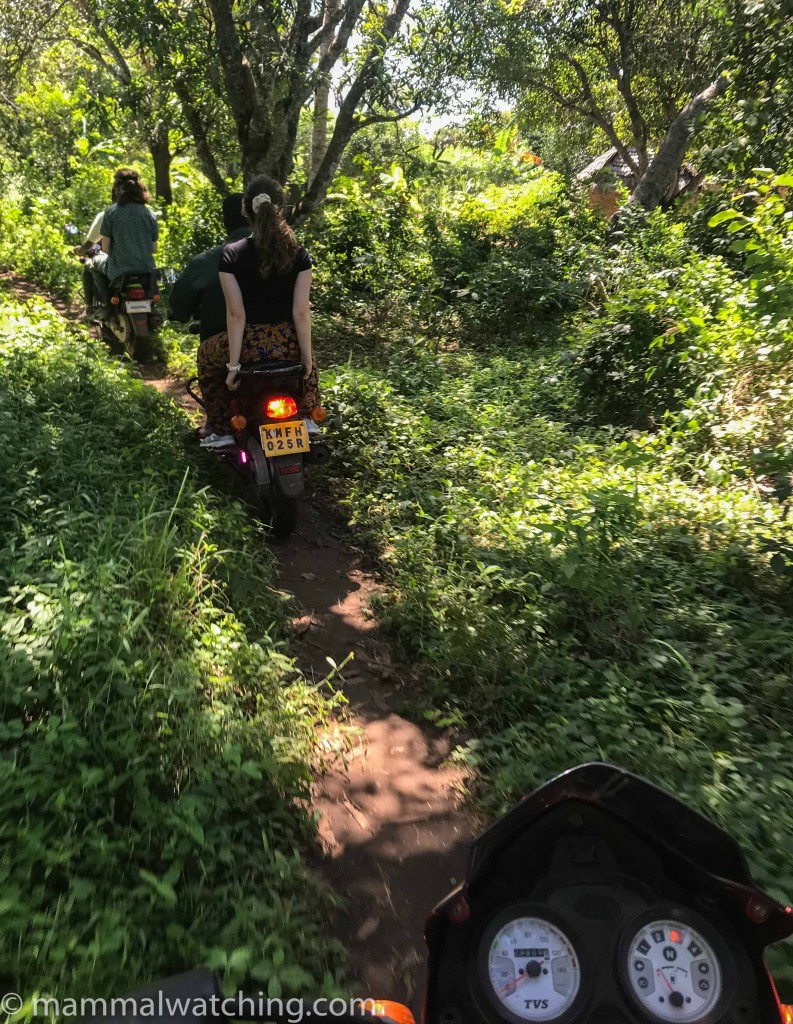 Access to this cave was a bit more complicated and involved a rickety staircase made of branches.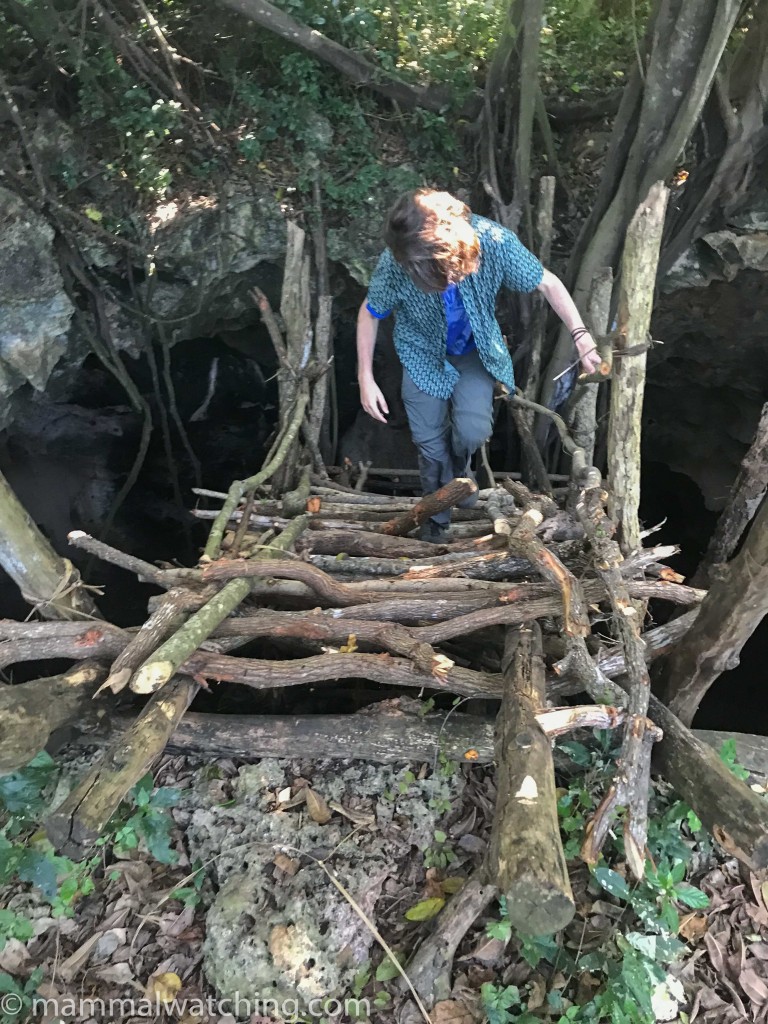 The cave was intense, with tens – probably hundreds – of thousands of bats.
We couldn't find any of the Percival's Trident Bats (they are small and not always findable), but had no trouble seeing huge numbers of Egyptian Rousettus, dozens of which flew into our heads as we were walking, while many dozens more deposited bodily fluids on us. Here's a short phone video.
The cave is also home to a huge colony of Least Bentwing Bats. If I understood Paul correctly this might even still be the correct name for the bentwings here. Amazing. It won't last….
There were African Trident Bats too (which I tried hard to turn into the Persian Tridents, which are smaller with much rounder ears). And I saw a few Commerson's Leaf-nosed Bats (Paul Webala confirmed that Giant Leaf-nosed bats have not been recorded here).
As we left I swore an oath to Katy that this would be the last bat cave of the trip (whispering "at least in Kenya" as she stomped away).
Tsavo East National Park
My main target at Tsavo East were Hirola. I had tried but failed to get to Ishaqbini Hirola Conservancy in 2011, probably the only area where Hirola antelope survive in their native range. I considered returning but rumours of lingering security concerns with Al Shabab terrorists in the area put me off. And in any case it would have meant a long detour to get there. This was not enough to dissuade Venkat from visiting, but I decided to play safe and go to Tsavo East National Park, where a small population of Hirola were introduced in the 1960s. Numbers appear to have remained stable ever since with around 80 animals in the park.
We stayed in Satao Camp primarily because it was close to the area of the park favoured by the Hirolas.
There are plenty of mammals in Tsavo East: Elephants, Impala, Gerenuk, Masai Giraffe, Waterbuck and Hartebeest were all common.
A few Grevy's Zebra, 15 minutes or so past the Bachuma Gate, were a surprise.
There were also plenty of Thomson's Gazelle and my first Peter's Gazelle (a split from Grant's Gazelle), Beisa Oryx, Hippos, Plains Zebra, Lions, Yellow Baboons, Vervet Monkeys and several Black-backed Jackals.
A constant procession of species came to the waterhole in front of camp, while around the tents we saw Unstriped Ground Squirrels in the day and Yellow-winged Bats at night. The camp isn't fenced and so they took a dim view of me walking around at night. I tried a couple of times but within minutes a night watchman would arrive and shadow me so closely that I was guilted into returning to my tent.
I found a few Sundevall's (Clade 3) Roundleaf Bats and Egyptian Slit-faced Bats roosting under the roof structures covering the tents.
The Desert Warthogs in Tsavo East were another target. This species has long been overlooked in Kenya, and from what I read the majority of warthogs in the park appear to be Desert Warthogs. They are not so easy to separate from Common Warthogs at a distance: Desert Warthogs have ears that flip backwards (they are straight in the common) and the males of each species have very different shaped warts (hooked in the desert, straightish in the common).
We saw several sounders of warthogs but all were very distant and on the edge of my camera's capability. I believe they were all Desert Warthogs: the animals above for example seem to show the classic Desert Warthog ear shape.
My main target was Hirola. The area around Satao Camp and Aruba Dam seems to be the best part of the park to search for them. But you need to find them on your own: none of the guides we met on the roads had even heard of the species, let alone seen them that day.
From a distance Hirolas look like Hartebeest. And there are a lot of Hartebeest in the park. All of which needed to be examined. The going was fairly slow. But less than 24 hours after we arrived I saw a few distant Hartebeest that looked a bit strange. We drove past them, but a nagging doubt had me reverse the car back.
And sure enough in among some Hartebeest were a group of seven Hirolas, a paler animal with horns like an Impala, a long white tail and a white blaze across their forehead.
Obviously the animals move around but this group were here, about 11km south of Satao Camp on the track back to Bachuma Gate.
Kisumu
I met Paul Webala, for a second time, in Kisumu, on the shores of Lake Victoria. He very generously drove several hours to get there to catch bats with me for a night in a small reserve. We had high hopes for a range of microbats, including the spectacular Welwitch's Bat. Paul felt sure we would catch this and some other nice species.
But the bats had other ideas. And though we netted several Ethiopian Epauletted Fruit Bats, and counted the ridges in their palates to be sure, we couldn't catch a single insectivorous bat, despite three mist nets and a harp trap.
The temperature was a little cooler that night than normal (though it was very far from chilly) which might explain the lack of bats. Somewhere to return to.
The Masai Mara

I had wanted to visit the Masai Mara to see the migration ever since I was a child. Though once it became a realistic option I was put off by the thought of sharing every mammal with a hundred vehicles. But in 2021 I figured the park ought still to be relatively quiet what with a global pandemic and all.
By all accounts the park was still quite quiet. But in places it was too busy for me.
My main goal was to see huge herds of Wildebeest. This was not hard. And they could be enjoyed in solitude. This was the Kenya I had seen on TV as a kid and I got a bit emotional watching thousands of Wildebeest scattered over the plains, with zebra, giraffes, elephants and gazelles mixed in.
I wasn't expecting any new species here but after I saw some dik-diks I double checked what species they were: the newly split Cavendish's Dik-dik, a lifer.
Some movement just after dawn under a bush turned into a family of grass rats that we watched for 10 minutes. Though the species here is still the African Grass Rat they seem destined to be split into Masai Mara Grass Rats before too long.
Most tourists in the park are busy looking for predators. These could not be enjoyed in solitude. We shared every cat with 10 or more vehicles around us. And this when the park is 'quiet'.
We stayed at Sekenani Camp, a nice camp set in lush riverine forest. The guards didn't like me walking around at night on my own either (once again there was no fence).
Three mammal species were regular visitors to the dining area.
This Southern Tree Hyrax ran under my table.
Small-spotted Genets wander through most nights.
And Greater Galagos were also supposed to be frequent visitors. I particularly wanted to see these animals because some believe them to be a separate species: Silvery Greater Galago, Otolemur monteiri. Others believe they are a distinctive subspecies of O. crassicaudatus, which is how I recorded them. In any case I wanted to take a look and an animal eventually came to the side of the kitchen for food, though often they are seen inside the dining tent.
I also had a Marsh Mongoose next to the parking area just after dark and both a Bushbuck and Waterbuck in the forest next to the restaurant.
We saw over 30 species in the Masai Mara including Spotted Hyenas, Dwarf and Banded Mongoose, Black-backed Jackals, Lions, Cheetahs and a Leopard.
Zebras, Warthogs, Eland, Buffalo, Impala, Grant's and Thomson's Gazelles, Hartebeest and Topi were all common.
And Shem, enthusiastically embracing the concept of trip and park lists, was able to track down a Steenbok.
One of the main attractions of the reserve in July and August is watching Wildebeest cross the Mara River. Herds of animals gather on either side of the river most days trying to pluck up the courage to cross. Crossings do not happen every day and seem difficult to predict. Shem advised our best bet was to drive three hours from camp to the river and wait.
There were no Wildebeest at the river when we arrived at midday. But an hour later a long line of animals were heading our way and their numbers swelled to several hundred by mid-afternoon.
Again and again groups would approach the river, edging closer and closer, trying to decide to cross. Would they?.. Would they? … Nope. Maybe they spotted the enormous crocodiles waiting for them.
Why they wanted to cross in the first place is a mystery to me. There was plenty of grass on this side of the river and Shem told me that animals would sometimes run the gauntlet of the crocodiles or risk being crushed to death only to return immediately.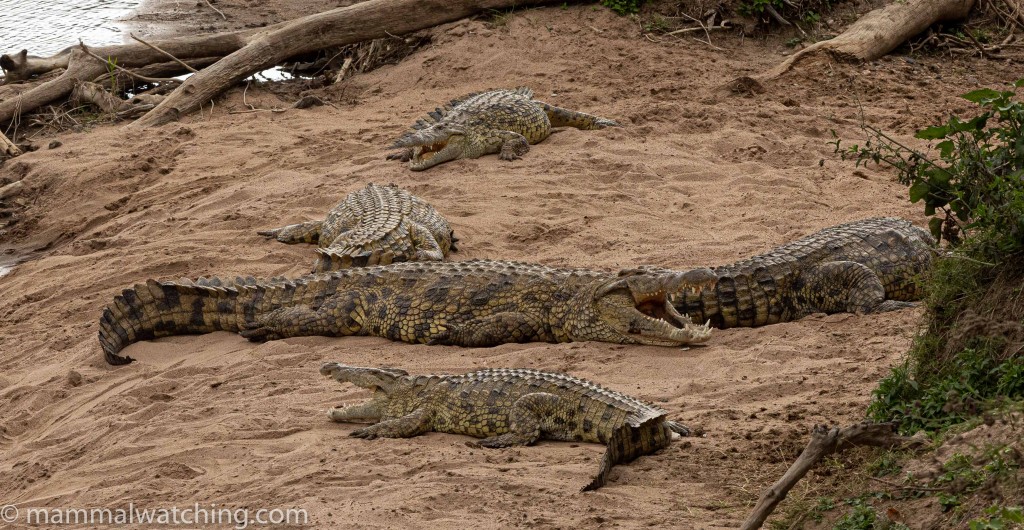 All up we spent over five hours here with the crocodiles and hippos looking on. More and more vehicles arrived through the afternoon until there were at least 50 cars on our side of the river and ten or so on the other side in the area known as the Masai Mara Triangle.
After the relative solitude of the previous weeks here and in Uganda it was an horrendous culture shock to be parked within touching distance of cars filled with noisy homo sapiens asking inane questions incessantly. "Will we see a Cheetah?". "Where are the Lions? We were told we would see a Lion!". "Maybe the Lions ate the Cheetahs?" Hilarios laughter.
Wonderful.
The tension mounted and vehicles patrolled the mile or section of the bank, jockeying for position according to where it looked like the Wildebeest might cross. A sudden dust storm would herald a herd of Land Cruisers racing each other to a new spot or a sighting of something interesting, like a Leopard emerging from a river side bush.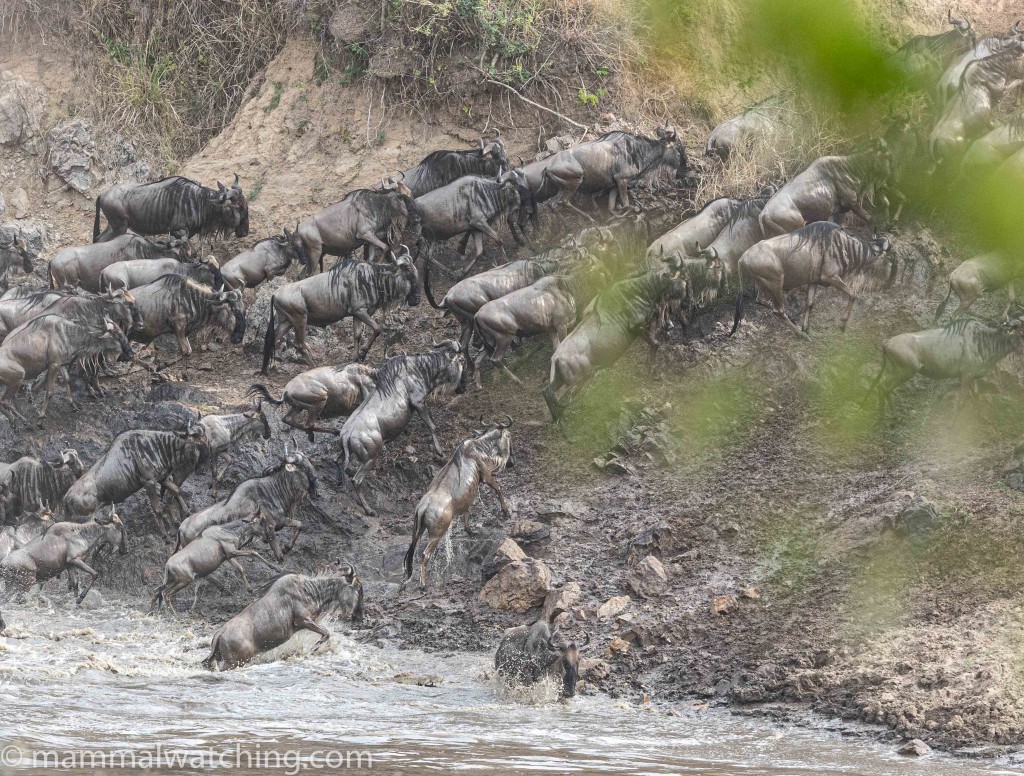 At about 5 pm a hundred or so Wildebeest decided to cross in two groups. We were not in the right place and it was like a scene from Mad Max as 50 cars raced to the river to get a view. We were totally blocked as the first group crossed, but – once the dust had cleared – we had a narrow window onto the river for a minute or so as the second group crossed. It was indeed quite a spectacle.
One unlucky animal was taken down by the crocodiles.
I talked to Zarek Cockar about the Mara when I was back home. He was sorry I had had such an overcrowded experience. Had I talked to him before – why didn't I? – I would have stayed across the river in the Mara Triangle zone, where there are usually far fewer people according to Zarek.
But away from the river, and the big predators, it often felt like we had the park to ourselves.
So in short I am glad to have visited and to have seen animals in such huge numbers. But I wish I had used a better strategy to avoid the homo sapiens.
Thank you again to Shem, Paul Webala and Zarek Cockar in Kenya, and to Alex Meyer and Venkat Sankar for their help planning the trip. And an extra thank you to Venkat for his help when I got back in patiently confirming the distributions of various species. Venkat's brilliant and very thorough report covering many of the areas I visited is here.
Trip List
PROCAVIIDAE
Southern Tree Hyrax (Dendrohyrax arboreus)
Rock Hyrax (Procavia capensis)
ELEPHANTIDAE
African Elephant (Loxodonta africana)
LEPORIDAE
African Savanna Hare (Lepus victoriae)
HETEROCEPHALIDAE
Naked Mole Rat (Heterocephalus glaber)
SCIURIDAE
Unstriped Ground Squirrel (Xerus rutilus)
Striped Ground Squirrel (Euxerus erythropus)
SPALACIDAE
East African Mole Rat (Tachyoryctes splendens)
MURIDAE
Crested Rat (Lophiomys imhausi)
Somali Grass Rat (Arvicanthis neumanni)
African (Masai Mara) Grass Rat (A.niloticus)
Ruwenzori Thicket Rat (Grammomys ibeanus)
Typical Lemniscomys (Lemniscomys striatus)
GALAGIDAE
Kenya Coast Galago (Paragalago cocos)
Small-eared Greater Galago (Otolemur garnettii)
Thick-tailed (Silver) Greater Galago (O. crassicaudatus)
CERCOPITHECIDAE
Olive Baboon (Papio anubis)
Yellow Baboon (P.cynocephalus)
Vervet (Chlorocebus pygerythrus)
Blue Monkey (Cercopithecus mitis)
Angola Colobus (Colobus angolensis)
Guereza (C.guereza)
SORICIDAE
Voi Shrew (Crocidura voi)
PTEROPODIDAE
Egyptian Fruit Bat (Rousettus aegyptiacus)
Ethiopian Epauletted Fruit Bat (Epomophorus labiatus)
African Straw-coloured Fruit-bat (Eidolon helvum)
MEGADERMATIDAE
Yellow-winged Bat (Lavia frons)
RHINONYCTERIDAE
African Trident Bat (Triaenops afer)
Persian Trident Bat (T.persicus)
HIPPOSIDERIDAE
Giant Leaf-nosed Bat (Macronycteris gigas)
Commerson's Leafnosed Bat (M.vittatus)
Sundevall's Leafnosed Bats Clades 1 and 5 (Hipposideros caffer)
Mahgreb Leafnosed Bat (H. tephrus)
RHINOLOPHIDAE
Eloquent Horseshoe Bat (Rhinolophus eloquens)
Lander's Horseshoe Bat (R.landeri)
EMBALLONURIDAE
Hildegarde's Tomb Bat (Taphozous hildegardeae)
African Sheath-tailed Bat (Coleura afra)
NYCTERIDAE
Egyptian Slit-faced Bat (Nycteris thebaica)
MOLOSSIDAE
Harrison's Large-eared Giant Mastiff Bat (Otomops harrisoni)
Little Free-tailed Bat (Chaerephon pumilus) (?)
MINIOPTERIDAE
Least Long-fingered Bat (Miniopterus minor)
Long-fingered Bat Clade 2 (M. cf. minor)
Long-fingered Bat Clade 5 (M.cf. inflatus)
Long-fingered Bat Clade 7 (M. cf. natalensis)
Long-fingered Bat Clade 8 (M. cf. africanus)
FELIDAE
Lion (Panthera leo)
Leopard (P.pardus)
Cheetah (Acinonyx jubatus)
VIVERRIDAE
Common Genet (Genetta genetta)
HYAENIDAE
Spotted Hyaena (Crocuta crocuta)
HERPESTIDAE
White-tailed Mongoose (Ichneumia albicauda)
Marsh Mongoose (Atilax paludinosus)
Somali Dwarf Mongoose (Helogale hirtula)
Common Dwarf Mongoose (H.parvula)
Banded Mongoose (Mungos mungo)
CANIDAE
Black-backed Jackal (Lupulella mesomelas)
EQUIDAE
Grevy's Zebra (Equus grevyi)
Plains Zebra (E.quagga)
SUIDAE
Desert Warthog (Phacochoerus aethiopicus)
Common Warthog (P.africanus)
Forest Hog (Hylochoerus meinertzhageni)
HIPPOPOTAMIDAE
Hippopotamus (Hippopotamus amphibius)
BOVIDAE
African Buffalo (Syncerus caffer)
Lesser Kudu (Tragelaphus imberbis)
Common Eland (T.oryx)
Cape Bushbuck (T.sylvaticus)
Steenbok (Raphicerus campestris)
Suni (Nesotragus moschatus)
Impala (Aepyceros melampus)
Gerenuk (Litocranius walleri)
Grant's Gazelle (Nanger granti)
Bright's Gazelle (N.notatus)
Peters's Gazelle (N.petersii)
Thomson's Gazelle (Eudorcas thomsonii)
Cavendish's Dik-dik (Madoqua cavendishi)
Waterbuck (Kobus ellipsiprymnus)
Beisa Oryx (Oryx beisa)
Hartebeest (Alcelaphus buselaphus)
Hirola (Beatragus hunteri)
Topi (Damaliscus lunatus)
Common Wildebeest (Connochaetes taurinus)
Common Duiker (Sylvicapra grimmia)
GIRAFFIDAE
Giraffe (Giraffa camelopardalis)
Masai Giraffe (G.tippelskirchi)
At least 84 species, at least 27 lifers in bold. Numbers will grow when splits are confirmed.