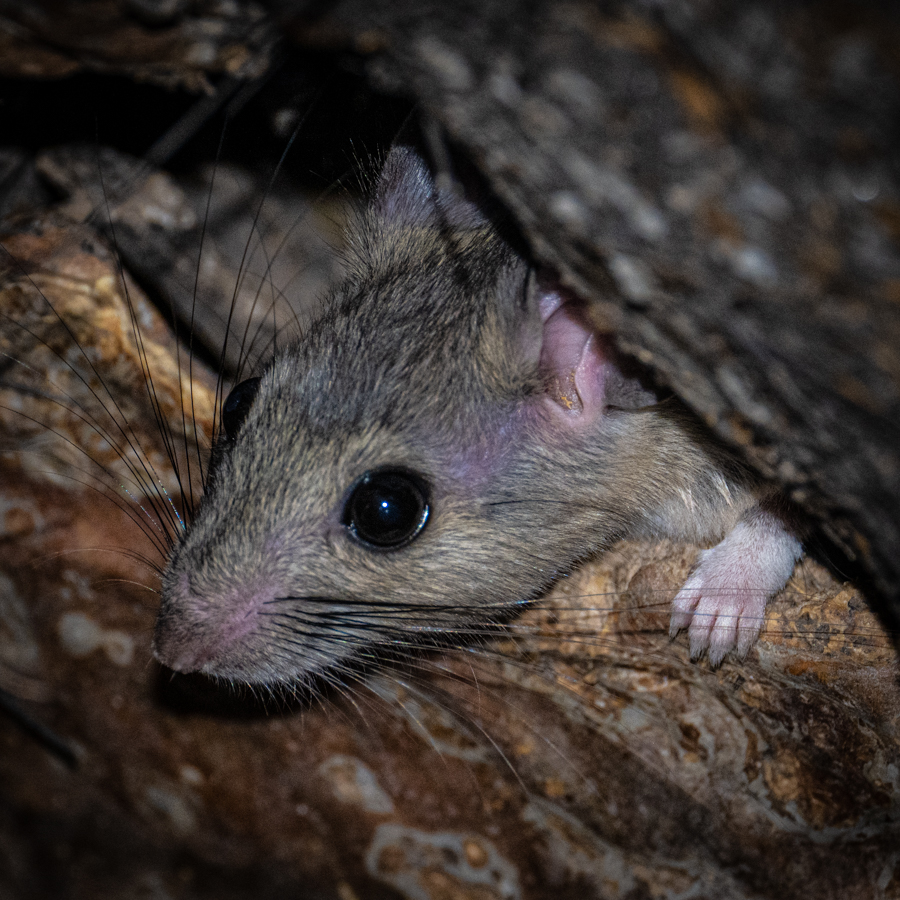 Southeastern Arizona updates
I was recently in Southeastern Arizona for a book project. This was not an active listing trip. Minor site updates as follows.
(1) In Tucson, a presumed White-throated Wood Rat was active diurnally inside the free-flight aviary at Arizona Sonora Desert Museum. Rock Squirrels and Harris's Antelope Squirrels were common on the grounds. Arizona Cotton Rat remains easy at Sweetwater but it seems Bobcats are only seen one visit in five right now. (Maybe slightly less?)
(2) At Madera Canyon's Santa Rita Loge, the resident Ringtail seems less confiding than before. It (or they) currently den under Casita 10 but we did not see them in two nights of desultory looking. One Coati is around most days. There was a presumed Southern Pocket Gopher active under the bird feeder after a heavy rain. Fewer Lesser Long-Nosed Bats at the feeders than usual for June, but then the monsoons had started early. Pallid Bats were on their night roost at the end of the road, at the loop that goes to trailheads and picnic areas. Drive the loop and just before you rejoin the two-way traffic going downhill, pull into the last possible parking lot. At the south end is a restroom, and the bats are in the entryway of the women's side. A brief night drive from pines down to grassland turned up Raccoon, Gray Fox, Bobcat. There were cottontails at all three sites, but I never made any particular notes when or where. Arizona Gray Squirrels were around the lodge bird feeders during the day.
I am not sure if he had ever done a trip report, but Jose Gabriel was here in late April with a client and they had a Puma cross the road 200 meters or so downhill from the lodge, circa 2330.
(3) In Cave Creek Canyon at Cave Creek Ranch the rains also had come early. We heard secondhand reports of recent Black Bears and Bobcats, and something spooked the dickens out of the on-site herd of White-tailed Deer; the groundskeeper assumed it was a Puma. We also had secondhand reports of Yellow-nosed Cotton Rat. The woodpile by the feeders by the lawn by the office is the usual spot, but we only had European House Mice there and Rock Squirrels. There is one diurnal Coati around the lodge office. Striped Skunks are common at night, with one probable Hooded Skunk and one Gray Fox seen on a brief night drive up the canyon. Javelinas common at night in the grassland down canyon, and there was a presumed Silky Pocket Mouse on the road in the grassland and kangaroo rats "sp". No nectar-raiding bats were coming to the feeders at the lodge in two nights but they had been seen recently. Reed the lodge owner believes there is a Hog-nosed Skunk resident on site but that it comes out quite late. There is a resident Spotted Skunk in the garage behind the office where the trash bins are, but it is rarely seen in summer. In winter, Reed feeds it cat food around 6 pm at night; I got the sense it is seen sort of five nights out of seven? I would definitely check with him before planning a trip.
I did not use an acoustic detector but there were other kinds of bats around all three sites; everything looked Myotis– and Canyon Bat-sized.
Inset photo is a presumed White-throated Wood Rat, from a site at a private residence in the West Tucson foothills.
Charles Hood / hoodcw@gmail.com