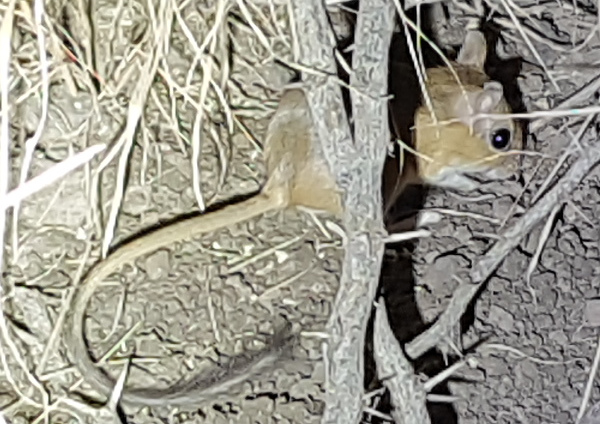 ID and info on mammals in Awash, Ethiopia
Hello,
I have several questions about mammals of Ethiopia.
Two mammals photographed near Doho Resorh, Awash region, Ethiopia:
– a gerbil. Ammodile, Ammodillus imbellis?
-a bat. Heart-nosed Bat Cardioderma cor? Remarkable was its audible song-like chirping. High cricket-like chirping was heard in many places, and one traced to a bat roosting on a bush ca 2-3 m up. ca 7 cm bat, with short wings, long broadly rounded ears close together, and long face. Wings had clearly paler bones. Call was accelerated chirping: ci-ci-cicicicicici-ci and of other animals 4-chirps: cicicici. Description of its territorial song (4-9 calls in 1s, audible for humans to 200m) and territorial behavior in HMW matches well C. cor. Yellow-winged Bat Lavia frons also makes calls audible for humans, but I would likely see its distinctive coloration.
– Do Desert Warthog Phacochoerus aethiopicus and Somali Dwarf Mongoose Helogale hirtula occur in Awash National park? Local guides said so, but the distribution map in the IUCN Red List does not show these species there. Warthogs looked clearly different: taller, longer legged, buff brown, with higher skull and more vertical face.
– Hares at southern Lake Hangano, around Hara Langano Resort are which species? Ethiopian hare, Lepus fagani or Abyssinian hare, Lepus habessinicus?