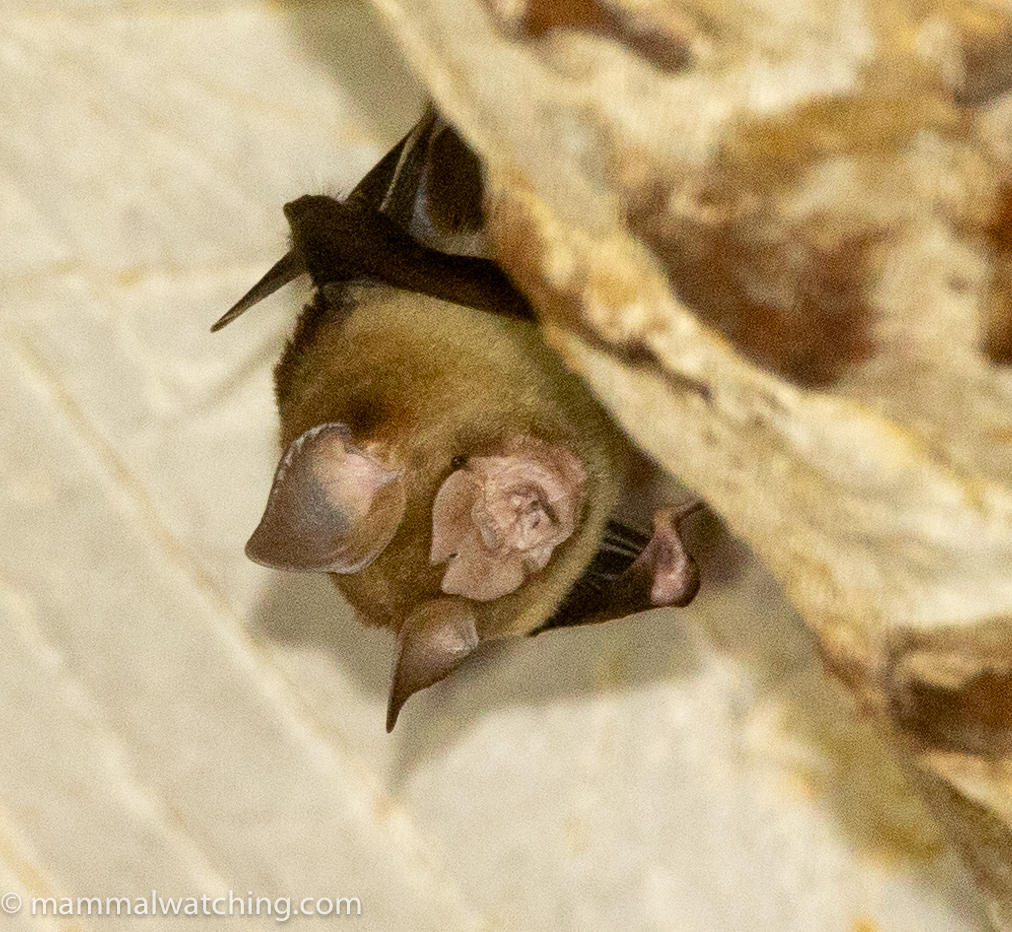 Kota Gelanggi Caves, Peninsular Malaysia, October 2023
In October 2023 I took a work trip to Bangkok, and spent the weekend before work in Peninsula Malaysia chasing a few bat species. Prof Juliana Senawi from the Universiti Kebangsaan Malaysia, who came to West Papua with us in June, generously showed me around. And her sister Mala came too: primarily because she didn't trust me driving her sister's car!
I flew into Kuala Lumpur on Friday close to midnight and spent a jetlagged night at the airport hotel. The next morning we met up and headed to the Kota Gelanggi caves about 4 hours' drive from KL.
I had three target species for the weekend: the impressive Shield-faced Leaf-nosed Bat, which Juliana said we might be able to find in the Kota Gelanggi caves. And two tree-roosting species: Tailless Leaf-nosed Bats, an uncommon species that Carlos Bocos and found roosting in a hollow tree in Taman Negara National Park, and Ridley's Leaf-nosed Bat, which Carlos had also found in a hollow log in Taman Negara.
Kota Gelanggi caves are in a private reserve which charges a small entrance fee. We spent about 3 hours exploring the caves, which got progressively better, from a batting point of view, the further along the road we went. The last cave – 'Turtle Cave' – is along a poorly defined trail at the end of the road. The trail goes off to the left as you are coming from the park entrance and quickly reaches a creek.
We saw a few Sunda Short-nosed Fruit Bats under an overhang, as well as the small bats in a weephole (below). We put them down as myotis until I zoomed in on my pictures and Juliana realised they were pipistrelles, primarily on the basis of their shorter rounded tragus. Juliana told me there are only three species known from the peninsula so far, although it is quite likely there are undescribed species too. The bats were too small to be Narrow-winged Pipistrelle (P. stenopterus), and so she thought they were most like Pygmy Pipistrelle (P. tenuis), rather than Javan Pipistrelle (P. javanicus). So follow her advice as put them down as Pipistrellus cf. tenuis for the time being.
There were a few horseshoe bats in several caves: they all looked similar and the ones we could ID with any certainty appeared to be Intermediate Horseshoe Bats.
Photos which give the profile of the noseleaf are better for identification purposes.
There were also a few Lesser Sheath-tailed Bats under overhangs and near cave entrances.
In the largest cave, on the right hand side towards the end of the road, there were many leaf-nosed bats hanging from the very high ceiling. When I looked at the cropped pictures on my computer I saw they were our target Shield-faced Leaf-nosed Bats. The shields are much more noticeable on the male bats and most of the colony here were female.
There were also several groups of Greater False Vampires.
And lots of the very large Diademed Leaf-nosed Bats.
The last cave – Turtle Cave – was a little harder to find and much less visited but it contained many of the promised Shield-faced Leaf-nosed Bats incluing some males
Plus Cantor's Round-leaf Bats. My second lifer for the day.
We left the caves and drove on another hour or so to Taman Negara National Park where we spent the night. It started to rain heavily almost as soon as we arrived so I didn't head out for a night walk until 3am when the rain had stopped. The only mammals I saw in 90 minutes that night were some Long-tailed Macaques in the tree above my room and a handful of small bats flying along the trails.
Early in the morning Juliana and I walked along the trail to the canopy walkway to look for the two bat roosts Carlos had found a year earlier. Unfortunately the hollow log that had contained Ridley's Leaf-nosed Bats – that used to be partially across the trail – had been given some cosmetic surgery with a chainsaw and was empty. The Coelops roost tree – a few metres after the end of the 'official' trail – still looked good for bats. But the entrance was covered in cobwebs and there was nothing inside. The only mammals that morning were a couple of Plantain Squirrels around the hotel.
Disappointed we drove back to KL and my flight to Bangkok. We stopped briefly at a semi-abandoned resort near the airport called the Horse Adventure Paya Indah Wetlands. We were in search of Pouched Tomb Bats that used to roost in an abandoned building there. But the bats had gone and apparently no one had looked for them since before COVID.
We did see a few Long-winged Tomb Bats roosting under the eaves of the office.
A very big thank you to Juliana for giving up her weekend to find me some bats and to her sister – not a bat fan – for coming along too. Thanks also to Carlos Bocos for his detailed information on the two bat roosts even if they were now empty.
Trip List
Plantain Squirrel (Callosciurus notatus)
Crab-eating Macaque (Macaca fascicularis)
Sunda Short-nosed Fruit Bat (Cynopterus brachyotis)
Greater False Vampire (Lyroderma lyra)
Diadem Leaf-nosed Bat (Hipposideros diadema)
Cantor's Leaf-nosed Bat (H.galeritus)
Shield-faced Leaf-nosed Bat (H.lylei)
Intermediate Horseshoe Bat (Rhinolophus affinis)
Long-winged Tomb Bat (Taphozous longimanus)
Lesser Sheath-tailed Bat (Emballonura monticola)
Pygmy Pipistrelle (Pipistrellus cf. tenuis) (probable)
11 species including 2 lifers (in bold).