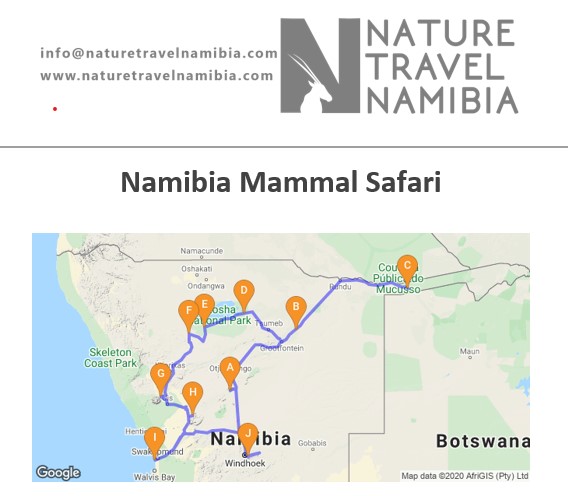 Mammalwatching Exclusive Safari: Nambia, May 2024
I thought this would be a good time to advertise it again. And if you are living in New York, where it has rained every weekend for the past 7 weeks, I have to say that Namibia is looking more attractive than ever!
Namibia is one of my favourite destinations in Africa and is a mammalwatching nirvana. LOTS of animals, few people and far more freedom to do your own thing than in many other parts of the continent. So why is it still such an under-visited destination?
This trip may help change that and I'm excited to advertise a special mammalwatching safari from Nature Travel Namibia with an itinerary that I had some input into with mammalwatchers in mind.
Full details are attached. This 2 week safari small group safari will take you right across country and offers good chances of finding top-shelf mammals including Ground Pangolin, Black Mongoose, Brown Hyena and Spot-necked Otter plus a huge supporting cast including all the classics.
This safari will also pay more attention than usual to smaller mammals – yay! – and you will be on the look out for various Elephant Shrew species, Dassie Rats, Golden Moles and more. There are plenty of interesting smaller species in Namibia but many will be very hard to find in the field, so the operator will consider arranging some small mammal surveys along the way if there is sufficient interest from participants. So let them know that if you book.
May 13 – 27, 2024. The price for the group tour with a maximum of 6 pax on the tour (i.e each person has a window seat) will be N$94,100 per person sharing.  (Should there be less than 6 pax a supplement will be payable). The single supplement will be N$8,400 for anyone booking a single room.