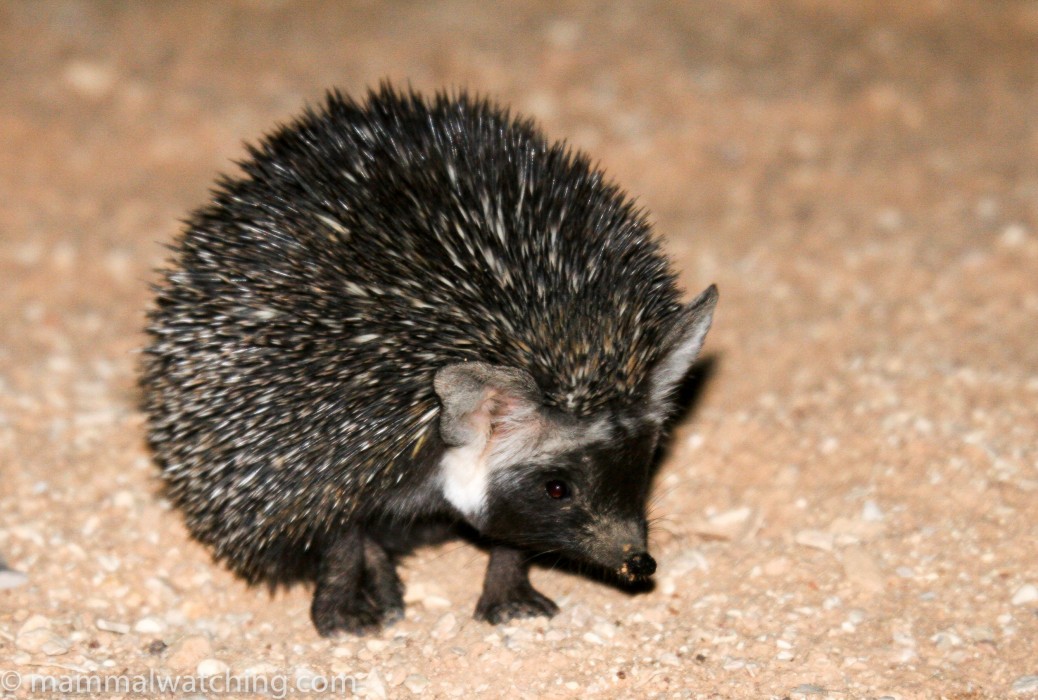 Israel
I first visited Israel for a few days during a holiday with family in Jordan. They appear to take wildlife conservation at lot more seriously in Israel than in Jordan. I didn't see a huge amount during my first two days there in 1997, but from talking to people it was apparent that mammals were far more commonly seen here than over the border in Jordan. It is, however, quite hard to get information on good sites or to get a reply from nature guides.
In 2008 I went back for a day during a work trip to Jordan and I was back again in 2010 for a couple of days on either side of a work trip to Ramallah on the West Bank.
Hula Valley National Park
During a few hours in January 1997 I saw just a Black Rat and feral Coypu.
Maktesh Ramon
I spent 24 hours here in January 1997 and saw Nubian Ibex, which were quite common). The national park is pretty interesting. The park staff reckoned spotlighting was good, with excellent chances for Striped Hyena around the garbage dump. But, in order to take me spotlighting I needed a 4WD or the park guys wanted $100 US to take me, which seemed a bit steep.
Kibbutz Lotan
I spent a night here in October 2008, primarily to see Ethiopian Hedgehogs which are common here at least in the warmer months (thanks Ohr for the tip!).  During a night's stay I saw a couple in the grounds of this unusual eco-kibbutz about 40km north of Eilat. The Kibbutz has tourist accommodation and is well set up for bird watching. I also saw a Porcupine quill and expect they would be easy enough to spot if you went spotlighting around the date groves.
In 2008 I tried to arrange a spotlighting trip around Eilat to look for Acacia Gazelles and some nocturnal mammals. Eran Levin is a guide based in the area who seemed knowledgeable and was willing to take me out. He would be worth contacting if you are in the area but the cost of the trip I wanted to do was too expensive for me.
Jerusalem
I spent a night here in October 2010. Indian Porcupines are easy to see at the Jerusalem Bird Observatory in the middle of the city (quite well signposted between the Knesset and the Supreme Court). They usually feed in front of the bird hide in this tiny reserve just after dusk and I saw at least 2 animals here, along with a Southern White-breasted Hedgehog (Erinaceus concolor). Many thanks to Ohr Tregger, Jonathan Meyrav and Amir Balaban, the manager of the reserve, for their help.
Mountain Gazelles are quite common in Israel and if you are in Jerusalem they are easy to find in the Valley of the Gazelles. This small isolated patch of scrub in the middle of the city is still home to a population of gazelles. I asked the taxi driver to drop me off at the busy Pat Junction, at the southern end of the valley, early in the morning. I found a hole in the fence and wandered through the bush, flushing 3 Gazelles in the middle of the grassland. There used to be 20 or so animals living here, but someone told me that fewer than 5 cling on.
Ohr from Israel knows much more than me about mammal watching there. He was good enough to provide the following information which he has gathered from various sources though he won't swear to the accuracy of all of it as some of it is quite out of date.
The Hula Valley in northern israel is a great place to view wildlife, like Jungle Cats, Golden Jackals, Wild Boar, Egyptian Mongoose, Bats, introduced Nutria and Eurasian Otters (if you are lucky). There are two places in the Hula Valley where you can see wildlife, the Agamon and the Hula Nature Reserve which during the the fall and the winter are teeming with birds. It is possible to take a guided night safari tour of the Agamon where you are almost guaranteed sightings of Jungle Cats and Golden Jackal (check youtube for videos). I've been on two such tours and in both tours i saw several Jungle Cats and one one tour Golden Jackals. It is also possible to see these animals in the daytime, 2 years ago during a morning trip in the Agamon in the Fall I managed to see a Jungle Cat killing a baby Nutria and a Golden Jackal walking along a reed bed. Inside the Agamon's visitor centre you can see insect eating bats that settled there. In the Hula Nature Reserve you have good chances of seeing Wild Boars and introduced Water Buffalo. The Wild Boar are often seen hanging around the Water Buffalo. In the mountains to the west of the Hula Valley you can see Mountain Gazelles during the daytime.
The mountainous areas of the Golan Heights and the Galilee to the east and west of the Hula Valley respectively are some of the best places in Israel to see wild mammals. There are about 15 packs of Wolves in the golan heights and about 10 packs in the Galilee. There are Wild Boar, Mountain Gazelles, Red Foxes, Golden Jackals, Indian Crested Porcupines,Wild Cats (i don't know if there are any genetically pure wild cats left), Caracals, a few Striped Hyenas, Eurasian Badgers, Marbled Polecats, Beech Martens, Brown Hares, Rock Hyraxes, Egyptian Mongoose, a variety of bats and Eurasian Otters in the rivers and streams.
There is a guide named Eli who can take you on a night tour in the the northern areas of israel in the Galilee, the Hula Valley and the Golan Heights to see animals. Jeff Frontz took a trip with Eli in 2011 and wrote to say "they now have 3 different public tours — daytime, sunset, and night time (in addition to his private ones). The guides seem to all speak English, but the tours are primarily in Hebrew unless there is sufficient number of English speakers (if you sit close to the tractor, you can talk to the tour guide about things while sitting and watching the wildlife on the sunset tour– on the night time tour, if you sit near the guide, you can ask him/her about things), but really, the wildlife speaks for itself. Even though Efi warned that it's not always possible to see a Jungle Cat, we saw one on the night tour– I was thrilled. We followed it for about 10 minutes as it hunted something in the fields. It was amazing."
Mt. Hermon on the border with Syria and Lebanon is the only place in Israel where you can find the rare Snow Vole and the Steppe Field Mouse.
In Tel-Dan Nature Reserve to the north of the Hula Valley you might see a Eurasian Otter or a Wild Boar if you are lucky, but you have good chances of seeing Fire Salamanders during the winter.
A great place to see the Rock Hyrax is the Banias Nature Reserve where you can see them running around the rocks. I have seen them in both of my visits to this reserve. I also saw Wild Boar here.
The Cziv Nature Reserve in the Western Galilee is where you can see a wild re-introduced population of more than 150 Persian hybrid Fallow Deer. The pure Persian subspecies was hunted to extinction in Israel between the late 19th and early 20th centuries and for more than 10 years now the israeli nature and parks authority has been running a successful captive breeding and re-introduction program for this subspecies.
The Carmel Mountains around the city of Haifa are a good place to look for Wild Boar, especially around the edges of the city because packs often enter the city looking for food. The Carmel Mountains also have Wolves, Golden Jackals, Red Foxes, Polecats, Egyptian Fruit Bats, Yellow-necked Mice, Porcupines, Mountain Gazelles, Egyptian Mongooses and possibly Striped Hyenas and Caracals.
South of the Carmels, the Alexander River has one of the last remaining populations of Nile Soft-shelled turtles, this large turtle can weigh up to 50 kg and reach a length up to 120 centimeters, these turtles can easily be seen from the turtle bridge which crosses the river next to the small farming village of Kfar Vitkin. A walking trail along the river offers chances for Wild Boar, Jungle Cat, Egyptian Mongoose, Red Fox, Golden Jackal, the introduced Nutria and possibly some Eurasian Otters.
Britania Park and its surroundings in the Judean Lowlands south west of Jerusalem is another great place to see wildlife. It is a large area of public land and much of it is still covered in native bush. It has Golden Jackals, Striped Hyenas, Caracals, Mountain Gazelles, and a variety of other mammals. In 2005, I went with a Polish researcher who was studying the park's wildlife and we saw several Gazelles and a pair of Golden Jackals.
Another interesting place to visit is the Nitsanim Sand Dunes along the Mediterranean coast between the cities of Ashkelon and Ashdod. Its one of the last remaining remnants of the coastal sand dunes that used to exist along the Mediterranean coast of Israel. Animals that can be found here include an isolated population of Mountain Gazelles, Red Foxes, Egyptian Mongooses, Buxton's Jird (an endemic species found only in the sand dunes of south western israel, the gaza strip and northern sinai), Anderson's Gerbil, Greater Egyptian Gerbils, Lesser Egyptian Jerboas, Brown Hares and Long-eared Hedgehogs (which may be locally extinct) and a variety of reptiles.
A great place to see Golden Jackals is the countryside of Sedot Micha south of the city of Beit Shemesh. My Dad and I went spotlighting in this place several times and we saw Jackals each time. Once, we saw a group of 3 Jackals with a kill. We often travel in this area at night with a spotlight to look for animals and we have seen plenty of Jackals, 2 Porcupines, 2 Eurasian Badgers, Social Voles, a Jungle Cat, and one time we even saw a species of mouse inside a tree hole.
In the Negev Desert in the south of Israel there's a region called "Erets Hamachteshim" (land of the craters) because of the three large craters here. This is probably the wildest place in Israel: a true wilderness area, with large populations of wild animals which include Nubian Ibex (this animals can easily be seen in the small town of Mitspe Ramon, they often enter the town in search of food), Dorcas Gazelles, a re-introduced population of Onagers (they belong to the Persian subspecies, the Syrian Onager that used to live in Israel is sadly extinct), Striped Hyenas, desert Wolves which are a different subspecies from the Wolves of northern Israel, a small population of about 5-10 Arabian Leopards, Caracals, Wildcats (there might still be genetically pure wildcats in here), Red Foxes which belong to a desert subspecies different from the foxes in northern and central Israel, Sand Foxes, Porcupines, Brown Hares, Rock Hyrax (I saw a couple a few years ago), Wagner's Gerbil, Pygmy Gerbils, Bushy-tailed Jirds, Fat Sand Rats, Sundevall's Jird, Cairo Spiny Mouse, Golden Spiny Mouse, Asian Garden Dormouse, Lesser Egyptian Jerboa and Ethiopian Hedgehogs.
To the east, on the west coast of the Dead Sea is the Judean desert, which is home to Striped Hyenas, desert Wolves, Caracals, Nubian Ibex, Dorcas Gazelles, Rock Hyrax, Porcupines, 2 surviving Arabian Leopards and the rare Blanford's Fox. Ein Gedi Nature Reserve is a great place to see Nubian Ibex and Rock Hyrax, both animals are very common in the reserve. The 2 Arabian Leopards are sometimes seen looking for food around the kibuts of Ein Fedi, and there were several cases of Leopards entering the kibuts and killing dogs and cats. The Judean Desert used to have a viable population of about 8-10 Leopards in the 80's and it was the site of a radio tracking project: several Leopards were radio collared and monitored but sadly due to bad management and lack of conservation there are now only 2 individuals, a male and a female.
The Arava Valley along the eastern border with Jordan south of the Dead Sea has the last remaining population of the Critically Endangered Acacia Gazelle (Gazella gazella acaciae), a subspecies of the Mountain Gazelle found only along the acacia trees north of Eilat and only on the Israeli side of the border and nowhere else in the world. There are only less than 30 of this gazelles alive and I have seen them several times.
If you want to see marine mammals you could contact IMMRAC (Israeli Marine Mammals Research and Assistance Center), it is a non profitable organisation that has a long history of marine mammal research and conservation in Israel, they sometimes carry out Dolphin surveys in the mediterranean sea off the coast of Israel and it is possible for tourists to join those surveys, they often see Bottlenose Dolphins.
Community Reports
Five trips to Israel, 2013-23: Jan Ebr's notes of 22 species including Jungle Cat, Hovel's Myotis, Golden Spiny Mouse and Palestinian Molerat. 
 
Israel. 2022: Alexander Meyer, 7 days & 18 species including Striped hyena, Arabian Spiny Mouse, Desert Hedgehog and Indian Crested Porcupine.
Jordan & Israel, 2018: Aidan Place, 3 weeks & 12 species including Striped Hyena and Asiatic Wild Ass.
Israel 2018: Mike Richardson, 8 days & 24 species including Desert Hedgehog, Lesser White-toothed Shrew, Persian Fallow Deer and Anderson's Gerbil.
Israel, 2018: Mark Hows, 1 week & 28 species including Persian Fallow Deer, Dorcas and Mountain Gazelles, Indian Porcupine and a bunch of small mammals (the same trip as the report above from Mike Richardson).
Israel, 2017: Nick Littelwood, 4 trips & 13 mammals including Onager, Palestinian Mole Rat and African Wild Cat.
Israel, 2017: Mike Richardson, 10 days & 17 species including Onager, Desert Hedgehog, Indian Porcupine and several gazelle species.
Israel, 2017: Nick Littlewood, brief notes on Desert Hedgehog and Wildcat sightings.
Israel, 2016: Mike Richardson & Mark Hows (Mark has also written his own report here): 8 days & 23 species, including Striped Hyena, Wolf, Jungle Cat, Onager and some nice rodents including Golden Spiny Mouse. Sounds like a great trip.
Borat Loz & Maktesh Ramon, 2015: Tomer Ben-Yehuda, 1 day & 4 species including Onager.
Israel, 2014: Dominique Brugiere, 2 weeks & several species including Onager, Mountain & Dorcas Gazelles, Indian Porcupine and Golden Spiny Mouse.
Israel, 2012: Timo Marijnissen, 2 weeks & 11 species including Dorcas and Acacia Gazelles and Oryx.

Jerusalem, 2012: Charles Hood, some notes of 8 species seen during a work trip. Including Ruppell's Fox, a possible hybrid Sand Cat and Nubian Ibex. And some follow up comments from Dan Rosen are here which suggest it was a Blanford's Fox and a feral Cat.
Also See