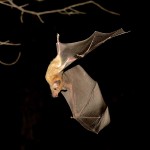 Not that this is new news but to verify what has been indicated before, Lesser Long-nosed Bats are currently easy to see in Madera Canyon, Southeastern Arizona. (This is as of August, 2016.)
They come to hummingbird feeders at the Santa Rita Lodge in the first hour after dark. You can view them from the public parking lot; you don't have to be a registered guest (though it is of course good manners).
One 1 of 2 nights I had ringtail cat by the main gift shop and in the yard behind; the night I missed it I may have started looking too late, as it may come out as soon as a half hour after dark. I also had a Brush Mouse nearby at the parking area downstream by the picnic grounds.
Charles Hood, Palmdale, CA