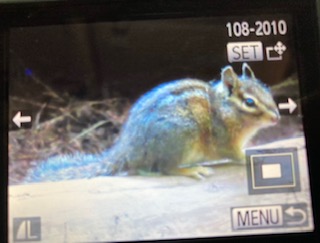 California updates
I've done a couple of short trips over the last 2 months throughout California. Nothing groundbreaking, but it should at least be of local interest. Highlights included Long-tailed Weasel, California Leaf-nosed Bat, Arizona Cotton Rat, Pallid Bat, Yellow-cheeked Chipmunk, Ringtail, & Sonoma Tree Vole nests.
Southern California (4/9-4/11/2021)
The Carrizo Plain was full of life despite below average rains. In just 3 hours of spotlighting along Soda Lake Rd, I saw a Bobcat, 9 Kit Foxes (ssp. mutica), a small herd of Pronghorn, and best of all – a beautiful, golden Long-tailed Weasel (ssp. pulchra) hunting in a kangaroo rat colony. Additionally, there were the usual hundreds of Giant Kangaroo Rats, as well as several Heermann's Kangaroo Rats and 2 Fresno Kangaroo Rats (ssp. brevinasus) on the southern part. Also saw the usual Gambel's Deer Mice, Black-tailed Jackrabbit, Desert Cottontail, etc. No pocket or grasshopper mice; perhaps the vegetation was too tall. I continued to Gorman Post Rd, and had good views of 2 Agile Kangaroo Rats and a bunch of Peromyscus (boylii and gambelii/sonoriensis?).
The next morning, I was hoping to photograph Mohave Ground Squirrels at Desert Tortoise NA but couldn't find any. The whole area was very dry (even tortoise sightings are rare this year), and the ranger told me winter rains totally failed. I added White-tailed Antelope Squirrel and California Ground Squirrel to the trip list. I then went to Cibola Valley and spent 2 hours searching for Arizona Woodrat and Rock Pocket Mouse E of the Colorado River. Again, conditions were very dry and dusty and I didn't see a single rodent! It's amazing how boom/bust population cycles of these desert species are. There were more mammals immediately along the river – the highlight was a great sighting of 5 night roosting California Leaf-nosed Bats. Also had Striped Skunk, Gray Fox, Bobcat, Coyote, Merriam's Kangaroo Rats, Arizona Cotton Rat (ssp. plenus), and feral Burros (too many of the latter!) in a few hours on the levee roads. I was surprised to see so many carnivores throughout the trip – I guess the rodent explosion in C and S CA last spring must have increased numbers.
Pinnacles NP (4/17/2021)
I spent an enjoyable 2-3 hours night walking in this lovely park, which a keen mammal watcher could spend days exploring. The Moses Spring Trail was quite productive with 2-3 Dusky-footed Woodrats (in the oak woodland near the Bear Gulch parking), Bryant's Woodrat, Pinyon Mouse, and many Western Mastiff Bats. Also a probable Narrow-faced Kangaroo Rat (ssp. elephantinus) near the parking area. The Bench Trail near Peaks View produced California Mice (in poison oak thickets near Dusky-footed Woodrat nests) and a lovely sighting of night roosting Pallid Bats.
Southern Humboldt county (5/28-5/30/2021)
I spent Memorial Day weekend in this rather remote part of the state – the heart of California's "Emerald Triangle" (infamous for illicit cannabis cultivation). Perhaps understandably, there are no reports from this part of the state! In the rugged and scenic King Range, Kings Peak Rd was good for night drives, producing Black Bear, 6 Gray Foxes, 3 Striped Skunks, Virginia Opossum, Dusky-footed Woodrat, Western Deer Mouse, many Mule Deer, and strange forest-adapted Black-tailed Jackrabbits (dark grayish, in dense forest well away from clearcuts or meadows) over 2 nights. Exploring this area (S to Sinkyone SP) during the day, I found 5 Sonoma Tree Vole nests – 1 was clearly known to local foresters as the tree was marked with "do not cut" tags. 2 appeared active, judging by the presence of fresh Douglas-fir clippings. All the nests were in forks of Douglas-fir trees (~25-45ft up) in streamside riparian corridors in Douglas-fir/Tanoak or Redwood/Douglas-fir forest about 5-30km from the coast. If you can find an active nest low in a tree, I think you could stake out and heat scope the vole, one of CA's most amazing mammals.
Day visits to nearby Humboldt Redwoods SP produced Western Gray Squirrel and the endemic Yellow-cheeked Chipmunk (in Founder's grove). A night drive on the famous Avenue of the Giants yielded Ringtail (near Burlington CG), 2 Gray Foxes, Striped Skunk, an unusual dark grayish color phase of Brush Rabbit, Dusky-footed Woodrat, Black-tailed Jackrabbits, Western Deer Mice, & Mule Deer. A ranger mentioned he sometimes sees Western Spotted Skunk while driving at night W of the park near Honeydew and Ettersburg.
A long night drive around Zenia and Mt. Lassic produced remarkably little – 6 Gray Foxes, Striped Skunk, a probable Bobcat, Dusky-footed Woodrat, Western Deer Mouse, Black-tailed Jackrabbits, and Mule Deer. However, there is some great Ringtail habitat on the Zenia Bluffs Rd. SE Humboldt and SW Trinity counties comprise a huge, remote area with plenty of mammals (reportedly including good densities Ringtail & Western Spotted Skunk) but I'd caution against exploring away from national forest lands (especially at night) as there are a LOT of marijuana grow sites.
Venkat