The Galapagos, 2021
I spent a week in the Galapagos in May 2021. There are very few mammals in the Galapagos, and many are very hard to see unless you are on a research expedition. And so I could write my trip report in a few sentences.
But despite being such an "easy" destination, it was a more difficult trip to plan than I had expected: a combination of too much inaccurate information about the islands coupled with too little information from mammalwatching reports. So I put out a call for help here and got a lot of useful advice (thanks everyone who posted or got in touch separately). I wanted to summarize what I found out.
Getting There
The only flights to the islands are domestic, and leave from Quito and Guayaquil. All Quito flights stop in Guayaquil for half an hour though you can stay on the plane. I booked the Galapagos flights with Avianca. Something went wrong with the payment. Twenty four hours before leaving the USA I discovered the tickets were cancelled. I spent a happy three hours on the phone with a customer service agent who offered irrefutable proof that Avianca are an equal opportunity employer who do not discriminate against those with an IQ in single digits. I eventually asked to speak to a supervisor and she hung up. I booked new tickets on Expedia.
Allow at least 2 hours to check in for the domestic flight.
First you need to queue to pay your island tax. But – here's a thought – why not include this in the price of the plane ticket? Indeed this idea of multiple separate payments for the same journey seems a popular pastime in the Galapagos. Every boat trip involved a separate water taxi to reach the ferry or dive boat, at a dollar a ride. So pay $22o for day's diving and then have to rummage around in your bag for change at the last moment. Sigh…
Second, you need to get your luggage sprayed by qarantine (not sure if this is COVID-related or just basic bio-security for the islands).
Third, check in and show your COVID PCR test.
Leaving the islands is straightforward. And you can get a free COVID test with results in an hour in both Santa Cruz and San Cristobal.
Galapagos time is an hour behind mainland Ecuador.
Getting Around
Flights go to the two most populous islands: Santa Cruz (18,000 residents) and San Cristobal (6,000 residents). The Santa Cruz airport is in fact on Baltra Island. From there you take a bus, then a water taxi and then a 45 minutes taxi to the main town – Puerto Ayora. The San Cristobal Airport is a 10 minute walk (or $1 taxi ride) from Puerto Moreno town.
Ferries connect Santa Cruz and San Cristobal, and the boats leave twice a day and take about 3 hours. Ferries also run to Isabella Island (1700 residents), the only other inhabited island and the only other one tourists can stay on.
Cruises vs Island hopping
This is where planning got more complicated. Most visitors take a cruise for at least some of their trip, as it is the only way to access many of the more famous sights that are off limits to those based on the land. But there are a multitude of day trips (nearly all at sea) available on both islands that visit interesting areas.
If you want to take a cruise there are a bewildering number of routes and cruise durations with different levels of luxury. And even more websites offering to book you on them. This site – Galapatours.Com – was one of the more useful ones as it also allows you to filter your search according to the wildlife you want to see (thanks John Fox for the tip).
The shortest cruises last 3 nights. If you want to be sure to see the fur seals, and only have a few nights, then the northern cruise route that takes in one or both of Puerto Egas on Santiago Island where they haul out in 'Darwin's Toilet' , or Prince Philip's Steps on Genovesa Island seem to be the best bet.
But the Galapagos Fur Seals are a lot more widespread that what you might believe from reading some of the travel sites. They can be found on every island and are as numerous as Galapagos Sea Lions. They are just less conspicuous in their habits and choice of habitat.
We decided to spend 4 nights on Santa Cruz and two on San Cristobal, rather than take a cruise. This should have been relaxing. But I spent the first days fretting about how to see the Fur Seals and the next days worrying if I had actually seen them. See below. In hindsight I wish we had spent less time on Santa Cruz and visited Isabella too.
The Mammals
Galapagos Sea Lions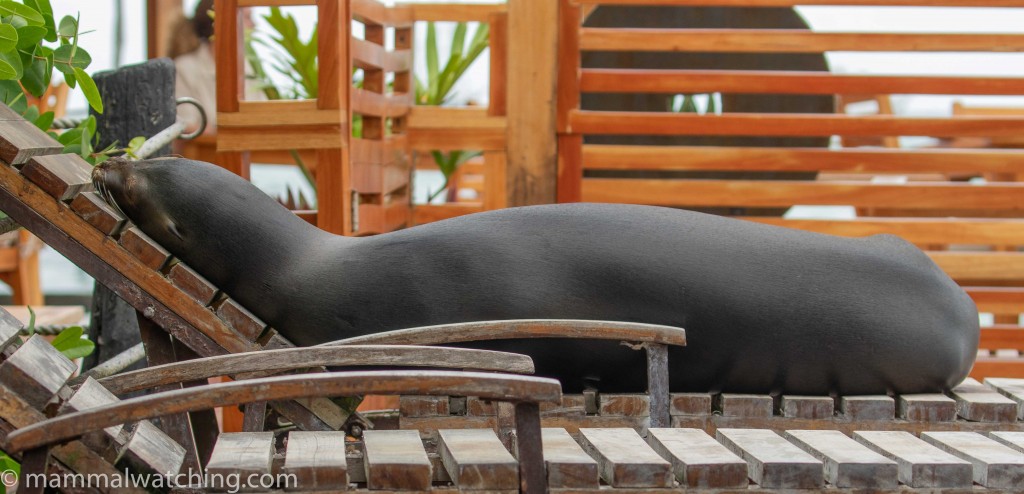 You will – literally – trip over them in Puerto Moreno or Puerto Ayorta. I saw one 10 minutes after getting off of the plane. They are lounging on the pavement, on park benches, hotel lounge chairs and more.
Galapagos Fur Seals
Although much less often reported by cruises or seen in town, they are apparently as common as the Sea Lions. But the Fur Seals tend to occupy rocky shores, mainly on the west coast of the islands, and spend less time at sea in the day, often preferring to stay in shade.
If you are not taking a cruise (see above) there is a chance to see them at the following locations open to land-based travellers. On Santa Cruz try the Gordon Rocks and Seymour Norte dive sites, or along the rocky cost on the north of the island including Isla Mosquera (where I think I saw some). On San Cristobal the Kicker Rock dive site sometimes has them. And on Isabella there is a chance to see them around the lava tunnels, accessible on a day trip from Puerto Villamil.
Bats
There are two species of bats on the islands. A subspecies of Western Red Bat (Lasiurus blossevillii brachyotis) and the Southern Hoary Bat (Lasiurus vilosissimus). Though a few people reported seeing them years ago feeding around street lamps in Puerto Ayora or Puerto Moreno they seem less common now. I spoke to a national park guide who had done some bat netting and she thought they might be easier to see in town during the colder season – July and August – when, she said, they come down from the highlands. I kept an eye open but didn't see any.
Rice Rats
There used to be seven species of rice rats on the islands. Now there are four. They are primarily nocturnal and so unless you are on a research trip there seems virtually no chance of seeing any of them other than the Santa Fe Rice Rat which is occasionally spotted in the day time by visitors to Santa Fe (by no means a certainty). There are a few day trips from Santa Cruz that land on Santa Fe: they might offer a possibility to look for the rat, but they were running only infrequently (because of so few tourists) and I wasn't able to visit.
Cetaceans
There are a bunch of good cetaceans around the islands though most, other than Bottlenose Dolphins, seem fairly rarely reported especially on day trips. Possibilities include Killer Whales, Sperm, Humpback and Bryde's Whales and more.
Trip Report
When chatting with (non-wildlife) people about my travels one of the most common questions I get asked is "Have you ever been to the Galapagos?". To which I would say no, and then mutter something about there not being many mammals. But in truth I was also put off by the thought of so many tourists.
But COVID meant that the islands ought to be as tourist-free as they would ever be. And so Amber and I decided to visit for a "mammal lite" week at the end of May 2021 before I spent a second, "mammal full strength", week in mainland Ecuador.
Despite all the questions about whether I had been there, I hadn't cottoned-on to how well-known the islands are as a destination trip. I lost count of the number of people on social media – people who wouldn't know a Tayra from a Tapir – asking me if I had seen a Blue-footed Booby, and explaining that the Galapagos was on their bucket list.
We decided not to take a cruise, mainly because we were uncertain about the idea of coping with a fixed itinerary and strangers after 15 months of social distancing. But even with so few tourists Puerto Ayora was still too busy for me.
The highlights were a day trip to dive at Gordon Rocks (aka "The Washing Machine") off Santa Cruz and another day diving and snorkeling at Kicker Rock off San Cristobal. Both dive sites were fabulous: schools of 3m+ Scalloped Hammerheads during the dives and a ridiculous number of turtles during a snorkel around Kicker Rock (at least 30 in 45 minutes). I also had a lot of fun playing with Galapagos Sea Lions in the surf at Playa Oro and Playa Mann on San Cristobal. They have no fear of people.
I saw my first Galapagos Sea Lion within 10 minutes of leaving the airport on San Cristobal. They are everywhere.
The Galapagos Fur Seals were more complicated. A Santa Cruz dive shop said there was an "80% chance" of seeing Fur Seals when diving at either Gordon Rocks or Seymour Norte, both north of Baltra Island. I figured I would dive Gordon Rocks on my first day to hopefully see both fur seals and hammerheads. Then I could relax. But, because of so few tourists, many dive trips were cancelled at short notice. Some operators, desperate for business, were pretty sketchy about what was happening until just before the scheduled trip. My plans for a Monday dive to Gordon Rocks were cancelled on Sunday night and I was offered an alternative site that I declined.
I rebooked with Scuba Iguana for Tuesday, who promised me there were enough people to guarantee the trip. It did run. They also promised me we would look for the Fur Seals around Gordon Rocks. But after two excellent dives the grumpy captain refused to drive the boat for 5 minutes to check the other side of the rocks, and as no one else was interested we headed back to port.
So I followed Alex Meyer's advice and arranged for a private boat to take me on a Galapagos Fur Seal hunt the next day around the north of the island. I do not know how much this ought to cost but I ended up paying, through a local tour operator, $300 for a boat (quite a big boat – there was space for 10 or so) for half a day. I suppose I could have taken a taxi to the dock at Baltra Island and tried to find a fisherman myself but I have no idea how well that would have worked and I didn't see anyone touting for business there.
Both the tour operator and Leo the boatman (who you can contact directly on WhatsApp at 0993017595 and probably get a much better price) thought the rocky coastline of Isla Mosquera was the place to look for the "Lobos Peletero". It took a bit less than an hour to get there from the dock. At first we saw only Sea Lions but then Leo pointed to some small seals swimming off the rocks that he said were the Fur Seals. They were mixed up with Sea Lions.
I had no reason to doubt him, but while Sea Lions and Fur Seals look quite different when dry, it is hard to pick a Fur Seal from a young Sea Lion in the water from a distance on a moving boat. There is a lot of advice in field guides and online about telling the two species apart but it is often not all that helpful when looking at animals in the water. And if you search for images of both species you quickly find that while some animals are obviously Fur Seals, and some are obviously Sea Lions, many are much less clear cut, especially when wet. Loads more images are mis-identified.
Fur Seals are much smaller and stockier than Sea Lions and they have a shaggy coat (though this is very hard to see when they are in the water). They have larger eyes (they are mainly nocturnal hunters) though again this is a tricky characteristic to rely on because juveniles of both species have larger eyes, and there seems little to chose between a Sea Lion with its eyes wide open, and a Fur Seal with them partially shut. The ears on a fur seal are said to project further from the head than a Sea Lions (that is, they hold them more horizontally). Fur Seals have broader front flippers than Sea Lions, and the toes in their hind flippers are all of a similar length, while a Sea Lion has first and last toes longer than the others.
Fur Seals prefer to haul out on rocks (they are more agile than Sea Lions and also prefer the shade), while Sea Lions take the sandy beaches. But this preference is not exclusive.
Perhaps the best feature for identifying the two at sea is the shape of their muzzle. Sea Lions have a longish, rounded dog-like muzzle, whereas Fur Seals have a shorter, more pointed, even conical, profile.
I took several hundred pictures of dozens of seals in difficult light and then spent hours examining them, trying to decide which were Fur Seals. My opinion changing every time I looked at them and compared them with reference material. I would find an almost exact "Fur Seal" match for one of my pictures and breathe a sigh of relief, before finding another near perfect match labelled "Sea Lion". It is the road to madness.
There are usually Fur Seals on Isla Mosquera and my boatman, who was confident in his ID, has lived his whole life there and ought to know what we were looking at when he spotted the seals. But I wish I had been able to photograph one of them well, and preferably seen a few hauled out and dry, to remove my nagging doubts.