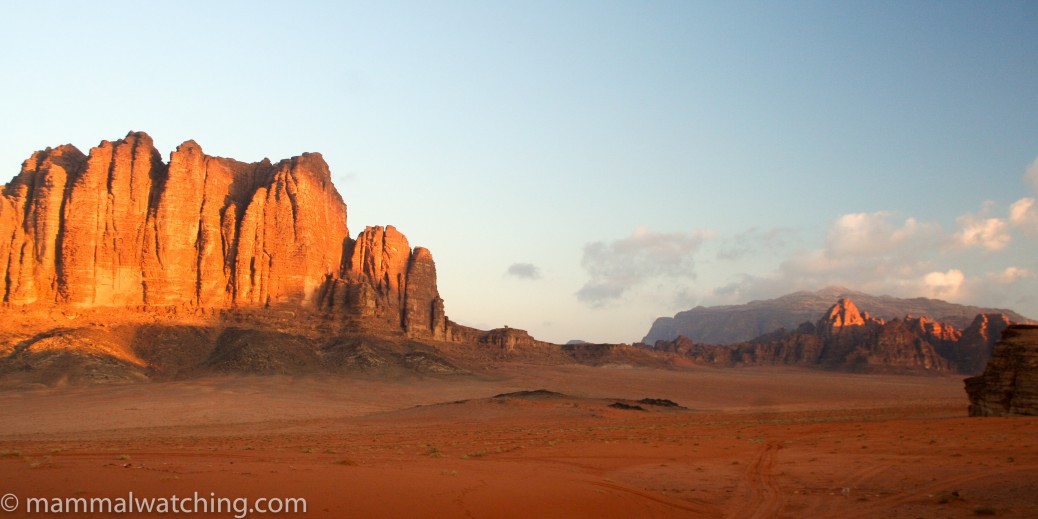 Jordan
I spent several weeks in Jordan on a couple of holidays visiting family in 1995 and 96. I went back for work in 2008. I didn't get the chance to do a lot of mammal watching. Indeed Jordan, like so much of the Middle East is not known for its wildlife (at least not since the locals took up hunting in such a big way). That said, most of what I saw was pretty interesting.
Dana National Park
December 1996 – Arabian Wolf, Desert Hedgehog, and Golden Jackal (quite common just outside the park). All seen while spotlighting.
Wadi Rum
September 1995 & Oct 2008 – In 1995 I saw a Sand Cat (an exciting sighting – we were camping out back of Wadi Rum and I picked up one in the spotlight during a brief stroll), Cape Hare (which I think I saw here, if not it was in desert country near the Saudi Border). In 2008 I spent an evening at the Sunset Camp which has a beautiful view, good food but lousy facilities. During a 10 minute walk around the dunes I saw a gerbil species and what was probably an Arabian Jerboa.
Community Reports
Jordan, 2018: Daan Drukker, 10 days & 7 species including Blanford's Fox, Striped Hyena and African Wildcat.
Jordan & Israel, 2018: Aidan Place, 3 weeks & 12 species including Striped Hyena and Asiatic Wild Ass.
Also See
Please email me if you have tips for mammal watching in this area.
Resources
A useful guide to the mammals of Jordan is here.