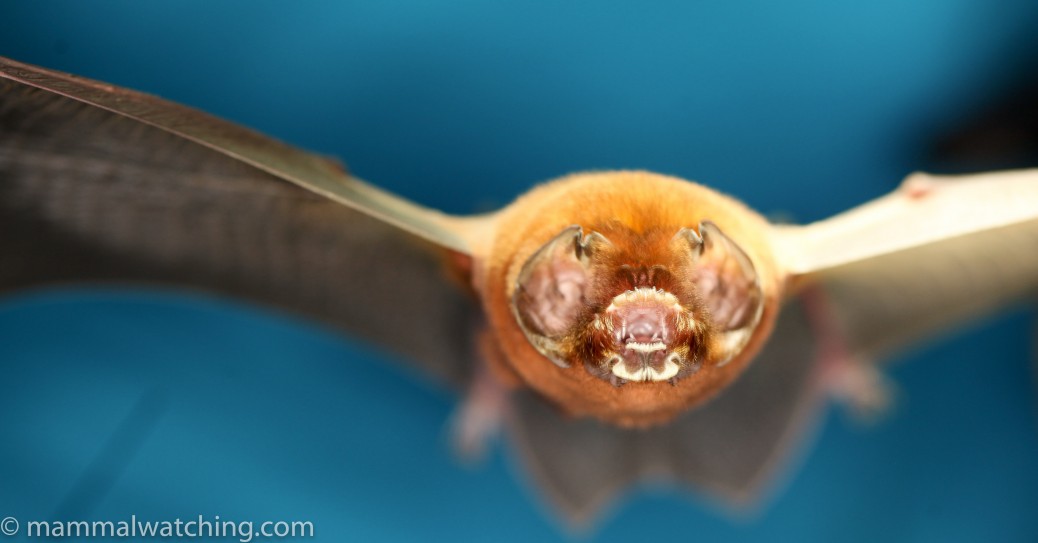 Puerto Rico
I escaped the blizzards of New York for a long weekend to Puerto Rico in February 2013. It was my first visit to the island and I was surprised at how good the nature watching opportunities were, even if the trip was mainly meant to be a break from the cold.
We stayed in Rincon on the north west coast. I didn't see (or look for) any mammals there other than a few Humpback Whales off of the lighthouse very early one morning, and a few bats hawking around the lights on the beach.
Before I left I had gotten in touch with Armando Rodriguez-Durán, from the Inter-American University in Puerto Rico, and the island's number one bat expert. In truth I wasn't all that optimistic about seeing anything in Puerto Rico but I'm extremely glad I contacted Armando: like so many bat people he was incredibly helpful and after some discussion he arranged for two of his students to show me some bats.
So on a Sunday afternoon I met with Erik Calderón and Waldemar Feliciano Robles in the town of Hatillo on the north coast, a little west of San Juan. From there we drove a half hour inland to a cave at Mata de Platano, in a patch of rainforest managed by the university as a research station.
It is an impressively large cave and home to 300,000 bats of six species, five of which we caught in a harp trap at the cave entrance in an hour and a half. We'd probably have caught the sixth – the Antillean Fruit-eating Bat (Brachyphylla cavernarum) – had we hung around for longer. Though Erik explained, this species seems more trap shy than the others so is sometimes not caught until its returning to the cave around midnight. I was set to stay to the bitter end until he explained that we could easily see that species in another cave near San Juan the next day.
The first species to emerge were the tiny Sooty Moustached Bats (Pteronotus quadridens) which flew out of the cave a good thirty minutes before sunset.
Next up – 20 minutes after sunset – were plenty of the brilliant Antillean Ghost-faced Bats (Mormoops blainvillei).
I'd really not expected to catch Ghost-faced Bats and was travelling to Nicaragua the following weekend to try to catch the other – larger – Ghost-faced Bat, so this was a real bonus.
At the same sort of time we caught a bunch of Leach's Single-leaf Bats (Monophyllus redmani).
A few minutes later we caught the first of the near endemic Brown Flower Bat (Erophylla bombifrons).
Four lifers in an hour. It had been a while since that had happened.
There were plenty more of the same species until just gone 8 p.m. when a Puerto Rican Common Moustached Bat (Pteronotus portoricensis) flew into the trap, an unusual capture at this cave.
Meanwhile if all the bats weren't enough excitement, three Puerto Rican Boas had emerged from the forest to hang in front of the cave entrance and try to snag dinnner. One of them got a Brown Flower Bat.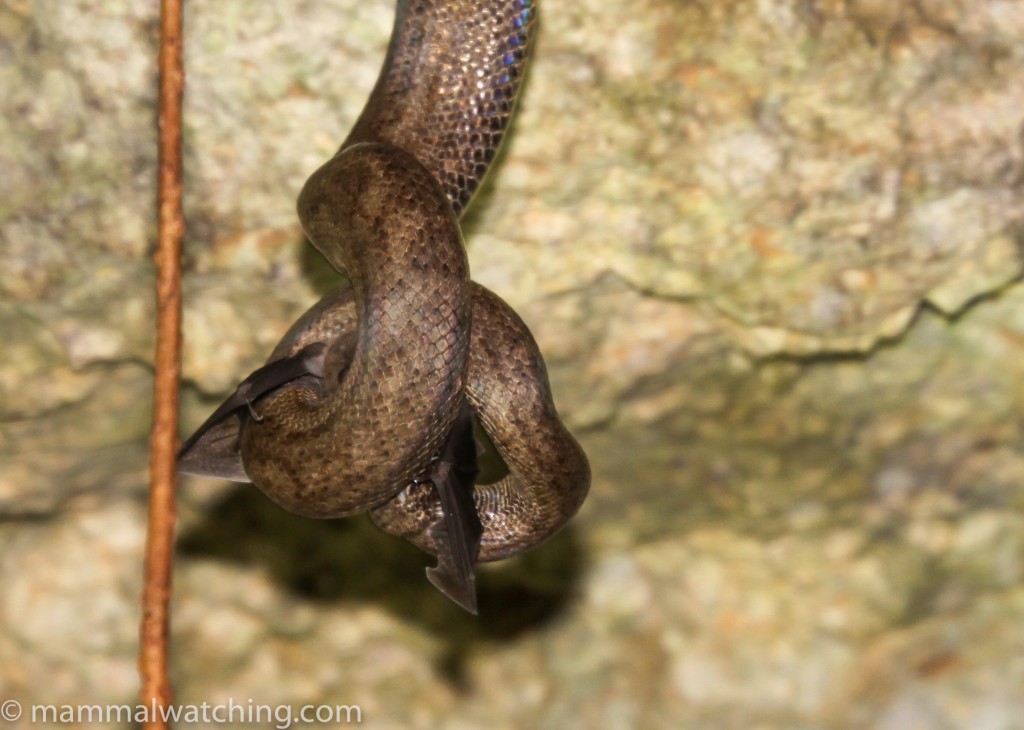 Boa and a bat
When Erik explained that we could easily see the other possibility – the Antillean Fruit-eating Bat – in a cave on the way to San Juan the next day, we packed up and left.
The following day we met up again near the town of Toa Alta and visited a cave on apparently public land next to a road. Access was pretty easy and there were a lot of bats inside. It took Erik and Waldemar five minutes to catch a few of the chunky Antillean Fruit-eating Bats.
All of the other species we had caught the day before were also present in the cave though I am not sure how easy they are to see there.
So a very successful few hours batting. Before I'd arrived I'd imagined there might be a chance of seeing one or two new species but in the end we managed six species, five of which I hadn't seen, and the last of which I had not seen in the hand. A huge thank you again to Armando for all his help, and to Erik and Waldemar for showing me so many species and answering so many questions. With guys like this looking after the nature of Puerto Rico there is much to be optimistic about for the island.
Community Reports
Also See
Please email me if you have tips for mammal watching in this area.