New Podcast Episode: Regina Ribeiro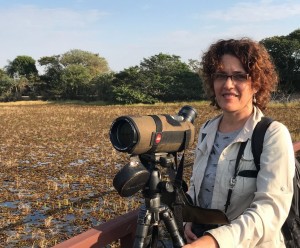 In the latest podcast Charles Foley and I interviewed Regina Ribeiro, arguably Brazil's top mammalwatching guide and one of the people responsible for putting Jaguar watching on the mammal map. Many in our community will know her, or know of her through people's trip reports.
Regina talks about her journey to become one of Brazil's first female wildlife guides, and runs through her own list of the Brazilian Big 5. She also talks about what can go wrong when you have to take a minibus along the Transpantaneira.
Here is the YouTube trailer.
You can listen at https://www.mammalwatching.com/podcast/ or wherever you listen to your podcasts.
Jon