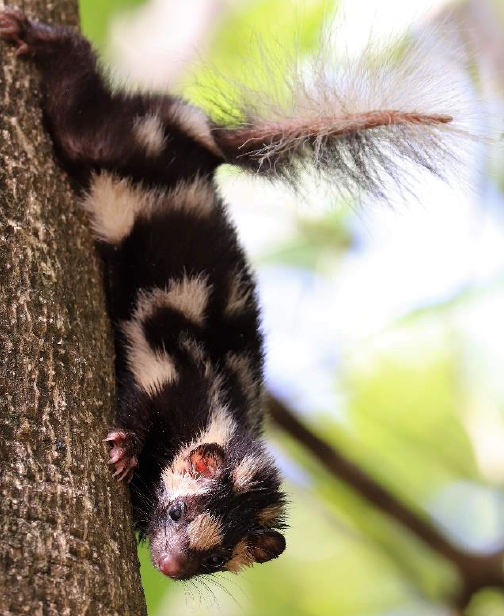 The Weekly recap
Hi, this is Katy, Jon's (long suffering) daughter. I've been put to work to start sending weekly recaps of what's been going on in the mammal watching world (or at least on this website, which my dad would like to think is the same thing). 
The following is all available on the Community Posts page, but here is what you might have missed. 
There have been some interesting trip reports published this week. Lots of great pictures and cool mammals, from Ghana, Oman (which I never knew was such a mammalwatcher's heaven!), Spain, Costa Rica (spotted skunks are adorable) and Ecuador.
There was also a report of last October's Mammalwatching Meeting, the first ever gathering of some of the world's most obsessive (if not cutest) bipedal mammals. And so the accurately-named NUTTER awards have returned: from most unexpected encounter to best first report, don't forget to send in your nominations by writing a comment, emailing info@projectfelis.org, or at the next mammalwatching community meeting. 
A new episode of the trendy (yes my dad made me say that)  Mammalwatching Podcast came out, featuring John and Terese Hart. You can listen to it here for gripping stories of their adventures in the DRC (including their nanny being attacked by a crocodile) and okapi research, which even I am jealous of. 
If you know anything about the status of Fat-tailed dwarf lemurs (bit of a rude name if you ask me), there has been a question posted to the website. 
Finally, in honor of World Wildlife Day, the UN published a piece on mammalwatching and its benefits for conservation. It's food for thought on how we could improve information on conservation and ethical traveling on the website, so feel free to check out these pages and share your ideas. 
The good news is, if you're like me and would rather not be constantly reminded of the mammalwatching world (I've been traumatized enough), you can choose to receive only these weekly recaps instead of an email for each new publication. My dad will send a separate post about how to do this soon.
Enjoy the rest of your weekend!
Katy