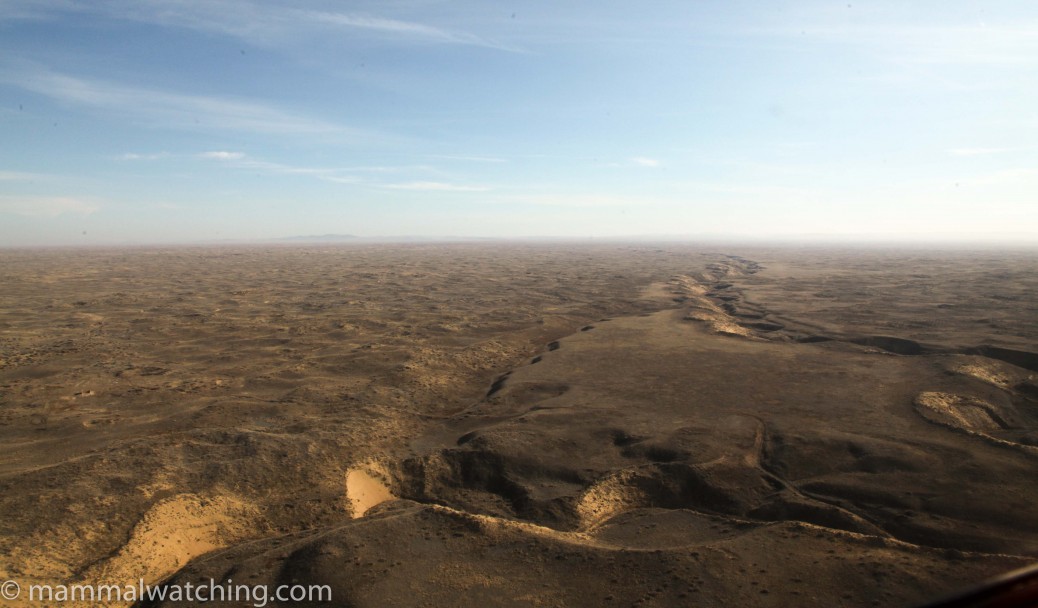 Kazakhstan
I visited Kazakhstan for a week's work in November 2013. I arrived a couple of days later than I'd planned so ended up with only one spare day to visit the desert. After reading Mark van Beirs' birdquest trip report I wanted to have a quick look for a Marbled Polecat, despite Mark's sighting happening in a much warmer month and in a fairly remote spot.
It was hard to get much good information on mammals in Kazakhstan: most websites are in Russian so I didn't organise myself very well. In the end a friend of a friend offered to help and booked me into a hotel called the Jeppesen Party near Bakbakty (a couple of hours north of Almaty) and on the way towards where Mark saw his polecat.
The hotel, on the Ili River, could have been good for mammals. But other than seeing a rodent dart across the road and a few ground squirrel burrows (I suspect their inhabitants were now hibernating in mid November) I didn't see any animals in my day there.
The hotel is attached to a private airport and I did hire a Cessna for an hour to take a flightseeing tour of the Ili river, desert and steppes. Photos and skins in the hotel suggested that you could arrange to hunt Wolves (very big Wolves), Wild Boar and Deer. But no one spoke English and having conversations using I-translate became frustrating.  That said I am pretty sure that to see mammals you would have to charter a plane or a helicopter. So I gave up.
I do however recommend Andre, who drove me there and back from Almaty. He speaks good English and works for his father's travel agency if you need someone to take you around. He can organise trips up the mountains too and his phone number is +7705 6606629
Other than that it is a country I would like to return to in the summer. The temperature range on the steppes is pretty insane: from +40C in summer to -40C in winter. The people are friendly though I am in no rush to try fermented horse's milk again.
Community Reports
Uzbekistan and Kazakhstan, 2013: Mark van Beirs (Birdquest), 18 days & 14 species including Yellow and Russet Ground Squirrels, Grey and Bobak Marmots, Saiga and Marbled Polecats.
Kazakhstan, 2009: Arnaud Le Nevé,  2.5 months & 15 mammals including Caracal, Brandt's Hedgehog, Argali, Saigaand Caspian Seals.
Searching for Snow Leopards, 2003: Richard Webb, 2 trips & 20 or so mammals including Pallas's Cat, Asiatic Wild Ass, and a Snow Leopard.
Kazakhstan, 1987-92: Vladimir Dinets, several trips & many species mentioned include Steppe Polecat, Corsac Fox, Asian Badger and Piebald Shrew.
Also See
Please email me if you have tips for mammal watching in this area.