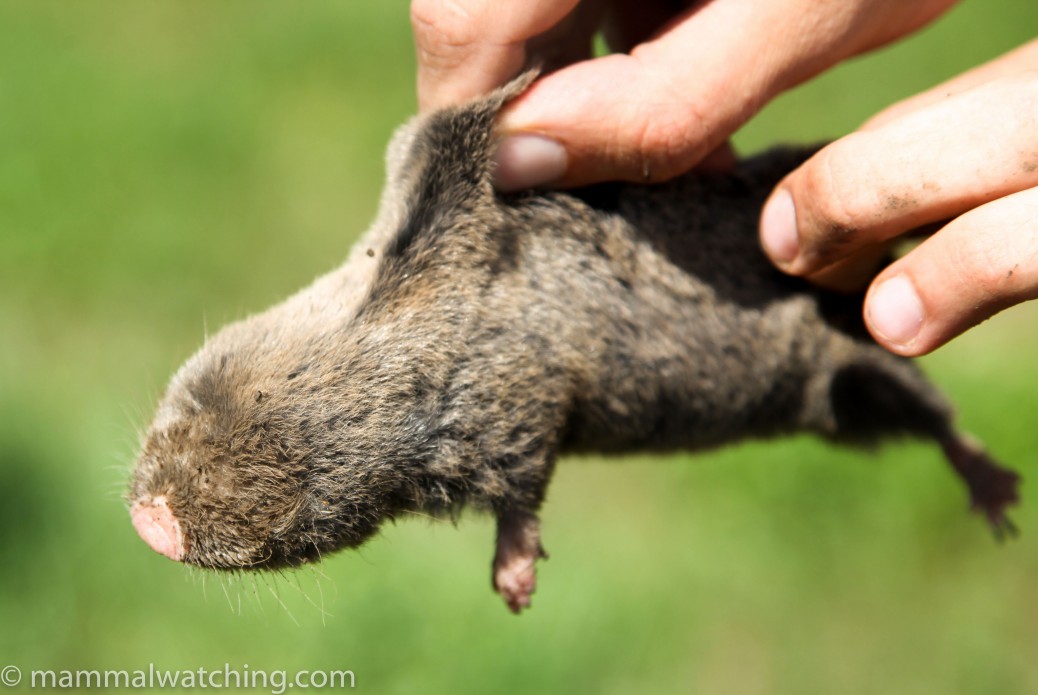 Hungary
Hungary is one of my favourite mammal watching destinations in Western and Central Europe. I've been three times: for a few days in July 2010, and then for long weekends in May and September 2013. I used the fabulous Balazs Szigeti at Ecotours to organise my first trip, and he introduced me to Sandor Boldogh at Aggtelek National Park who helped with my 2013 visits.
Little Balaton
In a morning's trap checking we had Root (Tundra) Voles in the wetlands, a Northern Water Vole. a Field Vole and a Striped-field Mouse.
Gemenc Region
During a short stop we saw several hundred Pond Bats and a thousand Soprano Pipistrelles under a bridge.
Bukk Mountains
Mist netting caught a Greater and Common Noctules
Hortobagy National Park
In a half day here we caught a Lesser Mole-rat and saw 60 or so Przewalski's Horses.
Around Budapest
During a day around Budapest we had European Sousliks (at Budapest Airport) and trapped Pygmy and Common Shrews near the town of Ocsa.
North East Hungary
During a few days over the course of two trips in May and September 2013, we caught Ural (Pygmy) Field Mouse, Harvest Mice, Wood Mice, Yellow-necked Mice, Striped Field Mice, a Black-bellied Hamster and Common Voles. I saw Red Foxes, Red Deer, Red Squirrels, Steppe Mice and Brown Hares. And there were plenty of bats including Common Bentwing Bats, Common Noctules, Daubentons, Lesser Mouse-eared Bats, Geoffroy's Bats and Mediterranean Horseshoe Bats.
Community Reports
Hungary, 2021: Ralf Burglin, 1 week with species including River Otter, European Badger and Mediterranean Horseshoe Bat.
Hungary, 2019: Naturetrek, 8 days & 28 species including 17 bats, with Greater and Lesser Mouse-eared Bats and Barbastelles some of the standouts.
Hungary and Slovakia, 2017: Steve Morgan, 9 days & 30 species including European Hamster, Forest Dormouse, Western Barbastelle and a Parti-coloured Bat.
The Balkans, 2016 (and some flashbacks to the early 1990s): Vladimir Dinets, 6 weeks and 100+ mammals including Martino's Snow Vole, Romanian Hamster, Western Broad-toothed Mouse, Bicoloured and Etruscan Shrews, a Mediterranean Monk Seal and European Polecat.
Hungary, 2013: Jon Hall, reports of 2 short trips with species including Black-bellied Hamster, Steppe and Ural Mice, and Common Bentwing Bats.
Hungary, 2011: Phil Telfer, one week & 37 species including Miller's Water Shrew, Steppe Mouse and Lesser Mole Rat.
Hungary, 2010: Jon Hall, 4 days & 15 species including Striped Field Mouse, Lesser Mole-rat and Pond Bats.
Hungary, 2010: Marks Hows, one week & 32 species inlcuding Bechstein's Bat, Black-bellied Hamster and Southern Birch Mouse.
Also See