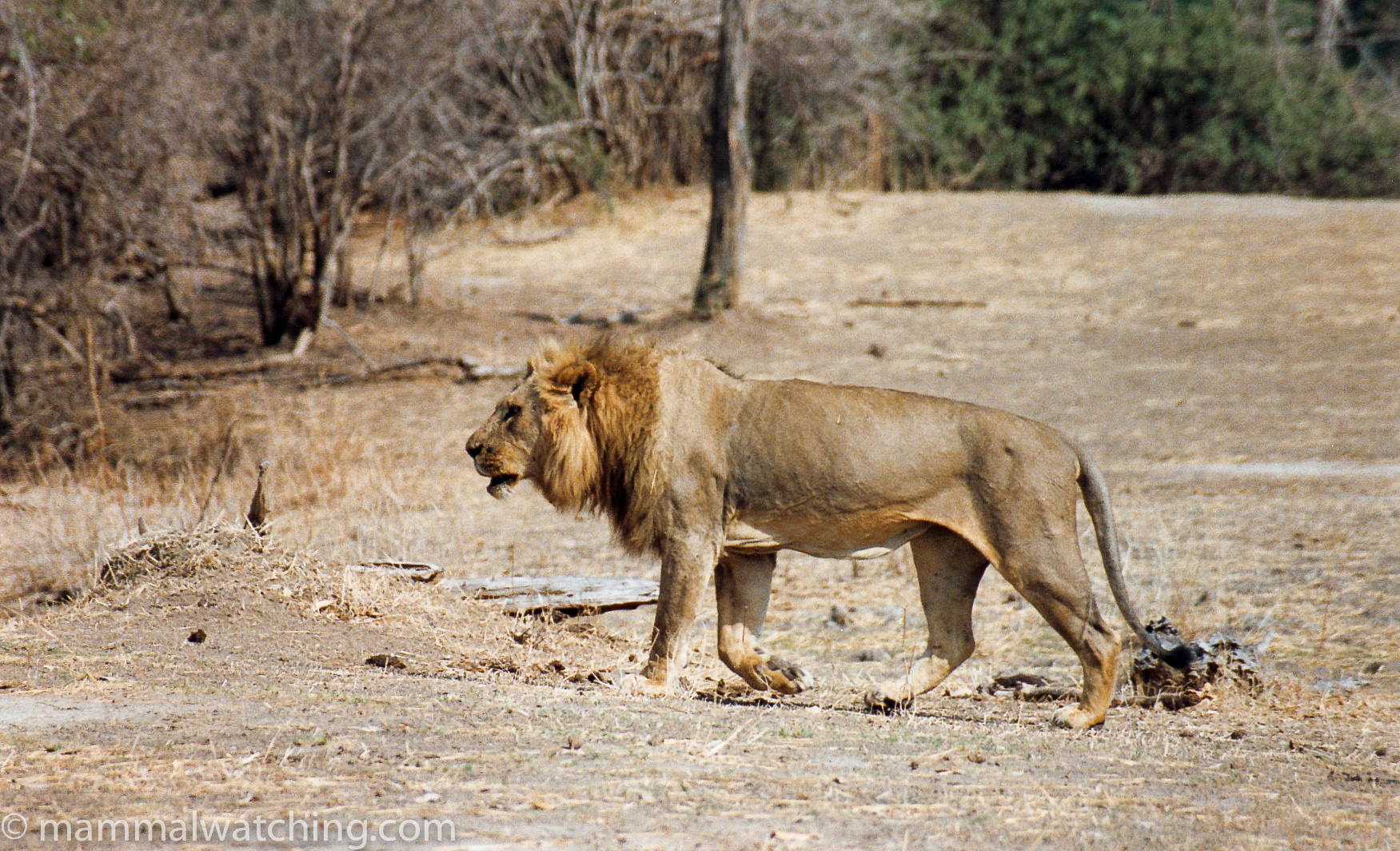 Zimbabwe
I lived in Zambia throughout 1991 and visited Zimbabwe several times. Back then, Zimbabwe was very much a second world nation, to Zambia's third world status. There was a marked increase in wildlife the moment you drove over the border into Zimbabwe. Things have undoubtedly changed for the worse, and I suspect the rest of the mammals have suffered along with the human population.
Hwange, 2 trips in January and October 1991 – with its tarred roads, and large hotel cum lodge this is a very developed park, compared to those in Zambia (though I think if you get away from the main area the park gets to feel a bit more remote). But it had an interesting mix of animals including some of the Kalahari species like Brown Hyena which venture into a part of the park. It is also an excellent spot for Wild Dogs. I stayed at the main safari lodge twice and saw the following:  South African Galago, Southern Giraffe, Rusty-spotted Genet, Chacma Baboon, Leopard, Lion, Burchell's Zebra, Selous Mongoose, White-tailed Mongoose, Greater Kudu, Bushbuck, Bush Pig, African Wild Dog (seen both trips), Bat-eared Fox, Savanna Hare, Waterbuck, Topi (Tsessebe), Roan, Sable, Hippo, Bush Duiker, Smith's Bush Squirrel, Steenbok, Vervet Monkey , White Rhino, Aardwolf (uncommon and seen on my first ever African night drive but not again until I visited the Karoo in South Africa 10 years later), Black-backed Jackal, Side-striped Jackal, Blue Wildebeest , Spotted Hyena, Spring Hare (around the salt lick at the main hotel), Impala, Elephant, Warthog.
Lake Kariba, several trips in 1991  – more of a holiday resort than a game park, the cruises on the lake usually turn up a few nice animals, such as Elephant, Burchell's Zebra, Hippo, African Buffalo, Warthog, Puku, Impala, Waterbuck.
Mana Pools, 2 trips in June and September 1991 – when I visited this park in 1991 it was far and away the most exciting park I've ever visited. Hyenas, Lions and Honey Badgers would prowl the campsite at night and I once sat 2 metres from my tent while an Elephant straddled it. Although the park proper was closed to people at night, during the day you were able to walk around unescorted it if you chose to (very unusual in southern Africa, and also somewhat silly on reflection). I did a few brief walks, during which time I was chased by a Crocodile, half charged by a Buffalo, and got a bit too close for comfort to a Lion. I expect it has all changed now. During 6 days there (over two trips) I saw Brown Greater Galago, Rusty-spotted Genet, Chacma Baboon, Lion, Burchell's Zebra, Common Slender Mongoose, Elephant, Greater Kudu, Bushbuck, Nyala (quite often reported), Honey Badger (common around the campsite bins), Savanna Hare, Warthog , Buffalo, Eland, Waterbuck, Sable, Hippo, Smith's Bush Squirrel, Vervet Monkey, Cheetah (rare – this was the first sighting in 6 months, and I spotlit an animal on the way back to camp as the park was closing. The ensuing delay to see the Cheetah landed us with a fine from the rangers…. the Cheetah was worth the fine), Spotted Hyena (common in the campsite), Side-striped Jackal, Impala.
Community Reports
Moving to Zimbabwe, Part 1: Moses Swanson the XIV's report of various parks with 27 species including Wild Dog and Pygmy Mouse.
Hwange & Chobe NPs, 2022: Pictus Safaris, 10 days & 33 species including Roan and Sable Antelopes and Bush Hyrax.
Mana Pools, 2022: Pictus Safaris, 1 week & 19 species including Lions and Elephants.
Mana Pools, 2019: Tom Clode, 6 days & 16 species including African Civet, White-tailed Mongoose and Wild Dogs.
Zimbabwe, Botswana and Marrick (South Africa), 2018: Félix Serrano López, 2 weeks and about 60 species including Sable, Honey Badger, Spot-necked Otter, Black-footed Cat and mating  Aardvarks.
Dubai & Southern Africa, 2012: Bob Berghaier, 1 week and an interesting report with the highlights including Oryx, Arabian and Sand Gazelles in Dubai, and a Honey Badger in Chobe (Botswana).
Also See