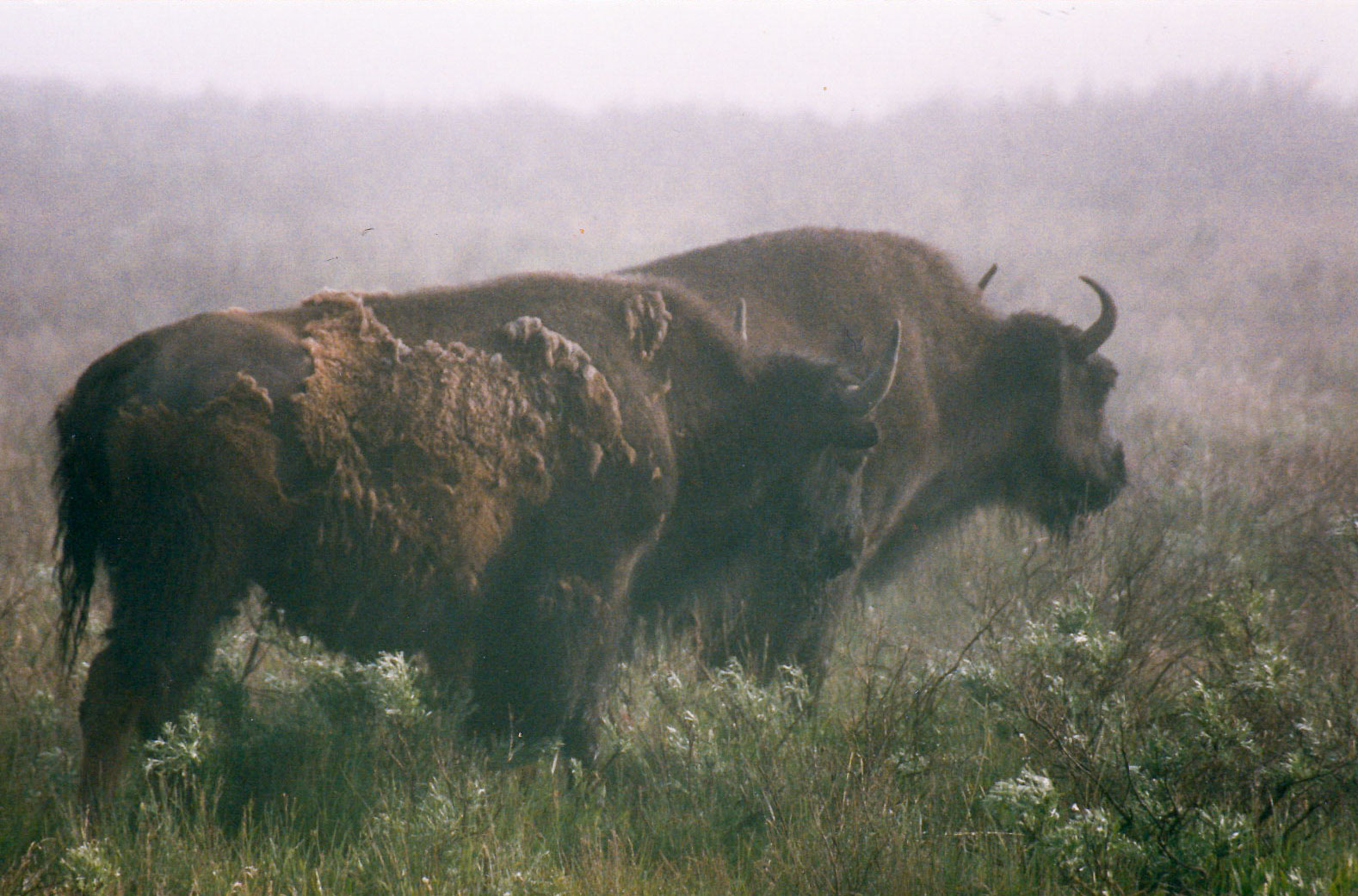 Wyoming
I've been to Wyoming four times. In July 1993 I spent a couple of nights in Yellowstone National Park and a third at Grand Teton National Park. They are both excellent national parks, though Yellowstone in particular was very busy in the summer, with some fine mammals from the suite of Arctic species.
Mammals aside, I remember from my 1993 trip that the Million Dollar Cowboy Bar in Jackson Hole was a lot of fun, as was a visit to Devil's Tower National Monument, recognizable to anyone who has seen Close Encounters of the Third Kind (and also home to a large colony of Black-tailed Prairie Dogs). I discovered that hangovers at altitude are the worst.
I returned to Yellowstone in April 2010 with my kids for 24 hours and focused on the north of the park, spending the night in Gardiner, Montana. It was much quieter in April and most of the park's facilities were closed as were some of the roads. But the wildlife viewing was excellent.
In August 2014 I was back in Wyoming for a night to look for Pygmy Rabbits at Fossil Butte National Monument. And in July 2019 I passed through on a road trip, returning to a very crowded Yellowstone and spending a night in Dubois, south east of Grand Teton.
Yellowstone National Park
In July 1993 I saw a Moose, which in 2010 at least were now quite rare in the park, though much commoner in Grand Teton. I also saw my first Black Bear, Bison, Mountain Cottontails, Uinta Ground Squirrels and a White-tailed Prairie Dog somewhere near the park.
I dipped on Grizzlies, which back then were occasionally spotted on the Hayden Meadows back tthen, but are now more common in several areas.
In April 2010 the Lamar Valley in the north of the park is as good as it gets for seeing the larger mammals. During 24 hours in the park we saw lots of Bison and Elk, a few Pronghorns and Mule Deer and two separate Wolves (one in the north of the park and one near Old Faithful). We also saw a Grizzly Bear near the Lamar Valley and a few Mountain Cottontails around Gardiner.
We also saw a couple of Uinta Ground Squirrels near Jackson Hole as well as a Least Chipmunk, but not the Uinta Chipmunk I was looking for, at Mammoth Campground.
During a day visit in July 2019 we saw both Bears, Bison, Elk, Black-tailed Deer and Moose.
Dubois
In July 2019 I  spent a night near Dubois, south east of Grand Tetons National Park, where I set some traps among dense cover along a minuscule forest creek. Both Long-tailed Voles and Water Voles have been trapped here before. I caught a single Long-tailed Vole (my first new mammal of the trip) and three deer mice. A little more information is here.
Fossil Butte National Monument
In August 2014 I visited Fossil Butte National Monument for a night to try to see Pygmy Rabbits, which Matt Miller had alerted me to.
When I arrived at 1830 the weather had cleared after a wet afternoon. I focused on the area immediately around the visitor centre and in the first couple of hours saw a Least Chipmunk and a few Mountain Cottontails along with some beautiful vistas.
Sunset was at 2000. By 2045 I was beginning to lose hope and using a flashlight to patrol the area around the visitor centre when I saw some eye-shine under a Sage Bush. Definitely a rabbit. The animal froze in the light and when I got closer I could see the steel gray fur and inconspicuous grey tail through the foliage: a Pygmy Rabbit though impossible to photograph. I took another circuit in the hope that it would come out but it was still there 15 minutes later. I walked closer and it shimmied away never to be seen again. I kept looking until 2200 and spotlilt along some of the roads around the monument. No more Pygmy Rabbits but plenty of Black-tailed Jack Rabbits, Mountain Cottontails, a few Mule Deer and some Pronghorn.
I spent 2 hours there pre-dawn the next morning but didn't find any more Pygmy Rabbits. I did find some of the Prairie form of Deer Mouse in traps outside the park. This species has been – or will be – split from P. maniculatus (indeed it now – on 2021 had – and is Western Deer Mouse, P. sonoriensis).  It's a pity the rabbits weren't as cooperative with me as they were for Matt who managed to get some nice photos: one to add to my to see again list. Perhaps the wet weather had dissuaded them from moving around too much.
Community Reports
Yellowstone, 2023: Joey Brunk, 3 days and 8 species including Black and Grizzly Bears.
Yellowstone Guide, 2023: Greg Easton's useful guide to the larger mammals of the park based on 20 years of visiting.
Minnesota to Wyoming, 2022: Janco van Gelderen, 2 weeks & 21 species including American Marten, Lynx and Mountain Lion.
Yellowstone, 2020: John Rogers, 4 days & 14 species including Snowshoe Hare, Wolf, Grizzly and Badger.
Western USA, 2019: Ralf Bürgin, 10 days & 31 species including Panamint Kangaroo Rat and Water Vole and plenty three subspecies of Bighorn Sheep.
Yellowstone, 2019: Bud Lensing, 4 days & 14 species including Grizzly and Black Bears and Wolves.
South Central Rockies, 2017: Sjef Ollers, 3 weeks & 44 mammals including American Badger, Swift Fox, Black-footed Ferret and Long-tailed Weasel.
California, Oregon, Idaho, Montana, Wyoming, Utah & Nevada, 2017: Jan Ebr, 4 weeks & 31 species including Grizzly, Wolf and a variety of chipmunks.
Yellowstone, 2017: Manuel Baumgartner & Sophie Bétrisey, 5 days & 16 species including Wolf, Black Bear and Western Jumping Mouse.
Chasing Squirrels and Chipmunks in the West, 2016: Andy Murch, 2 weeks. 1 marriage proposal & many rodents including Hopi and Cliff Chipmunks.
Yellowstone, 2016: Alan Dahl, 8 days & species including Long-tailed Weasel, Grizzlies and Wolf.
Western USA, 2015: Michael Kessler, 6 weeks & 88 species(!) including Spotted Bat, Northern Right Whale Dolphins, Long-tailed and Water Voles, Wolf and Long-tailed Weasel.
Yellowstone, 2015: John Van Niel, 2 weeks & 29 species including Badger,Wolf, Long and Short-tailed Weasels, Northern Pocket Gopher and a Hoary Bat.
Washington, 2014: Jon Hall including Pygmy Rabbit and Vancouver Island Marmot.
Western USA, 2014: Janco van Gelderen, 3 weeks & 41 species/ssp including Bobcat, Grizzly and Long-tailed Weasel (15mb download).
Pygmy Rabbits, 2014: Matt Miller's account of a successful trip to Fossil Butte National Monument looking for this hard to find species. And see here for his discussion on ground squirrels at the monument.
Yellowstone, 2013: Curtis Hart, 1 week & 20 species including Wolf, Badger and Mountain Goat.
Yellowstone and a bit of Idaho, 2013: Alan Dahl, 9 days & 23 species including Pika, River Otter, both Bears, Wolf and Moose.
Yellowstone, 2013: Morgan Churchill, 1 week & 19 species including North American Water Vole, Yellow-PIne Chipmunk and a Badger.
The Rockies, 2012: Jan Luis Ortega, 2 weeks & 25 species including Wolves, Grizzlies and a Badger.
Yellowstone, 2012: Matthew Steer & Maureen Hadert, 2 weeks & 27 species including American Marten, Mountain Goats, Wolves and Grizzlies.

Idaho & Wyoming, 2012: Steve Morgan, 2 weeks & 37 species including American Badger and Long-tailed Weasel.
Yellowstone, 2012: Royle Safaris, 8 days & 12 species including a Moose and lots of Wolves.
Yellowstone, 2011: Jo Gale, 6 days with species including both Bears, Moose, Wolves and a Badger.
North West, 2010: Montana, Idaho, Wyoming and Washington : John Fox, 13 days, 4400 miles and 34 mammals including a Long-tailed Weasel and hearing a Pygmy Rabbit.
Yellowstone, 2009: Matt Miller, 5 days & 19 mammals including Wolves, both bears and Otters.
Yellowstone, 2006: Derek Shingle, 10 days & 10 mammals including Wolves and Grizzlies.
Also See