Estonia
In May 2010 I was thinking about looking for Eurasian Flying Squirrels and not having much luck getting information on where to look in Finland. And then Phil Telfer's Estonian report arrived. It was a sign. A few days later I'd arranged a long weekend to look for the Squirrel and also European Mink which, to my surprise, still survive in Estonia.
Like Phil, I arranged my trip through Estonia Nature Tours. Marika Mann there is extremely helpful and was very keen for a successful trip. She has considerable experience running birding tours but like other enlightened people can see that mammal watching is the way of the future. Marika is trying to develop mammal trips to Estonia and rightly so. It has the potential to become one of the best, if not the best destinations in Europe to see large mammals. There are significant populations of Brown Bears and Wolves and the country is home to 800 Lynxes (a very large population of this elusive animal for such a small country). Add to that many Moose, Wild Boar, Ringed Seals, European Beavers, (feral) Raccoon Dogs and Pine Martens and you can see the opportunities. And then there are the Flying Squirrels and a small (but potentially findable) population of the critically endangered European Mink.
Marika is creatively entrepreneurial and managed to use some sort of EU tourism promotion grant to cover most of the costs of my trip so I would write about Estonia on my return.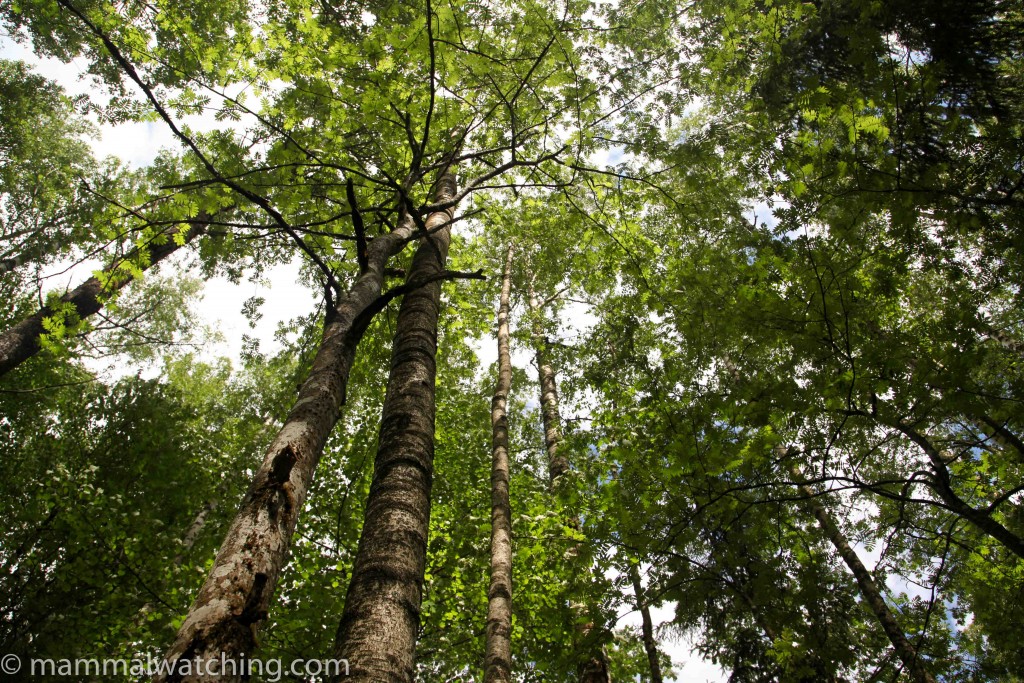 North East Estonia
It should have taken me 2 hours to drive from Tallin to Tudu in north east Estonia and the heart of prime Flying Squirrel habitat. It should have taken me 2 hours …. but the GPS in my car had other ideas and I didn't arrive at the guest house Marika had booked until about 2 a.m ( I think because the GPS sent me on a 3 hour detour to avoid 200 metres of dirt road… when will I learn to check!).
Marika had fixed me up for a day with Uudo Timm, who knows more Estonia's Flying Squirrels than anyone after working on them for well over 20 years, finding the forest blocks where they are most active and trying to protect the trees. He's also done a lot of small mammal work.
We spent most of the day poking around the forest and swatting mosquitoes which were particularly bad this year. The rain had washed away most mammal tracks but apparently Bear, Wolf and Lynx tracks were usually easy to see. I'd learned in Finland that the best way to find a squirrel nesting tree was to find the yellow squirrel shit at the base. Uudo confirmed this, explaining that the poo was brightest yellow in the spring (and stands out more clearly too when the snow is on the ground).
Uudo has radio collars on several squirrels and knew a tree that was occupied. Flying Squirrels usually emerge from their nesting hole a little after sunset though their schedule is variable and depends on the level of cloud cover. We arrived at about 9.30. Sunset wasn't until well after 11 but the previous night Uudo had arrived after 10pm and the squirrel was already out of the nest. But tonight was a clear evening and the squirrel didn't emerge until 12.30. It was a long three hours of squashing mosquitoes and worrying that the animal had already left the tree via some secret passage (though the radio antennae showed the animal was in the tree when we arrived, about 2 hours later the signal was showing the squirrel had moved somewhere else: luckily this was because of flat batteries but imagine my paranoia while this was being established!). The only wildlife was a Ural Owl that flew about 2 metres over our heads.
When the squirrel finally emerged it moved straight to the opposite side of the tree to poo, then returned into the hole. Five minutes later it re-emerged, climbed up the tree and we had a great view of it gliding straight over our heads, just as Uudo had predicted. But this was all very quick and extremely hard to photograph.
There are lots of other mammals in the area. I saw only a Roe Deer at the side of the road late one evening, and a Common Vole that Uudo caught (which was unfortunately not a Sibling Vole that also occur there). Other small mammals in the region include Striped Field Mice and Masked Shrews.
Hiiumaa Island
Hiiumaa Island is the second largest island in the archipelago off of north west Estonia. A car ferry makes the 90 minute Baltic crossing about 10 times a day and the island is popular with Estonians who have summer cottages there. It is also home to a reintroduced population of European Mink: in the late 1990s scientists eradicated the feral American Mink population and released some captive bred European Minks.
Marika arranged for me to meet up with Tiit Maran, the scientist who has been most closely involved in the project and head of Foundation Lutreola, and Riina Lillemäe a local conservation biologist. This was the first time they had taken someone to try to see the Mink. They recognised that our chances were not great, especially as the recent rain had washed most tracks away so it was difficult to see which stretches of river were being most heavily used.
We did find fresh tracks under a bridge and spent three hours in the evening staking out a den that had been used the previous year. But no Minks showed. After a late dinner we went to Tiit's cabin and staked out a creek where Mink are often active. Riina found some fresh tracks and we sat for an hour or so until darkness fell at 1 a.m. We returned at 4.30 and sat for another 3 hours. Still no Mink though just as I was getting up to leave a Pine Marten bounded along a fallen tree.
Driving the roads late at night without a spotlight I saw a Red Fox, Roe Deer, European Hare and Wild Boar.
Tiit was fascinating to talk to about the Mink, and about small carnivores more generally. I hadn't realised how little we know about the species. It was once widespread over Central and Eastern Europe but has disappeared from most areas and no one is quite sure why. Competition with American Mink is one reason, but presumably only a part of the story.
Moreover, European Minks were first recorded in France only in the mid 19th century, and didn't appear to arrive in Spain until the 1950s. I'd looked briefly for Mink in Belarus in 2006 but it seems that population might also be extinct. And no one seemed sure about how well the population in the Romanian Danube Delta is doing. What is sure is that the 30 or so animals on Hiiumaa are globally important. Tiit and his colleagues are considering trying to establish a second population on the larger Saaremaa island nearby.
The island – which is less than one thousand kilometres square – is also home to about 20 Lynxes so there has to be a much better shot of seeing one here than anywhere else I know. Indeed, there were fresh tracks along the creek on Tiit's property.
Many thanks to Marika at Estonia Nature Tours, Uudo, Tiit and Riina as well as Phil Telfer for the initial inspiration.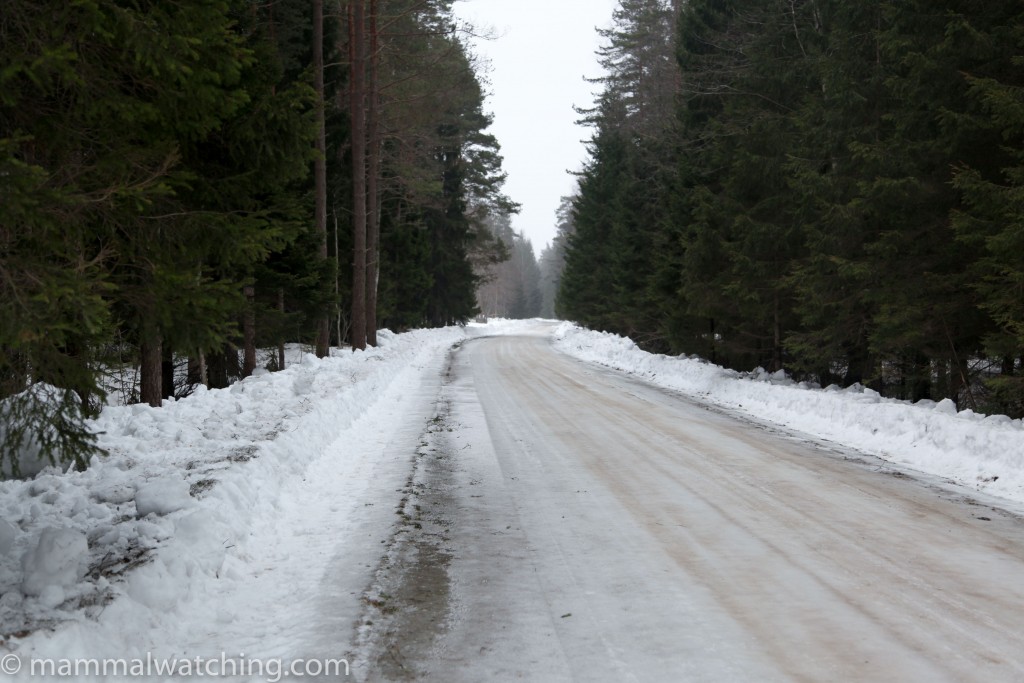 At the very start of April 2011 I returned to Hiiumaa for a weekend to join the annual European Mink trapping survey. Winter had lasted longer than usual and many of the rivers were still frozen when I arrived, but had melted 2 days later. Perhaps this was one reason that we did not catch any animals (it certainly reduced the number of traps we set).
I drove for three hours through the interior of the island on consecutive nights with a spotlight hoping to see a Lynx . I found fresh tracks but no Lynx. The only mammals were several Red Foxes, a few Red Deer and a Moose. It seems February might be the best time to look for Lynxes. There is more fresh snow, and they are quite vocal as they are breeding. Many thanks to Madis Podra for organising the trapping and being such a great host.
Footnote: a week after I left Madis Podra saw a Lynx cross the road near his house at night. This was the first Lynx he had seen during field work on the island that has spanned the past 12 years. So they are there. But not easy!
Community Reports
Estonia Lynx Quest 2, 2022: Wise Birding, 5 days & 12 species including 2 Eurasian Lynxes, Pine Marten and European Beaver. 
Estonia Lynx Quest 1, 2022: Wise Birding, 5 days & 9 species including Eurasian Lynx, Pine Maren and Euopean Beaver. 
Estonia 2022: Michel de Boer, 2 weeks & 11 species including Pine Marten, Raccoon Dog and Lynx
Estonia, 2019: Justin Brown, 10 days & 7 species including a Eurasian Lynx.
Lynx Watching Hide, Matsalu National Park: BiOME's hide in western Estonia seems to a reliable spot for Eurasian Lynx among 25 mammal species recorded so far.
Estonian Lynxes, 2017: John Wright, 5 days & 6 species including a Pine Marten and a Eurasian Lynx.
Latvia & Estonia, 2016: Mike Hoit, 5 days & 10 species including Northern Bats, Western Barbastelle and Moose.
Lynx Twitch, 2017: James Lowen, 3 days & 5 species including Mountain Hares and Eurasian Lynx.
Estonia, 2015: Jon Lehmberg, 9 days & 12 species including Pine Marten and Eurasian Beaver.
Estonia, 2015: Cheryl Antonucci, 1 week & 11 species including Lynx (after 1 minute of looking!), Raccoon Dog and Pine Marten. See also the trip report from Wisebirding.
Estonia, 2014: Hugh Buck, 9 days & 16 species including Northern Birch Mouse and Raccoon Dog.
Estonia, 2013: John Wright, 1 week & 11 species including Eurasian Flying Squirrel and Raccoon Dogs.
Latvia & Estonia, 2013: Frans De Schamphelaere and Jasmina Maleve, 1 week & 7 species including Raccoon Dogs, as well as a Wolf's howls and a Lynx's tracks.
Estonia, Finland and Arctic Norway, 2012: Dominique Brugiere, 3 weeks & 17 species plus another 3 dead, including Wolverine, Brown Bear, Wolf, and Reindeer.
Estonia, 2012: Mark Hows, 1 week & 15 mammals including Eurasian Flying Squirrel, Brown Bear and a Masked Shrew.
Estonia, 2010: Phil Telfer, 1 week & 10 species including Eurasian Flying Squirrel, Brown Bears, Raccoon Dogs and a Striped Field Mouse.
Estonia, 2007: Richard Webb, 5 days and a few mammals including Raccoon Dogs.
Not a trip report, but NaTourEst are an Estonian ecotour company who wrote to me. They might be able to provide Wolf and Bear watching trips and other things too.
Also See