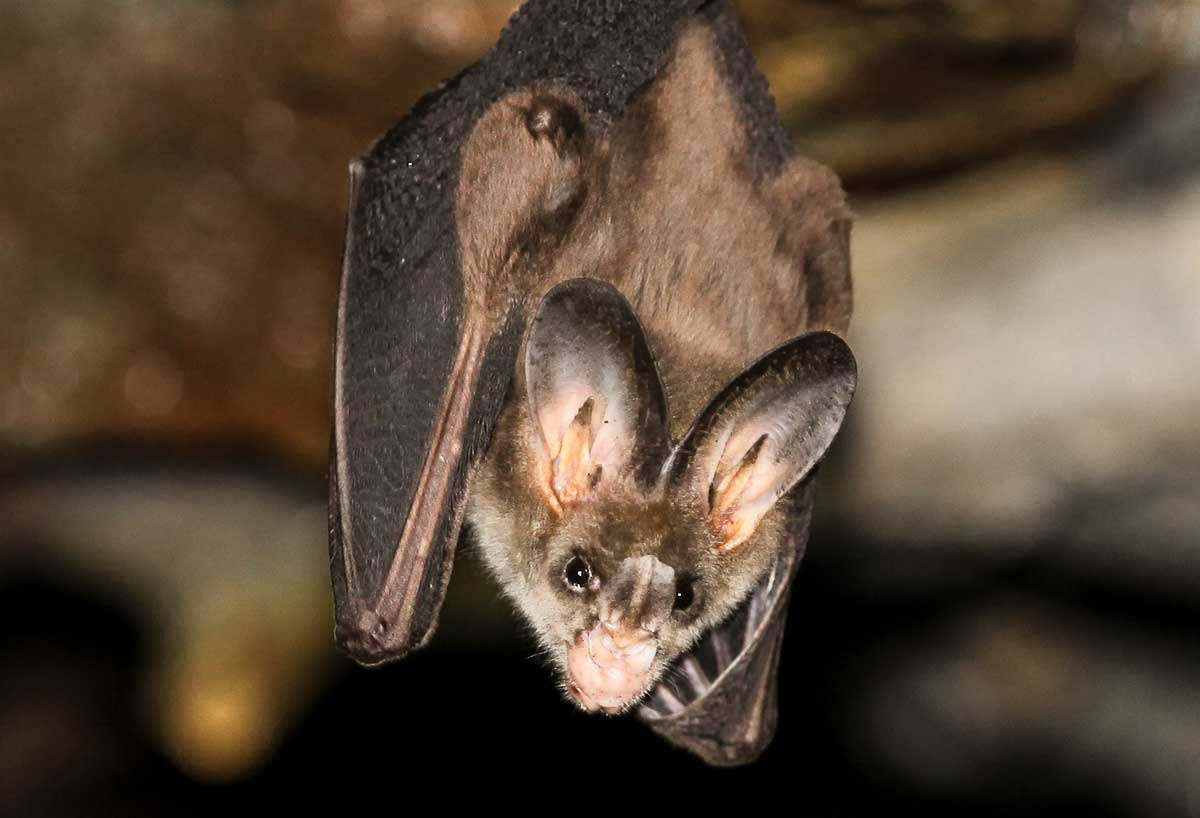 Vietnam
Vietnam has a long list of species – especially primates – that I wanted to see. It also had the reputation of being somewhere where animals were very hard to find. But 2011 reports from Hugh Buck and Vladimir Dinets challenged that perception so I decided to visit too.
Arranging a Visit
I arranged the trip through Richard Craik at Vietnam Birding, who was recommended to me by David Bishop. Richard was extremely well organised and great to deal with. He knows Vietnam well (he's lived there for 20 years) and I think he was more concerned than I was that I wouldn't get to see all the animals I was chasing.
Vietnam runs an extremely efficient on-line visa application service. You fill out an e-form, send them a credit card number and a couple of days later they email you a confirmation that the visa will be issued when you arrive. I was impressed.
I was considerably less impressed by the remarkably inefficient system at Ho Chi Minh (aka Saigon) airport when I landed. There was a scrum of people at the visa desk. Once you figure out there is no queue you need to force your way to the desk. You then push you passport and papers through the window. They disappear. An hour later the passport comes back with the visa inside. Why one person can't simply look at the letter and issue a visa seamlessly I have no idea, but it was the last thing I wanted to do after a 12 hour flight from Paris in December 2011.
Ho Chi Minh City was surprisingly developed. I stayed in the centre for two nights and did as little as possible. I made no effort to look for mammals. In fact I don't think I even saw a bird.
Poaching
So far as I could tell poaching in Vietnam is out of control. There is a major demand from the middle class Vietnamese for bushmeat, who believe that eating virtually any wild animal will make them stronger and increase their sexual vitality. And there is virtually no enforcement by the authorities to tackle this. Indeed its likely that many of them are complicit anyway because there is a great deal of corruption within the parks. A news story breaking when I was there covered an accident to a logging truck that killed 10 people. The truck was carrying wood logged from inside a national park and the head of the park's forest guard, and a high ranking member of the provincial government had already been implicated. Another news story told of a car stopped en route to Hanoi carrying 70 pangolins! No wonder I couldn't see any.
It is a big mess and the mixture of social attitudes and demand for bush meat, coupled with systemic corruption is a tragedy for a country with such important biodiversity.
Southern Vietnam
Cat Tien
Cat Tien is a big slab of forest about four hours from Saigon. It is a mixture of evergreen, bamboo, deciduous and swamp forest with some enormous trees and many many leeches. There is accommodation, with comfortable rooms that have hot water, tv and wifi access, as well a campsite at the park HQ. I was there mid-week and there were quite a few tourists around which came as a bit of a culture shock after the relative solitude I had enjoyed the past month in Africa. I've been told it is much busier at weekends.
At first glance the forest looks in pretty good shape. But there are fewer mammals and birds than you'd expect: far fewer than similar forests in Thailand or Malaysia for example. And many of the animals – the primates in particular – are extremely shy. Vietnam is well known for the poaching pressure its parks are under. I was told that each year rangers discover 20,000 traps and snares in Cat Tien alone, and this is presumably one of the better protected parks!
December is usually the beginning of the dry season in Cat Tien. But it rained every day. The weather, coupled with the skittishness of the animals, conspired to make photography particularly difficult.
Richard arranged for one of the park guides – Duyen Vutrong – to take me around for my three days. He was great: he'd been working in the park for 18 years so knew where to go and how to find stuff and he took real delight in helping me find the animals. If you would like to email him before your arrive you can do so via the national park.
I arrived at lunch and on our first afternoon we walked a muddle of forest trails that led from behind the Sun Bear rescue centre opposite the HQ. We heard a few squirrels calling as well as some Black-shanked Douc Langurs but didn't see any mammals. That evening I walked along the park road towards the grasslands for an hour or so. I saw just a couple of Sambar.
The next morning Duyen and I left at 6 a.m. to head back into the forest behind the Sun Bear enclosures.
The first mammals of the day were squirrels. Both Red-cheeked and Pallas's Squirrels are common. A pair of Indian Giant Flying Squirrels moving through the canopy at 7a.m. were a rarer sight. We also got a brief view of what I think was an Eastern Striped Squirrel (Tamiops maritimus) but I am not certain. According to a book on the mammals of Cat Tien, T. maritimus is present and the rather similar T. rodolphi is possibly there too. I got a photo of what appears to be the latter species the next day (the lower pale side-stripe ran through continuously to the cheek).
It wasn't long before we heard the Buff-cheeked Gibbons calling. They called for only a few minutes at about 8 a.m. and that was it for the day. But we were heading in the right direction and 20 minutes later I heard some movement in a tree: a male gibbon swung between two branches overheard and then sat high in a tree checking us out. The gibbons, like all of the primates in Cat Tien, are immensely wary and it was extremely difficult to take photographs of animals when you generally get either a fleeing and/or distant glimpse.
A few minutes later some movement in a tree turned into a Yellow-throated Marten which climbed down the trunk to take a look at us.
Slender-tailed Treeshrews are common. Rich Lindie gave me some good advice on finding them, saying their call was quite like a Speckled Piculet's. Back at HQ at lunchtime Richard Craik said he had seen them that morning and the day before, and that he often saw them in the bamboo grove behind the blue house on stilts 50 metres or so along the road past the restaurant. Sure enough I found one there after five minutes of searching,: hearing the call, as RIch said I would, before I saw the animal.
In the afternoon we drove down the road towards – and then past – the Crocodile Lake Trailhead, looking for Black-shanked Doucs. Another Yellow-throated Marten crossed the road and then it started raining. Despite the heavy rain, Duyen spotted a troop of the beautiful doucs in a large bare tree near the Crocodile Lake Trailhead. This area is a common haunt for them, particular early and late in the day.
It is quite cheap to hire transport in the park and for $25 I hired a ute and driver for a two hour night drive to, and then past, the Crocodile Lake Trailhead. I was looking mainly for a Pygmy Loris and was keeping the spotlight at or below mid level in the trees so it is perhaps not surprising we didn't see very much. A couple of civets ran across the road – at least one was a Common Palm Civet, while a tiny Lesser Mouse-deer was sitting at the side of the road and froze in the grass when I got the spotlight on it.
I went out again for another hour walking alone down the road but saw nothing.
The next day Duyen and I drove up to the Crocodile Lake Trailhead early in the morning and spent most of the day walking slowly to the lake, then returning to the road via a couple of bat caves.
We saw more Black-shanked Douc Langurs in the same place we had seen them the night before pretty much, heard gibbons and saw one, and heard many other groups of primates, some of which were douc langurs and some of which were macaques (Pig-tailed Macaques most likely). But they were all extremely shy. Other than a Cambodian Striped Squirrel (Tamiops rodolphii) and a couple of a Pallas's and a Red-cheeked Squirrels we didn't see any other mammals.
There is a small guest house at Crocodile Lake which might be a good place to spend the night given the amount and diversity of scats on the wooden bridge that leads to the house over the swamp forest. The bridge appears to be the latrine of choice for many species.
A reasonably well known bat cave is just off the trail to Crocodile Lake (presumably the cave that Vladimir Dinets mentioned in his trip report and that Rich Lindie told me about too). Unfortunately it now seems to be a little too well known now and I was told the bats had abandoned it. Duyen, however, knew of another 'secret' cave that the guides tended not to take tourists to see. It was about a kilometre into the forest from the Crocodile Lake Trailhead. There was no trail; just a series of yellow blazes on assorted trees.
The first cave (actually a pair of lava tubes) held at least three species of bats. A few very large Greater Roundleaf Bats (Hipposideros armiger) were impressive.
The very small horseshoe bats looked most like Least Horseshoes (Rhinolophus pusillus) I think although the yellow nose eaf that at least some of them had was unusual. I checked with Charles Francis (author of the field guide to the mammals of S.E. Asia) and he too had seen bats like this and thought they might be an undescribed species.
But the majority of bats in the cave were a medium sized horseshoe bat.
Based on fur colouration and noseleaf shape I think they were Lesser Brown Horseshoe Bats (Rhinolophus microglobusus).
Another lava tube nearby was broader and shallower. It held a few Greater False Vampires inside. There were more false vampires (though I could not see them well enough to know if they were Lesser or Greater) inside a hollow tree nearby.
I got back to the HQ at 4 p.m. and waited for the rain to stop. By 10 p.m. it was just drizzling so I walked along the road towards Crocodile Lake and back for a couple of hours. Several people have reported seeing Pygmy Lorises along this road: Rich Lindie found one several nights running just a couple of hundred metres from the camp site and another two near the Crocodile Lake Trailhead. I didn't. In fact I didn't see any mammals other than a few microbats and one medium-sized megabat.
It was raining again on my last morning but Duyen and I drove the road to Heavens Rapids and continued on for a coupe of kilometres. The car dropped u sthere so we could walk back. There is some drier forest along here with some spectacularly tall trees and it is a good area for both Annamese Silvered Langurs (my target) and Black-shanked Doucs. After 15 minutes, when the rain had slowed to a drizzle I spotted some movement in a large bare tree and got a look at my first Annamese Silvered Langur. Twenty minutes later Duyen spotted another.
As of 2017 the IUCN treat T. germaini as conspecific with T. margarita.  However, the animals in Cat Tien are now Trachypithecus maragarita.
I left the park at 11 a.m. to drive back to Ho Chi Minh and catch an evening flight to Pleiku.
Central Vietnam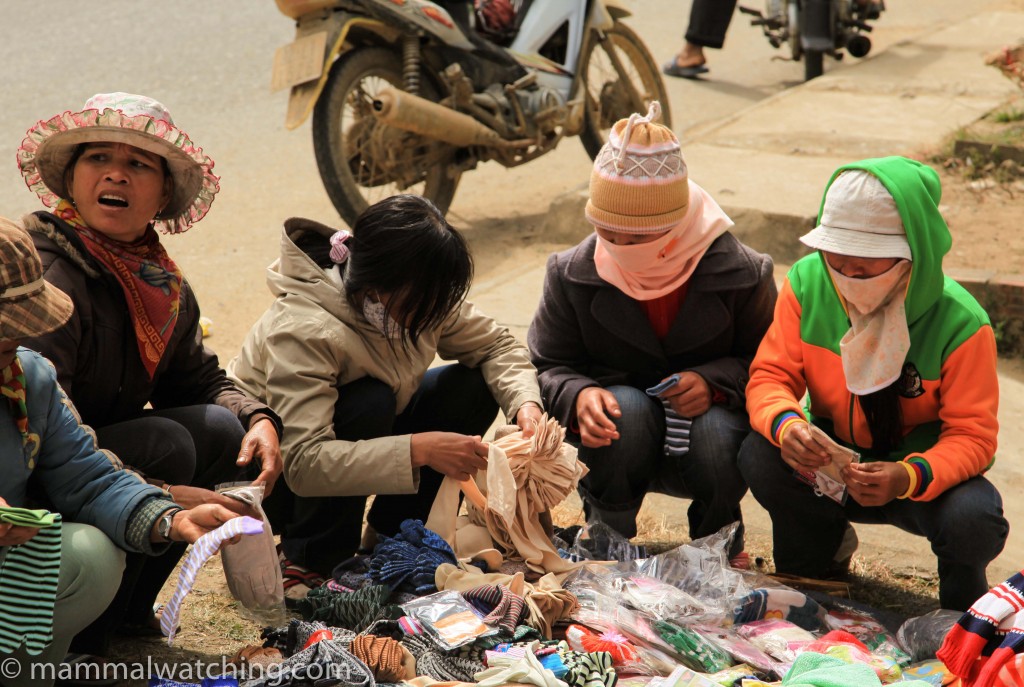 Mang Den Forest
Le Quy Minh, Richard's colleague, met me at Pleiku airport and we drove an hour or so to Kon Trum to spend the night. After breakfast we continued on for another two hours to the forest reserve above Mang Den. This is a relatively unexplored area that some new roads have recently opened up, and it is now recognised as one of Vietnam's best birding sites. It is also one of the best places to look for Grey-shanked Douc Langurs. I wasn't all that optimistic though: 1) Richard had never seen Grey-shanked Doucs in his life; 2) Minh – who as Richard said 'knows Central Vietnam better than anyone' had only had a brief glimpse once; and 3) It was windy, misty and drizzling heavily. But if you don't put your line in the water you won't catch a fish ….
When the rain eased to a heavy drizzle we got out of the car and walked along a steep ridge line for 40 minutes. Though Minh had only seen doucs once, the locals claimed they were common in the area. We didn't see any but I was impressed to see five Black Giant Squirrels, despite the rain.
The owner of a small roadside shop/cafe (which couldn't see more than five customers a day I reckon – the whole area seemed deserted) said he saw the doucs regularly feeding behind his stall but he hadn't seen them for a week or so, probably because of the bad weather.
After lunch we wandered down the road towards the hydroelectric scheme that is under construction and Minh somehow spotted some movement in a distant tree (no mean feat given the considerable movement the wind was causing). A Grey Shanked Douc Langur was looking in our direction. We had distant but decent views of up to five animals over the next 10 minutes , but far too far away unfortunately for pictures. Strikingly coloured they have to be one of the planet's best primates. By the time Minh had gone back to the car to get the scope they had moved on and though we looked for another hour we couldn't spot them again.
Given the bad weather especially I think we were very lucky to spot the animals after just a few hours looking but there is clearly a very good chance of finding this rarely seen monkey in the forest here.
We spent the night in Mang Den in the very cold and windswept Hung Yen 3 hotel. It was too wet and windy to look for any small mammals around the hotel but the next morning I stopped at the nearby Rose Hotel to ask whether they had any bats living under their roof (Vladimir Dinets reported seeing some myotis here). They claimed never to see bats – even at night – and I couldn't find any.
Son Tra, near Dang An
It took eight hours to drive along the Ho Chi Minh highway from Mang Den to Dang An. The road runs below a long stretch of forest for a good part of the way and the drive across Lo Xo pass is pretty nice (it would have been very nice I am sure with less cloud and rain). There is still some wildlife in the forest here. Minh has seen Red-shanked Douc Langurs and once got a glimpse of a Grey-shanked Douc Langur too, though both species are very uncommon here so we didn't spend any time looking for them in the rain.
Minh has also seen kids selling Bamboo Rats by the side of the road (alive and dead) and once spotted some hunters emerging from the forest carrying a Serow.
Dang An is a modern town that is more like Korea than how I'd imagined Vietnam. Ten minutes from town, a small mountain forest reserve called Son Tra, is home still to Red-shanked Douc Langurs and a reliable place to see them. Though it was gone 4 p.m., dark, windy and misty, we thought we would take a quick look in the reserve in an area managed by the military.
Thirty minutes later, as we were on the way out, Minh again spotted some movement in a distant tree. Red-shanked Doucs. Though the light was very poor we watched several animals in the scope for 15 minutes. I think Minh should enter the record books as the world's finest Douc Langur spotter, and I can enter them as the only person to have seen all three species in four days.
Bach Ma
Bach Ma National Park is a mountain, less than two hours drive from Dang An. Minh worked here for 12 years and spent a lot of time on the summit, as well as around the HQ at the base. We were planning to spend three nights here at the headquarters but there are few animals lower down so Minh suggested we arrange to stay on the summit for a couple of nights. Up there some of the better mammals occasionally seen included Large-spotted and Owston's Civets, Serow, Pygmy Loris, Red-shanked Doucs and Large-antlered Muntjac.
There are also gibbons lower down the mountain which are seeable. The jury is still out about the species but the latest thinking on the IUCN website is that they are Buff-cheeked Gibbons rather than Southern White-cheeked Gibbons as had earlier been thought.
It was still raining when we arrived and we half-heartedly walked the lower trails during lulls in the rain looking for squirrels. We couldn't see any of the striped tree squirrel species that is common there, but late in the afternoon we saw a couple of Pallas's Squirrels.
I walked up the road for half an hour after dinner and didn't see any mammals but did catch a couple of House Shrews and a Lesser Ricefield Rat (Rattus losea). At least I think it was this species (it had a white tip to its tail that was not mentioned in Charles Francis's field guide).
Though the summit has been largely closed to visitors for the past two years because of the state of the road (due to reopen in 2013), Minh arranged for us to stay up there and we left in a park Ute at 6 a.m. Nineteen kms later we were in a deserted settlement that was started by the French in the 1940s and then developed into a tourist area. It was formerly home to a police station, post office, clinic and several hotels. In late 2009 a typhoon hit and dwrecked the place. The road was in such bad shape it wasn't possible to reopen the buildings. The sole inhabitants now are a Buddhist Monk and his three helpers.
It was cold, raining and wreathed in dense cloud (the visibility peaked that day at 50m!) and I don't think I have ever stayed in such a god-forsaken place. If the sun had come out I suspect it would have been beautiful.
The day was exceptionally boring. We drank tea and slept all morning, left the shelter after lunch and walked up to the end of the road to some tunnels, excavated by the Viet Cong in the 1970s. These are often home to many bats, though we only saw four Pearson's Horseshoe Bats that were in torpor.
On the way back down the road Minh saw several Red-shanked Doucs that disappeared when they saw him and shortly afterwards we saw a large troop of Stump-tailed Macaques.
We had dinner at 4 p.m! I went out for an hour after 6 p.m. but couldn't see more than 8 metres in the torch beam because of the mist. I was asleep by 9 p.m., sharing the one room with Minh and three others.
Despite sleeping on a wooden bed without a mattress I managed 10 hours' sleep. The weather hadn't changed the next morning, though apparently it had been considerably clearer between 11 p.m. and 3 a.m. The next day was spectacularly boring. I'd finished my book and forgotten my ipod. We checked the traps, which were all empty, and waited. And waited. And drank tea. And slept. And waited. It was like the temple Uma Therman visits in one of the Kill Bill movies to hone her martial arts. Except it wasn't so sunny. And Uma wasn't there.
A Red-cheeked Squirrellrunning around outside the cabin and a dead rat (Rattus rattus I think) in a shed were the only mammals of the day.
It rained all night and was still raining when we checked the empty traps early on our last morning. At the end of a trap line Minh gave me a shout and we had a great view of my first Small-toothed Ferret Badger waddling away.  Unfortunately I had left my camera in the shack. Both large and small-toothed badgers might be here and they are apparently very difficult to tell apart withouth looking at the teeth. But a paper analysing leech DNA from Bach Ma found DNA from 6 Small-toothed Ferret Badgers and no large-toothed. So on the balance of probability I will claim it as a Small-toothed (I had not seen either species in any case).
Minh told me that Bach Ma averages about 9 metres of rain a year! Judging by the amount of scats around, and from what the locals said, there would be a good chance of seeing Large-spotted Civets and Large-antlered Muntjacs up there in better weather. Owston's Civets and Pygmy Lorises would also be well worth looking for. Somewhere to return to in the dry season (if there ever is a dry season up there).
Phong Nha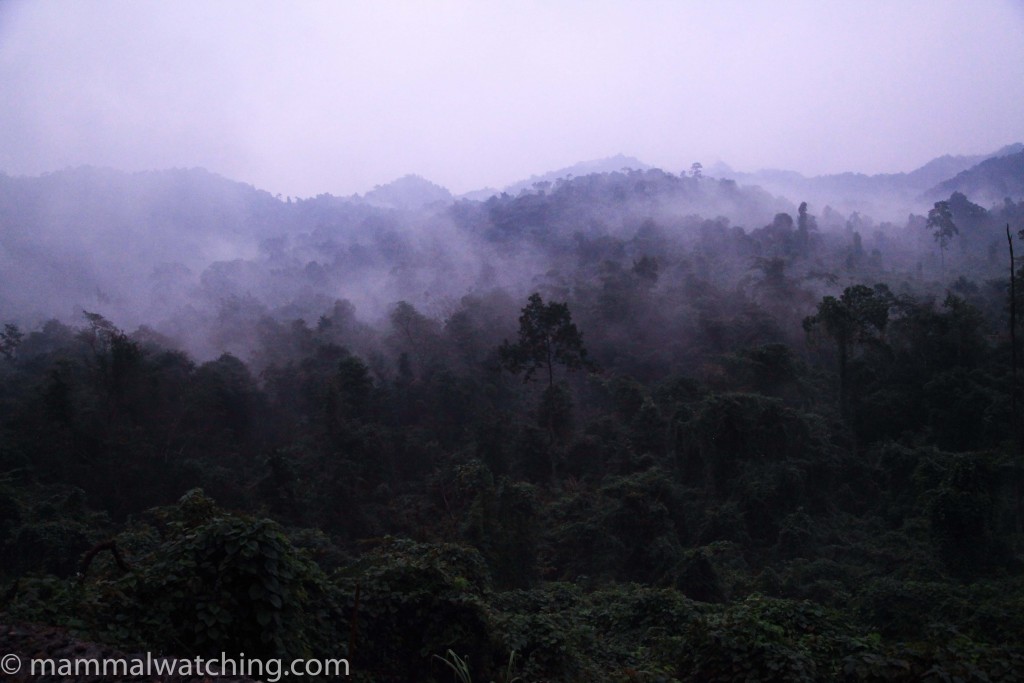 Phong Nha-Ke Bang National Park and World Biosphere Reserve is a five hour drive from Bach Ma. It is a beautiful national park comprising some of the bluest rivers I've seen, with a muddle of limestone karsts covered in very thick evergreen forest.
There are big problems of poaching and illegal logging in the park with apparently no attempt at enforcement at all. The park gate was shut during the day ostensibly for the guards to check traffic. The only thing they seemed to want to check was whether we had the correct paperwork: meanwhile a stream of motorbikes ridden by people carrying suspicious looking parcels would just drive around the gate. In the evening the gate was simply left open. I was told that a restaurant opposite a forest guard station openly had Serow and other endangered species on the menu.
Like everywhere else in Central Vietnam it was raining and misty during my entire three days here. My key target was the very endangered Hatinh Langur, though there are also a lot of interesting bats in the park, plus Southern White-cheeked Gibbons, Indo-Chinese Black Langurs and Red-shanked Doucs. Minh has seen all of these primates here other than the Black Langurs.
We stayed at the Phong Nha farmstay. It was a 40 minute drive from the park but it had pizza and pasta on the menu as well as red wine .. yay! I was noodled out after the past two weeks.
Hatinh Langurs are best found along the first three kms of road after you enter the park through the Tro Mong gate. We saw a couple early on our first morning on the other side of the river, and had good scope views of a mother and her golden infant above the road that afternoon. We also had some really nice views of a large group of Red-shanked Doucs along this road. They are spectacularly coloured animals.
We turned our attention next to the Indo-Chinese Black Langurs. These are most often reported around Tam Co temple, a few kilometres along the road to Laos (which begins about 10 kms after the Tro Mong gate). Locals see them often here, but usually in sunny weather, of which there remained a distinct lack. Even when the rain had eased off at the park gate, there was usually heavy rain around the temple. We did see two dark langurs deep in a tree one afternoon which Minh and I are pretty sure was this species but we cannot be certain. On our last afternoon Minh saw two langurs through his binoculars jumping under the canopy which he is certain were the Black Langurs. I missed them.
The Southern White-cheeked Gibbons are often heard calling higher up in the park, about 20 kms along the road. We looked and listened for them once but the weather was so misty up there it was unlikely they were going to start calling and even more unlikely we could have seen them if they had.
We slithered and slipped into a few caves around the park of which there are thousands. One cave, a kilometre off the road from the village of Chay Lap, was reputed to hold good numbers of bats , and the locals go there to harvest guano I was told (or they used to). I could only see about 10 small megabats inside – Leschenault's Rousette I think – but there was a lot of old guano. Perhaps the colony was bigger in the dry season or perhaps the bats had been largely exterminated by the locals. Even here there was a large net strung across the cave in the vain hope of catching a bat or two. We pulled it down to free a bat that had just flown into it, and there was a dead bat caught inside that was a Rousettus leschenaultii which looked identical to the others flying around.
In another cave, just off the road "20" that leads to Forest Guard Station No. 4, I could find only one bat. But it was one I could identify from the photos. My first Trident Roundleaf Bat (Aselliscus stoliczkanus). It was a lot darker than this species is meant to be from the photos I have seen but Charles Francis confirmed that they do come in this colour too. Its noseleaf is very distinctive.
The enormous Phong Nha Cave itself is a big tourist attraction and you pay a few dollars to hire a boat to take you there. The cave was very impressive but I could only see one bat inside – a distant roundleaf species. I was told that usually – when the weather is warmer – there were many more bats to be seen.
I'd like to return here for a couple of days in the dry season. I'm pretty sure I could get a good look at both the Black Langurs and the gibbons if the weather had been better. Spotlighting in the park might also be quite productive but it seems it is problematic because of the difficult attitude of the forest guards so we didn't try.
Northern Vietnam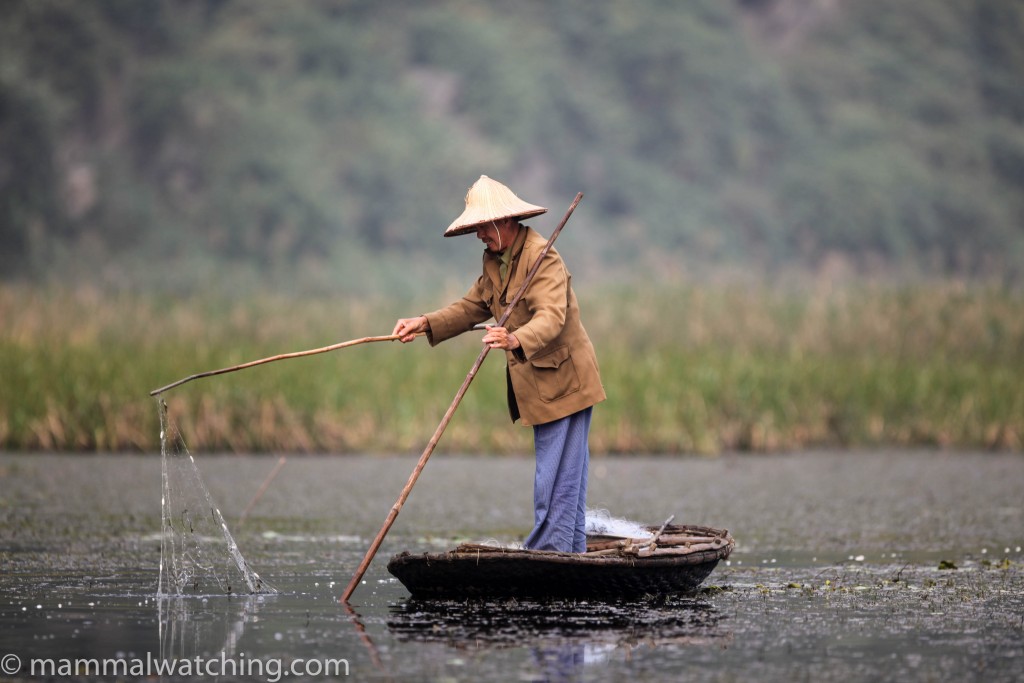 Van Long Nature Reserve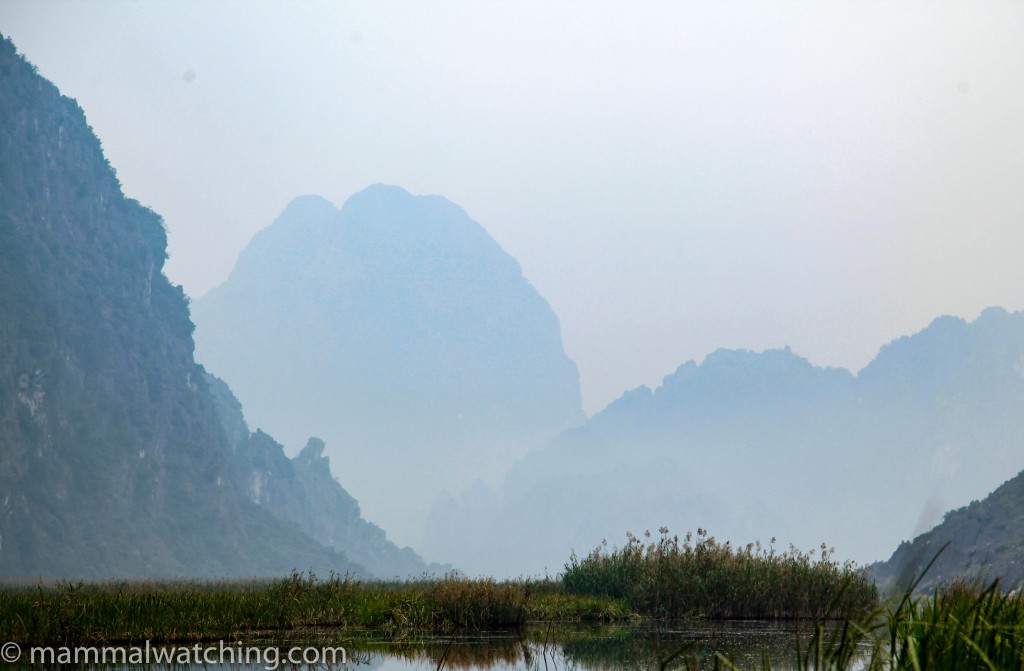 It took all day to travel from Phong Nha back to Hue, catch a short flight to Hanoi, then drive the two hours to Van Long Nature Reserve. Well it would have taken two hours had my driver known the way. He didn't, which meant lots of stopping and reversing down freeways to take missed turns. I was met at the dismal Van Long resort by Tien, my guide for the next day (Tien i freelance and works for Vietnam Birding from time to time).
The Van Long resort is the sort of over-large, soulless, ugly concrete hotel that east Asia excels at. I was the only guest and the restaurant were unable to give me anything I wanted off of the menu. They were however able to give me mild food poisoning and what is far and away the worst cup of coffee I have ever tasted (no mean feat after two weeks in Vietnam!). Its one consolation was that – at last – it wasn't raining!
The main reason to visit Van Long is to see the extremely endangered Delacour's Langur. A few hundred remain in the wild. They are easy to see in the reserve, where they can nearly always be spotted on limestone cliffs early and late in the day: a local will paddle you across a marsh the kilometre or so to the mountain, We quickly found a group of 10 or so langurs and watched them for 90 minutes as they slowly made their way down the cliffs, though they did not get down as low as I'd hoped so the views were quite distant. They are strikingly marked animals.
It was 9 a.m. and I still had 12 hours before I needed to be in Hanoi for my flight to Europe so I decided to go to Cuc Phuong National Park, an hour away.
Cuc Phuong National Park
Cuc Phoung is three or four hours from Hanoi. I visited for just a few hours after both Minh and Tien told me it was quite a good place to see squirrels and there were chances for other mammals too.
My first target was an Eastern Striped Squirrel, a species I thought I saw in Cat Tien but the view was inconclusive.
Minh had taken good photos of Tamiops maritimus here in Cuc Phuong and it seems they are the only striped squirrel in range. We saw a pair after looking for 20 minutes along the trail that leads to a "cave of the ancient man" about half way along the park road.
After lunch at the summit, Tien and I walked for a kilometre or so along the Muong Khu trail that runs north of the park accommodation (head past a fire tower at the corner of the accommodation clearing). Inornate Squirrels are, Tien said, quite common in this area though we weren't lucky in a little less than three hours searching.
Tien saw a Yellow-bellied Weasel in the long grass here. This is a species he said, much to my interest, that was quite common in the park, as were Back-striped Weasels (both are seen most often in grassy areas of secondary forest). Indeed I heard animals that I would guess were weasels moving through the long grass twice just a metre or so from me in this area, though on both occasions they saw me before I saw them.
We had to leave by 16.30 and I reluctantly dragged myself away. I am sure with a little more time here I would have seen a few interesting animals. Spotlighting around the summit area for instance ought to be quite good. Tien worked in the park full time for over 10 years so has seen a lot here, including Owston's Civets (though he said they were very difficult to find).
Other Stuff in Vietnam
Vietnam has an impressively diverse mammal list even if many of the mammals are very rare now. Some other interesting species that it would be worth looking for include Hairy-nosed Otters which are apparently not hard to see in Uminh National Park near Kien Ghang in the south of the country. I saw this species (not very well) in Thailand after considerable effort and perhaps they are easier in Vietnam.
Tonkin Snubnosed Monkeys, Francois's Langur, Northern White-cheeked and Black Crested Gibbons are call linging on in Northern Vietnam. Trying to see these animals sounds very difficult at the moment but this may change as researchers work on the species.
Cat Ba Langurs are another very rare endemic confined to Cat Ba Island in the north. Although Richard and Minh said the species was hard to see, Tien – who probably knows the area better than them – said they were not too difficult to see if you charter a boat and go to the right bits of the island.
And then of course there are all manner of interesting species that people see from time to time including Owston's Civets, Large-antlered Muntjacs, Brush-tailed Porcupines and Chinese Serow. As well as species that people just don't seem ever to see anymore such as Sun Bears and pangolins.
Stuff I Missed
First and foremost I missed the sun! I didn't get a glimpse of it at all during 10 nights in Central Vietnam, and it hardly put in an appearance in the south either. I can only wonder how much better the mammal watching would have been if the sun had come out, and it was just plain depressing at times … the worst weather I have ever encountered, imprssive for someone who grew up in North Wales! I blame the weather on the absence of even half good photos of most species.
Pygmy Loris: I thought I had a good chance of seeing one of these in Cat Tien. Rich Lindie saw three while he was there and other groups report them from time to time. If the weather had been better I could have made more of an effort. But they are also not uncommon in Bach Ma and I imagine they are in Phong Nha too though it is not so easy to spotlight there.
Indochinese Black Langur: I probably saw this species but not well enough to call. With better weather and a couple of days I'm pretty sure I could have gotten good views in Phong Nha where they are often seen by the locals in one particular area.
Southern White-cheeked Gibbon. Again, with better weather, I think these are quite seeable in Phong Nha if you focus on the right places.
Large-spotted Civet. There are all manner of nocturnal animals in Vietnam that I might have run into, but Large-spotted Civets in particular seem quite common here, and more so than in other countries I have visited. Perhaps they are not eaten so much because of the apparent link between civets and the SARS virus.
Trip List
Vietnam was surprising in many ways, good and bad. It was more developed (with more free wifi access than any country on the planet I think), colder and much wetter than I'd expected. Although the poaching appeared to be a bad as I'd been led to believe, it was, conversely, easier than expected to find the primates I was chasing: many of them are very localised. My guides were good at finding them and knowing where to look.
I was pretty pleased to see 14 maybe 15 lifers (as the strange Rhinolophus pusillus in Cat Tien is most likely an undescribed species), with a couple of near misses on top, from a total of 31 species in two weeks. This was quite good especially considering I did virtually no spotlighting : I did a little in Cat Tien when it wasn't raining, but I did none in Central Vietnam because of either bad weather and/or lack of opportunity. I can only wonder how much more I would have seen if the weather had been better.
Thank you to all those who wrote trip reports and also Rich Lindie for his advice on Cat Tien. Thanks too to Vietnam Birding, especially Minh who was so good at spotting primates.
Lifers prefixed by an F
Black Giant Squirrel Ratufa bicolor
Asian Red-cheeked Squirrel Dremomys rufigenis
Pallas' Squirrel Callosciurus erythraeus
F Maritime Striped Squirrel Tamiops maritimus
Cambodian Striped Squirrel Tamiops rodolphei
Indian Giant Flying Squirrel Petaurista philippensis
F Lesser Rice-field Rat Rattus losea
Common Palm Civet Paradoxurus hermaphroditus
Yellow-throated Marten Martes flavigula
F Small-toothed Ferret-Badger Melogale moschata
Asian House Shrew Suncus murinus
Leschenault's Rousette Rousettus leschenaulti
Greater False Vampire Bat Lyroderma lyra
F Indo-Chinese Lesser Brown Horseshoe Bat Rhinolophus microglobusus
Pearson's Horseshoe Bat Rhinolophus pearsonii
Least Horseshoe Bat Rhinolophus pusillus
Great Roundleaf Bat Hipposideros armiger
F Stoliczka's Trident Bat Aselliscus stoliczkanus
F Delacour's Leaf Monkey Trachypithecus delacouri
F Annamese Langur Trachypithecus margarita
F Hatinh Leaf Monkey Trachypithecus hatinhensis
F Gray-shanked Douc Langur Pygathrix cinerea
F Red-shanked Douc Langur Pygathrix nemaeus
F Black-shanked Douc Langur Pygathrix nigripes
Stump-tailed Macaque Macaca arctoides
Northern Pig-tailed Macaque Macaca leonina
F Buff-cheeked Gibbon Hylobates gabriellae
F Northern Smooth-tailed Tree-Shrew Dendrogale murina
Lesser Mouse-Deer Tragulus javanicus
Northern Red Muntjac Muntiacus vaginalis
Sambar Cervus unicolor
31 species
Community Reports
Ho Chi Min City to Saigon, 2023: Alex Schouten and Jeannette den Hertog, 2 months and all three Douc Langurs, Hatinh, Delacour and Cat Ba Langurs and a Sunda Pangolin.
Cat Tien, 2020: Curtis Hart, 1 week & 15 species including Black-shanked Douc Langur, Buff-cheeked Gibbon and Pygmy Loris
Cat Tien, 2020: Mike Hoit's report of a Covid19 curtailed trip, 3 days & 16 species including Annamese Silvered Langur, Black-shanked Douc, Pygmy Loris and Berdmore's Rat.
Vietnam, Christmas 2019: Brett Taylor, 2 weeks & 27 species including Pygmy Loris, Hatinh Langur and Red and Black-shanked Doucs.
Cat Tien & Son Tra, 2019: Matt's notes on seeing Pygmy Loris, Black and Red-shanked Doucs and more.
Primates on the Rocks, 2019: Stuart Chapman, 3 days & 6 species including both Grey Shanked Douc and HatinhLangurs.
Vietnamese Primates, 2018: Mogens Trolle's notes of how to find Red and Grey Shanked Douc Langurs and Tonkin Snub-nosed Monkeys.
Philippine Tarsier and Vietnamese Langurs, 2018: Matt and Maureen Steer's notes from a seven week not a mammal watching trip. 10 species including some nice primates like Cat Ba, Hatinh and Delacour Langurs.
Southern Vietnam, 2018: Romain Bocquier, 1 week & 13 species including Red-shanked and Black-shanked Douc Langurs and Silvered Langur.
Tonkin Snub-nosed Monkeys, 2017: Mark Spence, 5  days with Delacour's Langurs and Tonkin Snub-nosed Monkeys.
Cat Tien National Park, 2017: Torbjorn Lundqvist, 4 days & 12 species including Pygmy Loris and Black-shanked Douc Langur.
Vietnam & Cambodia, 2016: Royle Safaris, 16 days & almost 40 mammals including Pygmy Loris, Owston's Civet and Spotted Linsang.
Thailand, Laos, Cambodia & Vietnam, 2016: Royle Safaris, 26 days & 50+ species including Large-toothed Ferret Badger, Northern and Southern Buff-cheeked Gibbons, Pygmy Loris, Fea's Muntjak and Cat Ba Langur.
Vietnam, 2012, 1 week & 28 species including Hatinh Langurs , Pygmy Lorises and Red-shanked Doucs .
Vietnam, 2011: David Bishop (VENT), 2.5 weeks & 15 species including Delacour's and Hatinh Leaf Monkeys.
Vietnam, 2011: Vladimir Dinets, 6 weeks with the best mammals including Red-shanked and Black-shanked Doucs.
Vietnam, 2011: Hugh Buck, 3 weeks & 25 mammals including Pygmy Loris, Delacour's and Hatinh Leaf Monkeys, Black-shanked and Red-shanked Doucs, and Buff-cheeked Gibbons.
Vietnam, 2009: Trevor Hardaker, 3 weeks and 15 mammals including Black-shanked Douc and Buff-cheeked Gibbon.
Also See