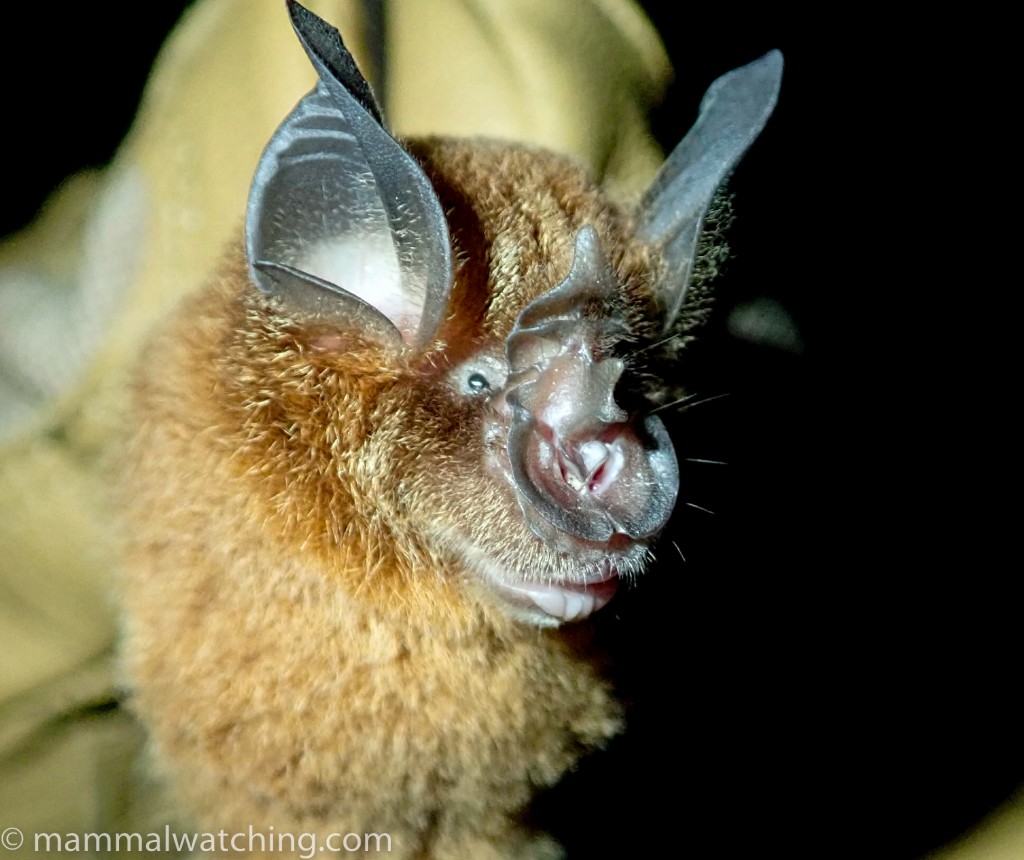 Singapore
I spent 24 hours in Singapore in 2022 on the way back from Borneo.  I managed to see 12 species of mammals around the city, mainly thanks to the skill and generosity of Benjamin Lee who showed me around. I saw Annandale's Sundaic Rat, Sunda Flying Lemur, Long-tailed Macaque, Dawn Bat, Bicolored Leaf-nosed Bat, Glossy Horseshoe Bat, Javan Pipistrelle, Malayan Greater Bamboo Bat, Nepalese Whiskered Bat, Sunda Palm Civet, Wild Boar, Lesser Oriental Chevrotain. I need to return for the Raffles's Banded Langurs.
Community Reports
Singapore and Panti Forest Reserve, Johor Malaysia, 2023: Michael Johnson, 3 days & 8 species including – in Singapore – Raffle's Banded Langur and Lesser Mouse Deer.
Sabah and Singapore, 2022: Fiona Reid, 19 days & 63 species including – in Singapore – Raffles' Banded Langurs.
Singapore, 2022: Jon Hall, 1 day & 12 species including Glossy Horseshoe and Greater Bamboo Bats and Annandale's Rat.
Singapore, 2019: Romain Boquier, 2 days & 10 species including Banded Langur, Smooth-coated Otter and Galago.
Sabah, Singapore and Peninsula Malaysia, 2019: Phil Telfer, 18 days & 62 species including Clouded Leopard, Western Tarsier, Otter Civet, Sun Bear and – just to rub salt in the wound – a Sunda Pangolin!
Singapore, Java, Malaysia and Sumatra, 2019: Anita Ericson and Lars Petersson, 6 weeks & 63 species including  – in Singapore – Smooth-coated Otter and Sunda Colugo.
Singapore and Southern Malaysia, 2019: Jon Lehmberg, 6 days & 21 species including Binturong, Short-tailed Mongoose and Sunda Pangolin.
Singapore, 2018: Vladimir Dinets, 2 days & several mammals including Sunda Pangolin.
Singapore, 2018: Mike Hoit, 1 night & 3 species including Smooth-coated Otters.
Malaysia & Singapore, 2014: Mike Hoit, 5 days in Singapore with some nice species including Colugo and Bamboo Bats.
Australia & Singapore, 2013: Andrew and Ben Balmford, 2 days in Singapore & 10 species including Colugo and Red-cheeked Flying Squirrel.
South East Asia, 2010: Matt and Maureen Steer, 8 weeks & 31 species including Hairy-nosed Otters, Gaur and Pangolin (Thailand), Short-clawed Otters (Malaysia) and Smooth-coated Otters (Singapore).
Also See