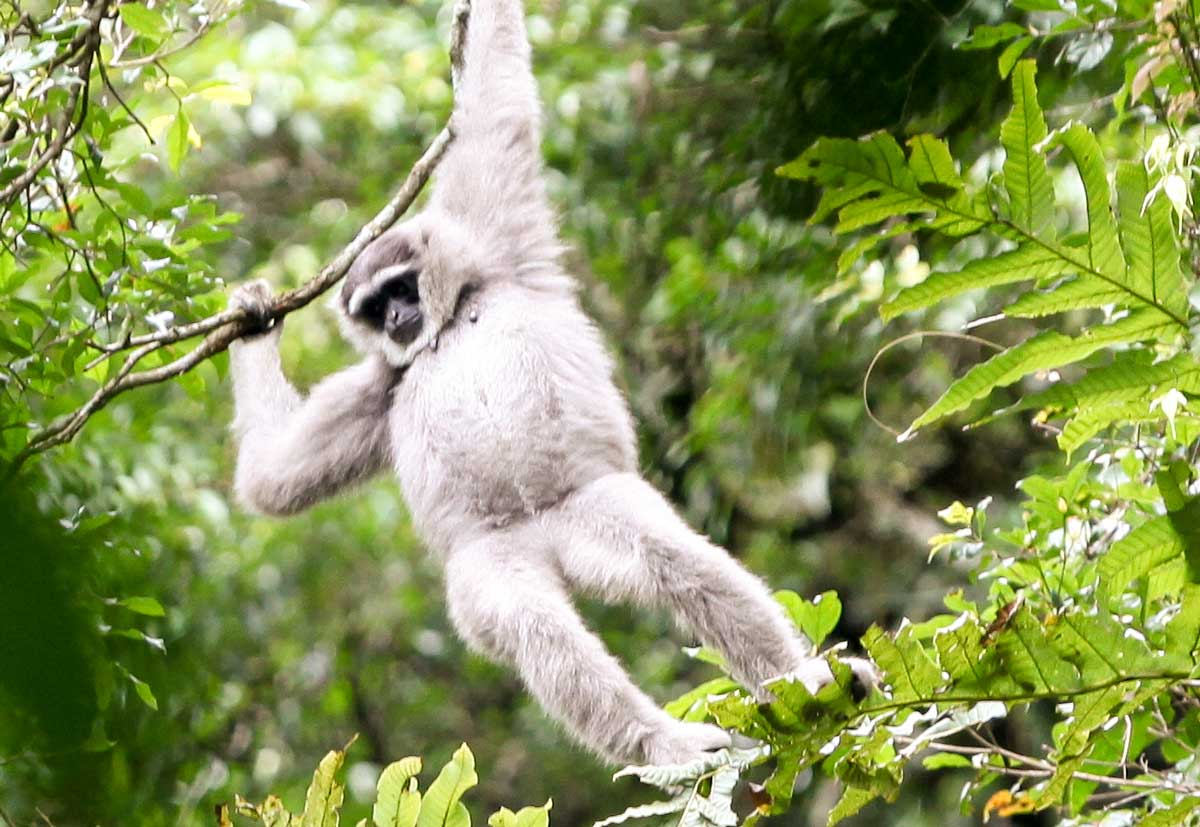 Java and Bali
I visited Indonesia for the first time in June 2010 and after a meeting in Jakarta I had a few free days before leaving for New Caledonia. I have since visited several other Indonesian islands and returned briefly to Java in 2023 when I went in search of bats around Jakarta.
Gunung Gede National Park
IN 2010 I saw Ebony (or West Javan) and Grizzled Langurs, Wild Boar, Javan Ferret Badger, Javan Mongoose, Horsfield's Tree Shrew, Black Giant Squirrels, Sunda Black-banded (Black-striped) Squirrels and Three-striped Ground Squirrels. 
There were Medium Bentwing Bats in a cave, Lesser Gymnure, Polynesian Rat, a Niviventer species, Common Palm Civet and an (introduced) Small Indian Civet
Halimun National Park
A night here produced Javan Gibbons, Black-banded Squirrels, a Black Giant Squirrel and my first Black-eared Pygmy Squirrel. After dark we had Common Palm Civet and Javan Small Toothed Palm Civet (my photos of which accidentally helped to rediscover the species).
We also saw a Malay (Stink) Badger, Red Giant Flying Squirrels, Pencil Tailed Tree Mouse and Javan Sunda Spiny Rats.
Jakarta
In June 2023 I spent a night in Jakarta on my way home for a trip to West Papual. With Carlos Bocos's help we saw a colony of Javan Slit-faced Bats at Bogor and, in the middle of Jakarta, we saw Short-nosed Fruit Bats, a  Lesser Large-footed Myotis and Black Rats.
Community Reports
24 hours in Jakarta, 2023: Jon Hall, 1 night and 4 species including Javan Slit-faced Bat and Lesser Large-footed Myoti
Bali & Lombok, 2023: Jan Ebr, 2 weeks & 19 species including Javan Lutung, Horsfield's Treeshrew and Indomalayan Pencil-tailed Tree Mouse.
Bali, 2022: Paul Carter's notes on seeing 12 species in Bali including Dugong, Geoffroy's Rousette and East Javan Silvered Langur.
Gunung Gede, 2020: Hugh Lansdown, 4 days & 6 species including Javan Small-toothed Palm Civet.
Singapore, Java, Malaysia and Sumatra, 2019: Anita Ericson and Lars Petersson, 6 weeks & 63 species including – in Java – Spotted Giant Flying Squirrel, Javan Small-toothed Palm Civet and Javan Ferret Badger.
West Bali National Park, 2019: 4 days & 9 species including Javan Lutung, Black Giant Squirrel and Rusa Deer.
Sulawesi and Kerinci-Seblat, Sumatra (with a bit of Bali and Java too), 2018: Tomer Ben-Yehuda, 2 weeks & 30+ species including Babirusa and Bear Cuscus.
Ujung Kulong, 2018: Royle Safaris, 10 days & 19 species including Banteng and two Javan Rhinos!
Javan endemics, 2018: Royle Safaris, 6 days & 30 species including Javan Ferret Badger, Javan Gibbon and Javan Slow Loris.
Indonesia, 2016: Richard Webb, 2 weeks & 44 species including Western Tarsier, White-bearded Gibbon, Irrawaddy Dolphin and some nice bats.
Indonesia (Java, Sumatra, Sulawesi, Borneo and Bali), 2013: Dave Redfield and Richard White (INDRI tours), 22 days & 52 species including Pen-tail Treeshrew, Otter Civet and Mitred Langurs (all in Way Kambas, Sumatra).
Java & Sumatra, 2013: Richard Webb, 2 weeks & 38 species including all the Javan specialty primates and Javan Small-toothed Palm Civet, plus – on Sumatra – Banded Palm Civet, Flat-headed and Marbled Cats.
Java, 2012: Coke Smith, 12 days & 30 species including Banteng, Javan Palm Civet and a Javan Rhino!
Sulawesi, Sumatra and a bit of Java, 2012: Dominique Brugiere, 7 weeks & plenty of mammals including Babirusa, Sulawesi Warty Pig, Anoa, Banteng and Javan Ferret Badger.
Indonesia & Malaysia, 2011: Romain Bocquier, 6 weeks & 43 species including Marbled Cat and Sulawesi Dwarf Cuscus.
Javan Rhino Search & Taman Negara, 2011: Phil Telfer, 3 weeks & 28 species including Malaysian Tapir and the noise of a Javan Rhino.
Gunung Gede and Halimun NPs, 2010: Jon Hall, 4 days & 22 species including Silvery Gibbon, Sunda Stink Badger, Javan Ferret Badger and Javan Small-toothed Palm Civet.
Indonesia (esp. Sulawesi), 2009: Steve Anyon-Smith, 1 month & 20 mammals including Sulawesi Tarsier and Bear Cuscus.
Greater Sundas (West Malaysia, Borneo, Sumatra, Java), 2008: Tim Mitzen, 2 months and 55 mammals including a Sun Bear and Banded Palm Civet . A full trip report is here.
Also See